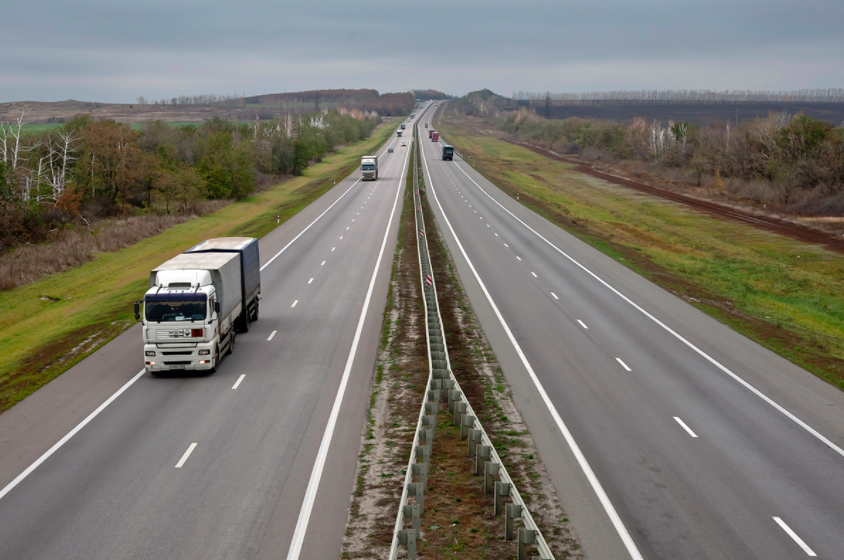 Monday, December 21
€900 million slated to Rebuild Southern Half of Kyiv-Odesa Highway…Germany Gives €255 million for Energy Efficiency, Roads and Vocational Education…Americans Bought Half of $600 million Eurobonds…Central Bank Buys Dollars to Avoid Strong Hryvnia…High Commodity Prices Cancel Impact of Drought
European development banks are providing €900 million to rebuild the southern half of the Kyiv-Odesa highway and a 24 km northern bypass around Lviv, reported the Infrastructure Ministry. "This project is the largest in the 10 years of cooperation between Ukravtodor and the EBRD," Oleksandr Kubrakov, head of the state highway agency, said, referring to the €450 million loan from the European Bank for Reconstruction and Development. This loan is being matched by a second €450 million loan from the European Investment Bank.
Work is to start next year on the projects which are both sections of the Trans-European Transport Network, or TEN-T. Of the money, two thirds goes to rebuilding 275 km of the Kyiv-Odesa highway, and one third to completing the circular bypass around Lviv. "Under the project, the government of Ukraine is committing to enhance Ukravtodor's procurement system and to strengthen its internal controls, policies and procedures to prevent bribery and corruption, the EBRD says. Both banks issued a joint statement Friday calling reform of Ukravtodor a "litmus test" for anti-corruption work in Ukraine.
Ukraine plans to build by 2022 a EU-standard highway on the 72 km section of the M-10 between Lviv and the closest crossing with Poland, at Krakovets, Ukravtodor's Kubrakov tells Interfax-Ukraine. This congested highway section tops the list of candidates for public private partnership concessions. From Krakovets, the highway would connect with Poland's A4, which runs 680 km west to connect with Germany's autobahn network.
Weekly container trains are to start rolling next year between the Baltic and the Black Seas, Lukasz Greinke, President of Gdansk Port, tells The Maritime Executive, a Florida-based news site. Gdansk is the location of Poland's largest container terminal and is considered the only Baltic port capable of receiving direct calls from Asia by the largest ships. Greinke said of the Gdansk-Odesa rail corridor: "We are already speaking with Turkish ship owners and freight forwarders about the benefits of the new corridor in terms of speed and efficiency."
Germany will spend €255 million to help Ukraine improve energy efficiency in schools, rebuild roads, and modernize its vocational education system, the Finance Ministry announces. The money will be a mix: €40 million in outright grants, and €215 million in loans at concessional terms – 30 years at 2% interest. The money will also to go upgrading municipal utilities: water, sewers and heating. German Ambassador Anka Feldhusen, said: "Germany supports Ukrainian decentralization reforms and improvements in the energy industry and education."
Today, the IMF starts video link talks with Ukraine, reviewing the $5 billion Stand-by Arrangement signed last June. Only one tranche of the 18-month deal has been delivered, also last June. Holding up more money were: last summer's purge of the Central Bank and last fall's Constitutional Court rulings to dismantle anti-corruption agencies. Gösta Ljungman, the IMF Resident Representative in Ukraine, said: "Given the COVID pandemic, the mission will hold remote meetings with the Ukrainian authorities to discuss economic developments, and policies and reforms to underpin the completion of the review." Prime Minister Shmyhal said he doesn't expect Ukraine to get a second tranche by February or March "if there are no surprises."
Americans bought half of Ukraine's $600 million Eurobond placement that settled Friday, reported the Finance Ministry. The breakdown was: US –52%; UK – 37%; and EU – 10%. The breakdown of institutions was: asset management funds – 85%; hedge funds -13%; and pension and insurance funds — 2%. Demand was so strong on December 11 that the Ministry raised the amount offered by 20% and brought the yield down to 6.2%, a record low for Ukraine. Yields for comparable government bonds in US, UK and EU are around 1%.
Foreign holdings of Ukrainian government hryvnia bonds increased by 6.8% last week as foreigners joined the government record auction of $1.8 billion in equivalent of bonds on December 15. After nine months of unbroken decreases, foreign participation reversed with a 2.4% increase in the December 8 auction. Foreigners now hold $2.9 billion the hryvnia bonds, or 8.6% of the total, reported the National Bank of Ukraine.
To keep the hryvnia from gaining value, the Central Bank bought $300 million last week, the largest one-week purchase since June. With travel abroad difficult during the upcoming holiday season, demand is weak for dollars. Today's exchange rate is 27.83 hryvnia to the dollar – 2.6% revaluation since December 1st 2020. So far, the National Bank of Ukraine has bought net $1.3 billion, largely in an effort to weaken the hryvnia and to avoid abrupt currency fluctuations.
Elena Bilan, Dragon Capital's Chief Economist noted that the export price for Ukrainian steel has risen by 150% this year, to almost $700/ton. She wrote: "Favorable prices for export goods and foreign investment in government bonds create conditions for strengthening the hryvnia…The terms of trade for Ukraine are currently the best in the last nine years."
Ukraine is selling less food, but making more money, calculates Alfa-Bank Ukraine. "Decreased crops have been more than compensated by elevated prices for key commodities," Oleskiy Blinov, Alfa's head of research, writes in its latest report. Farm output will likely be down 12% yoy, dragged down by a 13% drop in grain and a 17% drop in oilseeds. However, he notes: "Export prices for wheat are now up 22% y-o-y, corn is 33% y-o-y more dear, while sunflower oil enjoys 45% y-o-y growth in price."
President Zelenskiy promises The New York Times to "reformat" the Constitutional Court as part of "global judicial reform in Ukraine, which we will start implementing next year." In a video link interview with Andrew Kramer, a Times correspondent in Moscow, Zelenskiy says: "Many laws have already been prepared, the stages of implementation of these reforms have been prepared." The Times did not use this part of the 5,000 word interview in its story, but the entire interview is on the President's website in English, Ukrainian and Russian
Sales of electronics and home appliances during last month's 'Black Friday' and 'Cyber Monday' were up 28% yoy to $235 million, reports the Ukraine unit of GfK, Germany largest market research institute. Online sales jumped by 73% yoy, partly because online stores offered more discounts. Overall, almost 1 million items were sold during the discount days. The hottest sector was IT, where sales were up 70% yoy in monetary terms.
Ending a 9-month suspension, Qatar Airways resumed flights Friday between Doha and Kyiv Boryspil. Flights will be four times a week on Airbus A320 jets. From Doha, Qatar flies to 100 destinations, said Halyna Durmush, Qatar Airway commercial manager in Ukraine.
Editor's Note:  A frontal view of a long haul, high torque Scania truck is enough to give any motorist the jitters. But, capturing the mood of the moment, these road monsters are poster boys for billboards popping up around Kyiv. "Scania Ukraine for fair justice," reads one. Another announces what 100 business surveys already show: "Corrupt decisions of judges kill investors – Scania Ukraine." With Best Regards, Jim Brooke