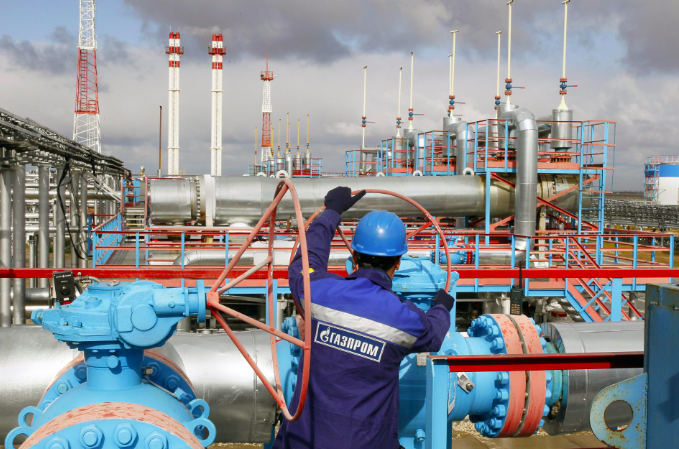 One month from today, at 9 a.m. Kyiv time on Jan. 1, Russia will shut off the gas to Ukraine if there is no gas transit contract, Gazprom has warned Naftogaz by letter, Yuriy Vitrenko, Naftogaz executive director, tells Deutsche Welle.
With this looming deadline focusing attention, the energy ministers of Russia and Ukraine met Thursday in a bilateral meeting in Vienna. Next Monday in Paris, Presidents Zelenskiy and Putin are to discuss the gas transit issue at a bilateral meeting as part of the Normandy group format.
All eyes will be on a legal meeting in Amsterdam on Wednesday that may move Naftogaz closer to winning $5.2 billion in Gazprom assets in Holland. "These assets are enough to fully recover the debt of Gazprom," Vitrenko said, referring to the $3 billion in principal and interest due from a Stockholm arbitration decision last February. At the Vienna meeting, Russia reportedly considered paying the debt in gas.
Turkey is completing two pipelines that will bring Azeri and Russian gas to Europe, dispensing with the need to send gas across Ukraine.
On Saturday, Turkish President Recep Tayyip Erdogan presided over a ceremony connecting pipelines will bring gas next October 3,500 km from the Shah Deniz II field in the Caspian to Italy's Adriatic coast. The two pipelines are: the Trans-Anatolian Gas Pipeline, across Turkey, and the Trans-Adriatic Pipeline, which is to run from Turkey, to Greece, to Albania to Puglia, Italy. Initially, the pipeline will carry 16 billion cubic meters per year. Erdogan said that addition of compressors will double that volume, to 31 bcm.
On Jan. 8, Russia's Turkish Stream pipeline will be commissioned, Erdogan said. Running 930 km along the bottom of the Black Sea, from Russia to Turkey, the Turkish stream has a 180 km spur that will take Russian gas north into Bulgaria and the Balkans. In Moscow, Russia's presidential spokesman Dmitry Peskov said he hoped that another Ukraine bypass pipeline, Nord Stream 2, which will run from Russia to Germany via the Baltic Sea, will be finished on time, presumably this winter.
Ukrainian farmers have harvested a record 74.3 million tons of grain and legumes, reports Tymofiy Milovanov, Minister of Development of Economy, Trade, and Agriculture. The harvest is 6% greater than last year's harvest of 70.1 million tons, also a record. Average yields are up 5%, to 4.93 tons per hectare.
Five months into the grain marketing year, Ukraine has exported 24.4 million tons, 35% more than this time last year. During the last July 1-June 30 marketing year, Ukraine exported 50 million tons of grain.
Confirming Ukrainians' reputation as fast adapters to new technology, the number of contactless and tokenized payment cards has increased by 70% since January. With 6.7 million contactless and 1.9 million tokenized cards now in use in Ukraine, they account for 22% of active payment cards, reports the National Bank of Ukraine. According to Mastercard, Ukraine is now among the top 10 European countries for using these technologies.
At the same time, the number of point of sale terminals in Ukraine has increased by 14% to 318,400, the central bank reports. Of these, 89% allow for contactless payments. Noncash payments account for half of all purchases in Ukraine, a portion the government wants to increase next year to 55%, says Serhiy Kholod, deputy chairman of the central bank.
The hryvnia breaks the 24 barrier today, trading officially at 23.97 to the dollar, reports the National Bank of Ukraine. With the hryvnia at its strongest level in four years, the central bank bought $184 million last week, 50% more than the previous week. The central bank has not sold dollars since mid-October.
"Ukraine Still Needs IMF Aid. Bond Investors Should Watch Out," headlines Barrons in a piece, alerting readers to the Dec. 19 appeals court ruling on the 'illegal nationalization' of Igor Kolomoisky's PrivatBank. "Global fixed-income managers bought into the reform narrative, committing some $4 billion to Ukrainian paper," recounts the New York-based financial news site. "That cut sovereign euro bond yields by three percentage points to less than 7% on a seven-year term." Ian Dehn, head of emerging markets research at Ashmore Group, predicts the IMF deal will happen with Zelenskiy pushing a banking law through the Rada and "providing a personal guarantee that he will not settle with Kolomoisky by giving him other public assets."
Citing roads as "one of three economic pillars on which economic growth will rest for the next five years," Prime Minister Honcharuk says March 1 will be the kickoff date for 2020 highway construction season: $1.4 billion spent on rebuilding 4,000 km of roads. By the end of the Zelenskiy presidency, in 2024, the government plans to rebuild 24,000 of road, linking all 24 regional capitals with high-quality highways.
In time for the holiday cargo surge, Poland has granted Ukraine 5,000 more trucking permits for December, reports Infrastructure Minister Vladislav Krikliy. Earlier this year, Poland cut the number of permits for Ukrainian truckers by 38%, to 160,000. Ukrainian officials complain to Warsaw and to Brussels that Poland is violating Ukraine's free trade pact with the EU. Ukrainian truckers complain that Poland is pressuring them to emigrate, to drive for Poland's chronically understaffed trucking companies.
To speed border crossings into Poland, construction starts this spring on separating passenger and cargo traffic at the M-10 highway approach to the Lviv region's Krakovets checkpoint. Similar work is planned for four other checkpoints into Poland: Rava Russka, Smilnits, Grushev, and Ustilug.
Good news for skiers: Ukrzaliznytsia plans to transfer the Ivano-Frankivsk railway station to a concession. Over the next two years, a private operator would modernize the station, expand retail, and create a 'multi-modal' hub for ski buses to the Carpathian mountains, Evhen Kravtsov, CEO of the state railroad, said on a visit to the Western Ukrainian city. He said only half of the station's space is used and it generates only $500,000 in rents.
Through public tenders, the government plans to transfer half a dozen rail stations to private operators, including Kyiv, Darnitsa, Dnipro, Chop, Mykolaiv, and Khmelnytskyi. Kravtsov said Kyiv's central rail station has higher "passenger traffic than in any shopping center" and the adjacent McDonald's station "is among the three most visited in the world." Despite this footfall, the rail station lost almost $100,000 under state administration.
Low-cost airlines are fast changing patterns of Ukrainians working abroad, says Chady El Tennir, president of Milan-based Ernest Airlines. Targeting the estimated 500,000 Ukrainians who work in Italy, Ernest now sees many Ukrainians flying home every month. "Before they went home once a year – and by bus," the executive tells the UBN. Next spring/summer, Ernest plans to add five more city pairs: Lviv-Bologna, Odesa-Milan; and from Kyiv Sikorsky to Bari, Trieste and Venice
From the Editor:  Tomorrow and Wednesday, private bankers, family office directors, investors, lawyers, and policymakers meet for the Ukrainian Wealth Management Forum at the InterContinental Hotel. If you manage investments, this is your best opportunity to prepare clients for Ukraine's currency liberalization and regulatory changes. The conference offers a 25% discount to Ukraine Business News readers. When you register online, use this code: KUC015mIN. Best Regards, Jim Brooke jbrooke@ubn.news.