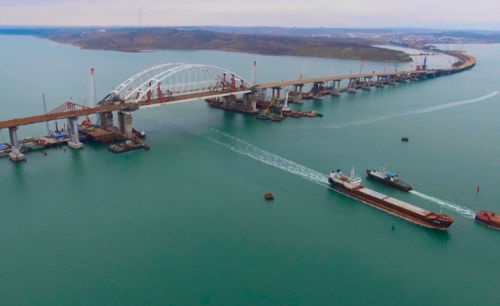 Monday, December 10
Ukraine Could Stay out of Eurobond Market in 2019…GitLab Raises $20 million from Goldman…Kerch Bridge Cuts Ship Heights 20% and Cargoes by 31%...Gov't Wants to Get out of Stevedoring Business…Mukachevo-Budapest Train Starts…Next: New Rail Links to Czech and Romania?
Ukraine could stay out of Eurobond markets in 2019 if Kyiv manages to raise enough IMF, World Bank, and EU financing, a senior debt official tells Reuters in London. After last month's failed launch of a Naftogaz Eurobond and then Russia's attack on Ukrainian Navy ships in the Azov, "Ukraine's debt yields spiked to more than 10% – a level that makes it unsustainable for Kiev to tap markets," Reuters reports. Ukraine faces presidential and parliamentary elections in 2019. Yuriy Butsa, the Finance Ministry's commissioner for public debt management, says: "If we have a significant amount of concessional financing, it may be an option to not issue a Eurobond at all."
The IMF Board of Directors will meet on Tuesday, Dec. 18 in Washington to vote on the $3.9 billion, 14-month standby financing program for Ukraine. Clearing one hurdle, President Poroshenko signed on Friday the government's 2019 budget. It meets the IMF mandate to cap the deficit at 2.3% of Ukraine's gross domestic product. Also winning IMF praise, the Rada approved Thursday a change in the Budget Code to replace one-year planning with three-year planning.
Ukraine's software startup GitLab raised $20 million from Goldman Sachs in its latest investment round, the company reports. The GitLab platform allows large groups of programmers to all work on the same piece of software at the same time. In a recent interview with AIN, Dmitry Zaporozhets, a founder, says the company aims to nearly double its staff to 500 and to launch an IPO in 2020. Presently, the company is valued at $1.1 billion, making it a 'unicorn.'
France's CEETRUS opens on Friday Lviv's third Auchan store since 2010. Located in northern Lviv, on Chornovola Avenue, the hypermarket will complement two other Auchan stores in Lviv, both in the city's southern suburbs. In a break with the standard formula, the hypermarket will have a co-working space and restaurant on the second floor. Known as Immochan until June, CEETRUS has 187 Auchan stores in western Europe and 110 in central and eastern Europe.
Five companies – all foreign – have been selected by the EBRD to participate in the second round of a tender to build a waste recycling plant in Lviv, the City Council reports. Vadim Nozdry, director of the Zelene Misto, or Green City, says the companies are: Control Process, SA of Poland; Eggersmann Anlagenbau GMBH of Germany; Helector SA of Greece; the MUT-Dogusan consortium of Austria and Turkey; and the WTT-Axis consortium of Netherlands and Lithuania. The plant is to be built on Plastova Street, in northeast Lviv. The EBRD and the City Council have agreed to spend EUR 35 million on the new plant and to rebuild and stabilize the existing landfill at Gribovichi.
S&P Global Platts told its international energy investor audience on Friday of Ukraine's "landmark" plan to auction 10 lots in March for oil and gas exploration.  The energy news service noted: "Ukraine's gas production has been steady at some 20 billion cubic meters year for the past 25 years, but it has vast untapped potential in its onshore blocks." Platts notes that eight of 10 lots on offer are in eastern Ukraine – Poltava, and Kharkiv.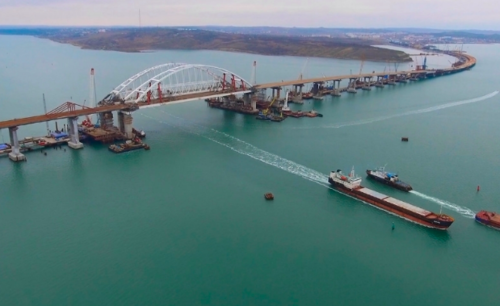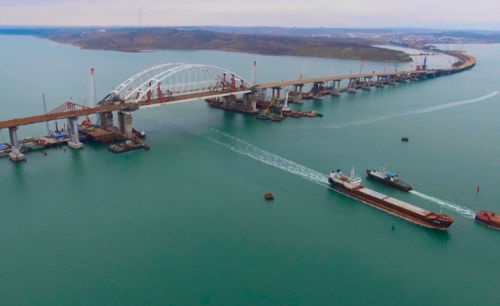 The opening of the Kerch Strait bridge resulted in a 20% reduction in the heights of ships able to enter the Azov and a 31% reduction in cargo weights, Aleksandr Oleynik, Mariupol port director, tells Nolan Peterson of the Daily Sentinel. Oleynik, who has worked at Mariupol port since 1992, said that historically the port received ships with air drafts up to 41 meters and cargoes of 32,000. By building the bridge low, the Russians cut air drafts to 33 meters. Then, they imposed cargo limits of 22,000 tons.
About 140 ships were awaiting Russian permission to pass through the Kerch Strait as of Friday morning, Ukraine's border service reports. Delays cost $10-50,000 a day per ship, Infrastructure Minister Volodymyr Omelyan told French Minister of Transport Elisabeth Borne at a meeting in Paris. Noting that 20% of the ships have EU owners, he said: "As a result, European taxpayers have to pay extra for Russia deciding to ignore the norms of international law." Calling for concrete EU/US support to restore freedom of the seas, he warned: "If the Russians get away with the situation in the Kerch Strait, next year they will do the same in the Black and the Baltic Seas."
By 2030, Ukraine's Sea Ports Authority plans to get out of the stevedoring business and hand cargo handling work to private companies, through concessions or public private partnerships, Raivis Veckagans, Authority CEO, tells World Maritime News. At present, state stevedores handle cargo at all 13 of Ukraine's Black Sea and Azov ports. Earlier this year, pilot projects with private stevedoring companies started in Olvia and Kherson. Veckagans says concessions "will contribute to the introduction of new technologies, automation of processes and attraction of new cargo flows."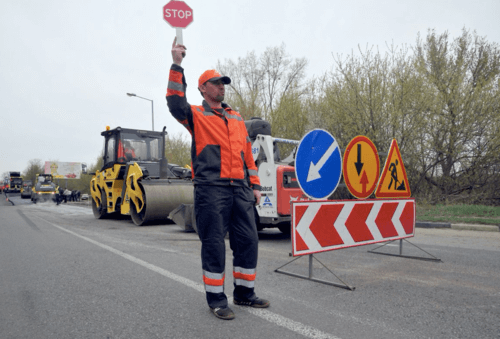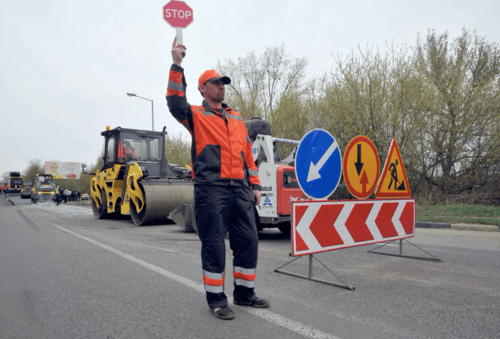 Ukraine plans to spend $2 billion next year to repair and rebuild roads, a record amount since independence in 1991, Prime Minister Groysman told the Rada on Friday. Addressing representatives of all 24 regions in a nation larger than France, he promised a build a modern national highway network: "In five years, we have to unite all regional centers — we will do this for sure."
Ukrainian Railways and Hungarian Railways MÁV inaugurated yesterday a daily, dedicated Mukachevo-Budapest train. Hungarian European gauge locomotives and passenger cars now ply the 6-hour route, which includes stops at Chop, Zakarpattia, and Záhony, Hungary for passport controls. Ukrzaliznytsia converted 40 km of track to handle Euro gauge trains to the Hungarian border and built a 'Euro' platform at Mukachevo.
"We have big plans for Mukachevo," Evhen Kravtsov, CEO of Ukrzaliznytsia. writes on Facebook. With rail travel from Ukraine to the EU running at double last year's levels, Ukrzaliznytsia is negotiating with Czech and Slovak railways for a similar Mukachevo-Prague dedicated train. After the new rail tunnel through the Carpathians was inaugurated last May, Mukachevo now is 3h45 minutes by train from Lviv. Five kilometers from Mukachevo rail station, the Infrastructure Ministry plans to convert an abandoned Soviet air base into the international airport for Zakarpattia.
Moldova and Ukraine are preparing a feasibility study on building a rail line from Odesa to Reni, Prime Minister Groysman tells the Rada. Reni, a Ukrainian Danube port on Moldova's southern border, has rail ties to Romania and Moldova. Ukraine recently rebuilt the road from Odesa to Reni, cutting the 320 km drive to 5 hours.