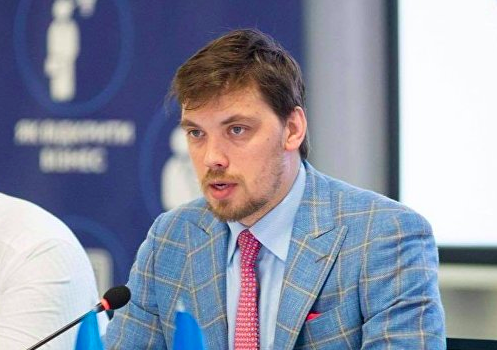 Ukraine will have cheap credit at 12-13% in hryvnia next year, predicts Oleksiy Goncharuk, deputy head of the Office of the President. Goncharuk, considered a leading candidate for Prime Minister, spoke Friday at a breakfast with heads of foreign banks. The central bank forecasts that Ukraine's prime rate will drop in half over the next two years, from its current level of 17%. Such a sharp drop in bank lending rates would trigger an investment boom.
Bank lending will be helped by a near quadrupling of bank profits, to $1.2 billion, during the first half of this year, compared to the same period last year. "For the second year in a row, banks are making high profits, mainly due to the rapid development of consumer lending, which is growing by about 30% year on year," Kateryna Rozhkova, first deputy governor of the central bank, said in a press release. "We estimate that in the medium term, high operating efficiency and profitability will continue." After half of the nation's banks were closed after the 2014 financial crisis, Ukraine now has 76 banks, 66 of them profitable.
Foreigners invested a record half a billion dollars in Ukrainian hryvnia bonds at last week's auction, bringing the total since the start of the year to $3.5 billion, reports the central bank. Foreigners now own 11% of Ukraine's hryvnia bonds, an 14-fold increase over the Jan. 1 level. With exporters complaining of a strong hryvnia, the central bank bought an estimated $200 million Thursday, weakening the hryvnia by 1%, to 25.65.
Ukraine's hryvnia has grown the most in the world this year against the dollar — by 9.1%, according to Reuters latest chart of global foreign exchange rates. Runners-up are: Russia's ruble +8.3%; Egypt's pound + 8.1%; and Thailand's baht + 4.9%. Strengthening the hryvnia are: high prices for grain and iron, $3.5 billion in foreign purchases of hryvnia bonds, and labor remittances of $1 billion each month. Weakening the hryvnia are: a record number of Ukrainians vacationing in the EU this summer and $4.4 billion trade deficit in goods and services.
The gold rush to hryvnia bonds prompts the world business press to move optimistic forecasts on Ukraine's economic outlook. In "World-Beating Rally Shows Euphoria as Ukraine Eases Bond Access," Bloomberg quotes Andreas Schwabe, a Vienna-based analyst at
Raiffeisen Bank International AG, saying the outlook for Ukraine "looks the best that it has for a long time…now there are a lot of new people in the parliament, it's like a new beginning." The Financial Times follows with a story "In Ukraine bond markets enjoy boost from Zelensky effect. The FT writes: "Ukraine's markets have soared as overseas investors, who largely fled the country after Russia's annexation of Crimea, warm to its new reform-minded president Volodymyr Zelenskiy."
From London, Timothy Ash, senior sovereign analyst for Blue Bay Asset Management, emails to his list: "Pretty incredible turnaround in investor sentiment towards Ukraine – at least from the institutional investor community. They seem willing to give Zelenskiy the benefit of the doubt – let's hope he does not screw up this once in a generational opportunity. Notable that the Ukrainian government's longer-term borrowing costs have reduced by 200bps since the elections – 10Y $ bonds are yielding just over 7.5% these days."
Ukraine's interest rates, exchange rates, and inflation rates are among statistics available at the click of a mouse of the National Bank of Ukraine's newly revamped website: www.bank.gov.ua. Launched on Thursday, "the site displays on all devices," reports the central bank. In London in March, the NBU won the Transparency Award, an international prize sponsored by Central Banking Journal.
Surging world iron prices pushed the EBITDA of Ferrexpo, Ukraine's largest iron pellet exporter, up 59% during the first half of this year, compared to the same period last year. With this earnings figure hitting $372 million, the Swiss-based company has the cash to fund its $220 million capital expenditure program. By 2021, the company plans to increase pellet output capacity to 12 million tons a year. Listed on the London Stock Exchange at FXPO, Ferrexpo is a constituent of the FTSE 250 Index. Iron ore prices nearly doubled this year on production problems in Brazil and booming steel production in China.
Ukraine's pipelines carried 53.2 billion cubic meters of gas from Russia to the EU and Moldova during the first seven months of this year, up 4.4% over the same period last year, reports Interfax-Ukraine, drawing on data from Uktransgaz, the state pipeline company. If current rates are maintained, Ukraine will carry 90 bcm, slightly above last year's level. Next month, at 3-way gas transit talks, the EU is expected to ask for a 10-year transit contract guaranteeing 60 bcm flowing across Ukraine. Russia is expected to argue that it will not need Ukraine after 2021 because Nord Stream 2 will open next year with a capacity of 55 bcm.
Racing to fill its gas reservoirs before gas transit talks start with Russia, Ukraine pumped 2.3 bcm into its underground gas storage facilities in July, the highest monthly figure in four years. At this rate, Naftogaz will reach by Oct. 1 its goal of 20 bcm, enough to get through the winter heating season. If Russia stops sending gas through Ukraine on Jan. 1, when the contract expires, gas flows will have to be reversed, pumping gas from west to east. Last year, Ukraine cuts its natural gas imports by one quarter, thanks to conservation, a mild winter, and growing domestic production.
Four months after launching a duty-free warehouse regime for foreign companies to store natural gas in Western Ukraine reservoirs, 31 foreign companies are storing 1.4 bcm, reports Andriy Kobolyev, CEO of Naftogaz. He writes on Facebook: "This figure significantly exceeds our previous expectations."
Ukrtransgaz launched Thursday a website to help foreign companies store their gas in Ukraine, the Ukrainian Gas Storage Operator. Already, the platform has 466 registered users from 264 companies. "We provide an opportunity for traders to transport gas at very competitive prices through Ukraine between Poland, Hungary, Slovakia and Romania," Sergey Makogon, the company's strategy and business development director, writes on Facebook. "These are the first serious steps to create a regional gas hub with a center in Ukraine."
Dragon Capital is negotiating to buy two more shopping centers in Ukraine — Sun Gallery in Kryvyi Rih and City Mall Zaporizhzhia – Arricano Real Estate Plc, the owner, announces in a posting on the London Stock Exchange. Listed on the LSE's Alternative Investment Market, Arricano currently owns five shopping center in Ukraine, 49.9% of Kyiv's Sky Mall and land for three sites for development. "Received funds will be meant for the development of portfolio and strengthening of the company's positions," Arricano CEO Mykhailo Merkulov told Interfax-Ukraine of the potential sale.
From the Editor: Ukraine Business News is now fully searchable. Just click the little magnifying glass on our website: www.ubn.news. Search back through 300,000 words! Best regards Jim Brooke – jbrooke@ubn.news