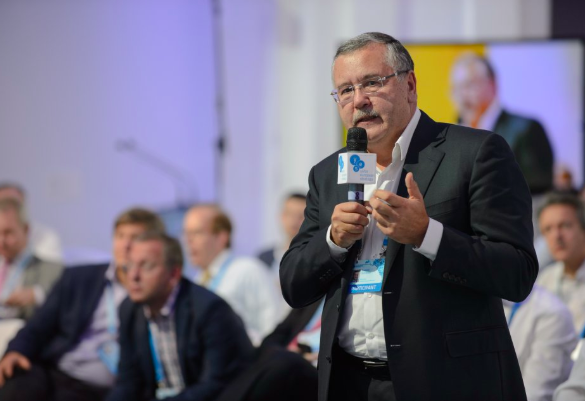 Election Update:
Anatoliy Grytsenko, the former defense minister and winner of 7% in the first round presidential vote, endorses frontrunner Volodymyr Zelenskiy – conditional on Zelenskiy announcing his nominees for five key government offices. Grytsenko writes on Facebook after meeting the comic actor on Saturday: "Is he ready for the presidency? No, he is not, but he is aware of the responsibility that comes with it and is ready to make efforts and intends to rely on professionals." The posts filled by the President are: central bank chairman, the foreign minister, defense minister, prosecutor general, and head of the Security Service of Ukraine, or SBU.
After passing drug and alcohol tests on Friday, President Poroshenko and Zelenskiy are to face each other in a single debate, in the Olimpiyskiy Stadium, tentatively on Friday night April 19, just 36 hours before polling stations open. Timothy Ash writes: "Poroshenko will have to pull out an absolute knockout blow in the weeks to come – maybe the chance is at the Olympic stadium."
Zelenskiy unveiled a corruption-fighting program Sunday: removing parliamentary immunity from prosecution; using international competitions to staff independent anti-corruption agencies; promote e-government; offer rewards to citizens who denounce acts of corruption; ask Western countries to prosecute Ukrainian officials involved in corruption; and "decriminalize economic activity to the maximum and punish officials who make artificial claims to business." Many of these changes would need Rada approval. Ukrainians elect a new parliament on Oct. 27.
Foreign companies and investment funds now can open accounts in Ukrainian banks, without setting up representative offices, the National Bank of Ukraine reports on its website. Part of a wider currency liberalization started in February, foreign companies have greater freedom in using their Ukraine bank accounts.
Foreign companies are invited to bid in a project to build a half kilometer long cableway in Lviv, taking sightseers from Na Valakh park to Vysoky Zamok, or High Castle Park. Mayor Andriy Sadovy says the project is being coordinated with UNESCO and is expected to cost around $12 million. A ProZorro tender will be issued.
This spring, the April winds blowing across Ukraine are spinning wind turbines. Currently, $1.3 billion worth of onshore wind projects are underway across Ukraine. By comparison, $100 billion was spent worldwide last year on onshore wind, Bloomberg reports. Worldwide, wind energy was the second fastest growing renewable energy source in 2018, adding 49 GW. In first place was solar, adding 94GW, the International Renewable Energy Agency announced last week.
Here are Ukraine's major projects:
With German turbines and Chinese construction, work starts this spring on a €380 million Franco-Norwegian project to build 250 MW of wind capacity on the north shore of Lake Syvash, facing Crimea. Norway's NBT AS has partnered with Total-Eren S.A. to build the wind farm on a 1,308-hectare site in southern Kherson, expanding on an existing 3 MW project. Beijing-based PowerChina is performing engineering, procurement, and construction. By the end of this year, Rostock-based Nordex SE is to supply 34 turbines, for first 133 MW.
NBT has signed an agreement with Unit Venture Investment Fund develop a €1 billion 742 MW wind power plant along the northern shore of the Azov, in Yakymivka district, Zaporizhia. With the working name of 'Zophia,' this would be the largest onshore wind power plant in Europe. Currently, the largest is a 600 mw plant, Fântânele & Cogealac, in Romania. The second largest is Whitelee, a 539 MW plant in Scotland.
By June, DTEK plans to complete construction of the first 100 MW phase of Prymorsk, or 'Seaside,' on the north shore of the Azov, in Zaporizhia region. As of Friday, 18 of the 26 planned GE turbines were generating electricity, with a capacity of 69 MW. A second 100 MW phase of the plant is under construction. Separately, DTEK is building Oryol, a €135 million, 100 MW plant, powered by Vestas turbines from Denmark. The three projects add up to a €400 million investment in 300 MW of wind power on a 50 km stretch of Azov coast, west of Berdyansk.
Belgium-based GreenWorx Holding N.V. broke ground two weeks ago on a €188 million, 110 MW wind power plant on the north shore of Kherson's windswept Gulf of Dnipro. Located in Oleksandrivka, Bilozerka district, the project is to use 25 Nordex turbines of 4.4 MW each. According to Eco Town news site, GreenWorx CEO Tom Hanson said at the groundbreaking that construction will create 300 jobs and the plant will create 40 fulltime jobs.
Germany's eab New Energy Group has opened an office in Lviv and is helping Ferozit Wind Energy build a total of 85MW of wind power capacity at three sites in Lviv region, in Pustomyty and Radekhiv districts. A leader in wind energy, Germany drew 34.4% of its electricity in March from wind power plants.
The Ukraine partner of German's Fuhrländer AG is starting to make 4.5-4.8 MW wind turbines at its Kramatorsk plant, double the size of the first turbines made by Fuhrlaender Windtechnology LLC when it started production in 2012. With 15-20 of these turbines to be built this year, a special crane will be imported to erect them, Andriy Sergienko, a director of Wind Parks of Ukraine, tells ExPro Consulting site. While electronics are imported, largely from Siemens, about 70% percent of the turbine/tower package is produced in Ukraine, he says.
About 15 km south of the Belarus border, 189 MW of wind power capacity is to be built in three stages at Pokaliv, Zhytomyr by Wind Solar Energy, of Cyprus. Called Lisova, or forest, the plant's first stage is to be 111 MW, reports Interfax-Ukraine.
About 15 km east of the Polish border, a 100 MW wind power plant is being planned for the Volyn region village of Myshiv. The plan is to raise 35 turbine towers on a 150-hectare site. As a first step, the developer, Wind Power GSI Volyn, is erecting this spring a 120-meter high wind gauge, according to bug.org.ua news site.
Near the Danube, a five-turbine, 19.5 MW wind power station is planned for Kiliya, Odessa region, Pavel Boichenko, head of the unified territorial community, tells Oblesvesti.com.
Building on the Dniester estuary, Turkey's Güriş Construction plans to inaugurate this month Ovid 1, a 34.4 MW wind farm powered by GE turbines. Güriş is obtaining permits for the second phase of 50.4 MW, also on land 40 km south of Odessa.