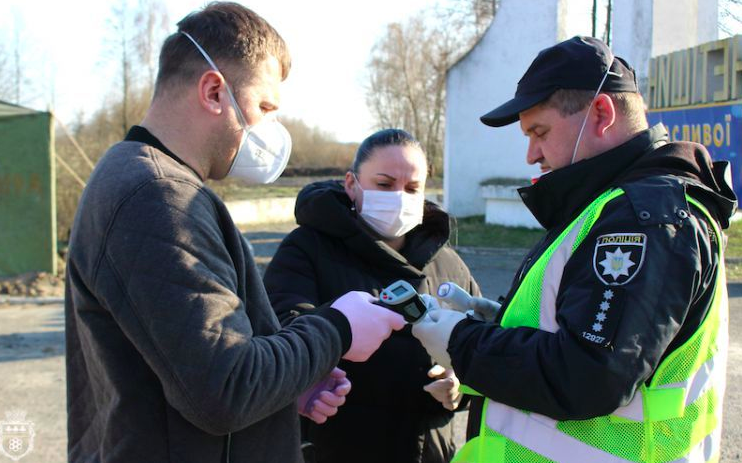 All of Ukraine's 24 regions, including Kyiv, are to set up highway checkpoints today to monitor the health of people arriving by car. If the coronavirus epidemic grows, police and health workers are to use these checkpoints to restrict movement among regions. On Friday, Chernivtsi authorities started using checkpoints to restrict entry into the region. Over the weekend, Chernivtsi region imposed a lock down regime, forbidding people from leaving their houses for 40 hours.
On the national level, only 21 border checkpoints are open, 9% of the 230 that Ukraine has with its seven neighbors. With the exception of truck drivers, train and ship crews, and people on official missions, anyone entering Ukraine must spend 14 days in self quarantine.
For pedestrians, tighter restrictions start across Ukraine today. Anyone on the street must wear a mask and carry an ID. People must walk singly or in pairs. Except for exercising pet, walking in parks and squares is forbidden. Family visits to hospitals are banned. Playgrounds are closed. Fines range from $600 to $1,800. With Catholic Easter coming this Sunday and Orthodox Easter the following Sunday, authorities encourage worshippers to stay at home and follow church services on television.
Ukraine's number of officially confirmed Covid-19 cases hit 1,308 last night. There are 37 dead. As of Sunday afternoon, Kyiv City had 245 confirmed cases. About half are being treated in hospitals, about half at home. AFP reports that police "cordoned off a wealthy Kyiv suburb" where 30 cases have been recorded. Elsewhere, Ukraine's top three regions for infections are: Chernivtsi — 220 cases; Ternopil — 160; and Ivano-Frankivsk –105.
Today's harsh restrictions will slow and eventually halt the spread of the virus, allowing the government to ease restrictions in three weeks, Prime Minister Shmygal predicts. "In late April, we will be able to begin a gradual weakening of quarantine measures," he said in a video address. "At first, people of working age will be able to go to work, while public transport will resume work. This will allow us to start the restart of the economy from the beginning of May…Ukraine cannot afford not to work for six months or even two to three months."
Coronavirus restrictions are expected to push Ukraine's economy into a recession, the first since 2014-2015, when Russia's military attacks threw Ukraine's economy off balance. On Friday, Ukraine's Cabinet of Ministers released its new economic forecast for this year: a 4.8% drop in GDP and a loss 250,000 jobs. Inflation will hit 11.6% — double the pre-coronavirus forecast. The average inflation-adjusted wage will fall by 4.5%, compared to last year.
A 3% GDP drop is the consensus forecast of Reuters monthly poll of analysts, also released Friday. Separately, a 5.9% drop is forecast by Institute for Economic Research and Policy Consulting. All analysts worry that the EU and China will pull Ukraine down, particularly if steel prices keep falling.
Oleskiy Blinov of Alfa-Bank Ukraine is less pessimistic, writing: "In our view, this government forecast is still a very preliminary one…the Prime Minister has made several statements this week that he would like to see quarantine eased at end-April. If this happens and no strong external supply shock [is] evident, we think that Ukraine may end the year with real GDP decline around 1%."
Similarly, early numbers are mixed:
During the two weeks of quarantine, in the second half of March, the number of vacancies in Ukraine's job market decreased by one third, reports that National Bank of Ukraine in its Economic Review of the Week.
Ukrzaliznytsia forecasts that it will handle 3-15% more rail cars at the Black Sea ports than last year. In 2019, the growth was 9% y-o-y. Last month, the state railroad handled twice the volume of one year ago, Andriy Kiman, director of the state railroad's Odesa section tells Magistral news site.
Pulling down inflation, gasoline and diesel prices have fallen by 23-24% since the start of this year, reports Enkorr, the Kyiv-based Energy Correspondent news site. Last Thursday, A-95 gasoline averaged $0.89 a liter in Ukraine, $0.26 cheaper than on Jan. 3.
Used car sales were down 61% y-o-y in March, falling to 18,600. This was partly because numbers last spring were artificially high as owners raced to benefit from a tax amnesty. Also, when the quarantine was first imposed, car sales were banned and the government stopped registering cars. On Thursday, the government lifted the ban on car sales. New car sales were down only 10% in March y-o-y, indicating that the wealthiest slice of Ukrainians has not been greatly affected.
Short of 100,000 seasonal workers, Germany's farmers are working with their government to fly in 40,000 workers from Eastern Europe, reports Deutsche Welle. Similarly, Poland's farmer and construction associations are working out visa regimes and medical protocols to bring back many of the estimated 250,000 Ukrainian workers who went home before the borders closed one week ago. Wage remittances last year totaled $12 billion year, making labor Ukraine's second largest export after food.
The central bank bought $248 million last week, helping to restrain a rally by the hryvnia. The turnaround came after key Rada votes on March 9 seem to have cleared the way for an IMF deal, Oleh Churiy, deputy governor of the National Bank of Ukraine, said Friday in an online briefing with reporters. He said: "We see that demand [for dollars] has declined significantly and reached those average daily demand indicators that we had before the crisis unfolded."
On Saturday, the IMF welcomed the Rada's initial passage of the banking law and encouraged the parliament to pass a revised budget, taking into account "the tremendous challenges caused by Covid-19."  IMF envoy Goesta Ljungman also urged the Rada to work with the World Bank to create a larger farm land market than the approved one, which caps sales at 100 hectares.
On Thursday, the World Bank greeted approval of the market, then posted on Facebook a list of steps necessary to create a larger, more transparent market: "[Passage of] laws that will provide free access to cadastral data, strengthen land management, accelerate land transfer procedures, regulate the sale of state lands, including the use of compulsory electronic auctions, which will limit the free privatization of state lands, and open access to financing for small agricultural producers."
With the Rada expected to start dealing this week with 4,000 amendments to the 'anti-Kolomoisky' banking law, PrivatBank filed a suit Friday in Cyprus seeking $5.5 billion in damages from the bank's previous owners Ihor Kolomoisky and Gennadiy Bogolyubov. "This claim brings the combined amount claimed by PrivatBank against Kolomoisky and Bogolyubov in England, Cyprus, the US and Israel to a total of over $10 billion," PrivatBank said in a statement, cited in a Financial Times article, "Ukraine's PrivatBank seeks $5.5bn damages from oligarchs."
From the Editor: The Interfax-Ukraine story summarized in Friday's UBN about Ukraine's 'high' electricity prices provoked two blasts. One rebuttal comes in a second Interfax-Ukraine article, quoting the All-Ukrainian Energy Assembly. It calls the first story a "manipulation" by Interpipe, the source of the original numbers.  The second comes from Fredrik Svinhufvud, partner in Vindkraft Ukraina, a Swedish-Ukrainian company building a windpower farm near Mariupol. In Scandinavia, he emails: "Today's extremely low price is the result of mainly overstocked hydro dams (20% over the usual level at this time of the year) in combination with an unusual warm winter, low oil & gas prices, and…low consumption due to low industry activity. This is a tragedy for the producers and many are heading for bankruptcy due to these low prices." Best regards James Brooke jbrooke@ubn.news