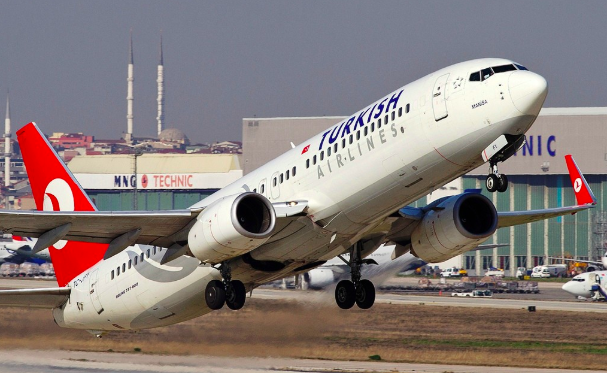 Getting a jump on the May holidays, President-elect Zelenskiy flew Saturday for a family weekend break in Bodrum, Turkey's resort city on the Aegean. Two weeks ago, Turkish Airlines started a weekly flight from Kyiv Boryspil to Bodrum. On June 13, Pegasus starts flights to Bodrum from Kyiv Sikorsky. Turkish Airlines, with flights from Kyiv, Kharkiv, Kherson, Lviv, Odesa, and Zaporozhia, carried 800,000 passengers on its Ukraine flights last year, a 28% increase over 2017. Benefitting from a visa-free, passport-free Turkey-Ukraine travel regime, Ukraine ranks 7th as a source of foreign tourists for Turkey.
A "radical regional airports development program" is a key to Ukraine's official plan to quadruple air passenger traffic to 80 million in 2030, reports Aviation Voice news site. To increase regional traffic from 25% today to 50% in 2030, the plan calls for investing €450 million to upgrade the airports of Kharkiv, Kherson, Lviv, Odesa and Zaporizhia to accommodate wide body jets. The airports of Bila Tserkva, Cherkasy, Chernivtsi, Dnipro, Ivano-Frankivsk, Kryvi Rih, Mariupol, Mykolaiv, Poltava, Rivne, Sumy, Ternopil, Uzhgorod and Vinnytsia would be upgraded to handle Boeing 737s and Airbus A320s.
Bolstered by the arrival last week of its seventh Boeing 737, SkyUp launches an ambitious summer schedule this week. From Kyiv Boryspil, Ukraine's new low cost airline will start flights to: Alicante, Batumi, Bodrum, Burgas, Catania, Faro, Heraklion (Crete), Naples, Palma de Mallorca, Pula (Croatia), Odesa, Rimini, Split, Tenerife-South, Varna, and Yerevan. From Lviv, SkyUp starts flying to: Alicante, Antalya, Monastir (Tunisia) and Tivat (Montenegro). From Kharkiv, SkyUp's new flights will be to: Barcelona, Kutaisi, Larnaca, Monastir, Odesa, Paris-CDG, Rimini, Tirana and Tivat.
SkyUp starts flying from a new regional airport this week — Kryvyi Rih. SkyUp starts flights tomorrow to Sharm El Sheikh and on Thursday to Antaliya. Later this year, SkyUp would like to fly from Cherkasy.
Poltava's newly reopened airport, plans to start flights to Poland this year, and to Spain and Israel next year, Volodymyr Okary, the aiport director, tells Zmist newsite. This spring, the airport reopened with SkyUp charters to Sharm el Sheikh and Antalya, Turkey.
After re-opening last December, Mykolaiv airport carried 4,300 passengers during the first quarter. Growth is to continue, with SkyUp starting a flight on Wednesday to Antalia and MotorSich starting flights to Kyiv Sikorsky next month.
By the time Odesa's new runway is completed this fall, Ryanair will become the city's largest airline, with scheduled year round flights to five EU cities. One flight will go to Berlin, and four to Poland – Gdansk, Katowice, Krakow, and Wroclaw. The Krakow flight starts June 16. The other flights start Oct. 29.
With as many as 2 million Ukrainians working and studying in Poland, Ukraine has opened in Katowice its 11th honorary consulate in Poland. In addition, there are four consulates: Gdansk, Krakow, Lublin and Warsaw.
The news that Lufthansa recently inspected Zaporizhia airport, drew attention to southeast Ukraine's fastest growing airport and its 12,000 square meter new terminal that opens this fall. Built to handle 400 passengers an hour, the terminal will soon handle flights by nine airlines to 12 destinations, including Barcelona, Istanbul and Warsaw. By contrast, Dnipro a city of 1 million people — one third more than Zaporizhia – has four airlines flying to four cities. To steal passengers from its rival, Zaporizhia recently started a direct bus route from downtown Dnipro to Zaporizhia airport, a 100 km, 90-minute ride.
Scheduled domestic flights should return to Mariupol by next year, Infrastructure Minister Volodymyr Omelyan tells Delo.ua. His ministry and the military are assessing safe landing approaches to this Donetsk region airport, which is only 35 km, west of the front line. Currently used for supply flights by the military, the Mariupol landing strip is considered in better shape than its rivals for civilian flights: Kramatorsk, also in Donetsk region, and Berdyansk, 80 km to the west of Mariupol.
With the loss of Crimea, the tourist flow to Berdyansk is to hit 1.5 million this summer – five times the level of 2015 — Berdyansk city mayor Vladimir Chepurny told reporters in Kyiv last week. Chepurny and Zaporizhia officials lobby for reopening the Berdyansk airport. In the 1980s, it received Aeroflot flights direct from Moscow.
Investing in Ukraine's two Sea of Azov ports, the government has awarded tenders this month for the first major dredging in a decade of Mariupol and Berdyansk to Azimut Specialized Technical Bureau LLC, a Ukrainian company. With the winner determined by ProZorro online auctions, the two contracts total $27 million.
Russian harassment of Ukraine-bound ships in the Azov continues, Petro Tsyhykal, head of Ukraine's State Border Guard Service, said Wednesday. "There is constant inspection of vessels in the Kerch Strait which visit Ukrainian ports for economic purposes," he said, according to the agency. "An artificial queue is being created, and our vessels take much longer to inspect and are the last to be let go." Through April 25, Mariupol port has handled 1.5 million tons, with 127 ship calls, lower levels than last year, the port director reports.
Five months after Russia's seizure of three Ukrainian Navy boats near the entrance to the Sea of Azov, Ukrainian naval, air and land forces have started 'visit, board, search, and seizure training' at Ochakiv, home to the Navy's operational control center. Training is conducted at 73rd Maritime Special Purpose Center, 70 km east of Odesa, according to Jane's Defence Weekly.
France is supplying a €64 million soft loan to supply drinking water to Mariupol, an Azov city of 500,000 people, a population swollen with refugees from occupied areas of Donetsk region. Under an agreement approved Thursday by the Rada, the 30-year loan with a 10-year grace period and an annual interest below 1% will help build modern water filter stations and to upgrade city water pipes to cut leaks of drinking water and sewage. A leader in the field, France exports water system technologies around the world.
This week, Nibulon starts its passenger service with two catamarans connecting Black Sea coast resorts of Mykolaiv and Kherson regions. With the business increasingly popular, Nibulon is building in its Mykolaiv shipyard a third catamaran, a 24-meter river-sea boat designed to take passengers on the Dnipro, Southern Bug and Black Sea.
The government has approved a visa-free deal with Ecuador, a country that will makes all of South America visa-free for Ukrainians, with the exception of the northern tier countries of Colombia, Venezuela and the Guianas. A similar agreement was approved with North Macedonia, the former Yugoslav republic.