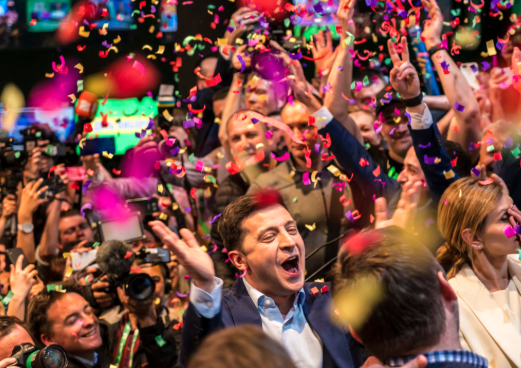 Volodymyr Zelenskiy, the anti-corruption campaigner, won the presidency by the largest margin in Ukraine's history, 73% to 25%, according to a consortium of exit polls released Sunday night. Zelenskiy swept the nation, with vote margins ranging from 57% in the West to 88% in the East, according to responses tabulated from 13,686 voters leaving 300 polling stations.
Zelenskiy presented his team of experts Thursday night on "Right to Power" on 1+1, the TV channel owned by his biggest backer, Igor Kolomoisky. Mirroring membership of the Cabinet of Ministers, the main experts are:
Ruslan Stefanchuk, intellectual property lawyer, responsible for reforming legal institutions and developing legislation.
Ivan Bakanov, CEO of Zelenskiy's entertainment company Kvartal 95 and legal founder of Zelenskiy's party, Servant of the People, responsible for relations with the Rada.
Dmytro Razumkov, political consultant and managing director of Politconsulting Group, responsible for domestic policy.
Oleksandr Danylyuk, former Finance Minister, presented as an expert in foreign relations, economics, and finance.
Ruslan Ryaboshapka, a former member of the National Agency for Corruption Prevention, responsible for anti-corruption policy.
Andriy Gerus, director of the Association of Consumers of Energy and Utilities, an NGO that defends utilities consumers, responsible for energy, utilities, and anti-monopoly policy.
Danylo Hetmantsev, president of the Association of Tax Advisors, in charge of economics, finances, and taxation.
Viktoria Strakhov, a former member of the National Reform Council and corporate secretary at PrivatBank after it was nationalized, responsible for banking.
Ivan Aparshyn, defense and security expert. Promised on TV to make defense procurement transparent
Concorde Capital's Zenon Zawada writes: "This team includes many people with impressive theoretical expertise, but few people with practical experience. Their success will depend on Zelenskiy's ability to support them in their attempts at reforms, especially when their proposals are inevitably resisted."
Viktor Medvedchuk, a Ukrainian who often serves as an emissary for Russian President Putin, tells Reuters that Ukraine's new president could regain control over the separatist east by year's end, get cheap gas and investments from Russia — if he does a deal with Moscow. Medvedchuk, who has known Putin for 19 years, says billions of dollars would flow from Russia in the form of investments and purchases of Ukrainian goods. Asserting Ukraine is losing $20 billion a year in exports to Russia, he said in an interview last week in Kyiv: "We're not saying that we have to kiss or hug each other again. We're talking about restoring pragmatic economic relations."
Russia's new permit system for exports of coal, coke, gasoline, and diesel threatens monthly supplies to Ukraine worth $360 million. According to Alfa Bank and the State Statistics Service, Ukraine imports $152 million worth of coal, or 60% of needs; $151 million of diesel, or 41%; $21 million of gasoline, or 23%; $21 million of LPG, or 38%; $16 million of coke, or 74%. Alexiy Blinov, the chief economist for Alfa Bank, writes: "This is a threat for Ukraine's power sector, car fuel market, and the steel sector."
Two of DTEK's eight power generating plants run on anthracite coal which no longer is produced in government-controlled areas of Ukraine. DTEK has planned to entirely fuel these two plans with 2.2 million tons of coal imported from Russia, some from its own mines. Concorde Capital's Alexander Paraschiy writes: "If DTEK won't be able to supply coal to Luhanska from Russian territory (either from DTEK-related mines or from other Russian suppliers), the plant will have to either switch to burning natural gas (which is too expensive) or halt its operations altogether…All in all, we continue to consider DTEKUA Eurobonds as the most exposed to political risks of 2019."
Metinvest, Ukraine's largest steelmaker, may face a shortage of coking coal. Concorde Capital calculates that Metinvest's mines can only cover 57% of the 9.1 million tons of coking coal the company needs. On Thursday, Metinvest told Interfax-Ukraine that it has a long-term supply strategy that guarantees sufficient coal. However, Anatoliy Starovoyt, general director of Ukrkoks, the national association of coking coal consumers, worries that Ukraine's seaports cannot handle an overnight doubling of coking coal imports.  Last year, Ukraine met almost half of its needs for 13.3 million tons of coking coal by import coal from Russia, by rail.
Russia's outright import and export bans will cover $250 million worth of goods a year, estimates Russian Prime Minister Dmitry Medvedev. But, Ukraine analysts say these items are replaceable, analysts say. Last year, Ukraine imported most of its oil from Azerbaijan and only 20% of its bitumen – used for paving roads — from Russia. Interpipe only exported only 61,600 tons of pipe, 9% of its total exports, to Russia.
Foreign investment in Ukraine's hryvnia treasury bonds rose by 20% last week, hitting a total dollar equivalent of $1.1 billion. Attracted by high-interest rates and not put off by the presidential election, foreign investment in the bonds has increased almost 5-fold this year, to UAH 31 billion. Last year, foreign investment in the bonds increased by 22%.
With Chinese equipment, DTEK inaugurated Europe's second largest solar power station on Friday in Nikopol, Dnipropetrovsk region. Costing $243 million, the 200 MW capacity plant is second only in Europe to France's 300 MW plant in Cestas, Gironde region. China Machinery Engineering Corporation built the 400-hectare plant, using 160 PV inverters manufactured by China's Shenzhen Kstar Science and Technology and 750,000 solar panels made by China's Seraphim Solar System and Trina Solar. CMEC President Han Xiaojun told Xinhua news agency: "The Nikopol plant is based on advanced solar modules and inverters made in China, as well as on advanced power plant control systems."
After opening a 10.5 MW plant last year in Nikopol, Canadian renewable energy company TIU has its second Ukraine plant, in Mykolaiv region, on Thursday. With an investment of about €11 million, the plant was built in Kalynivka, 150 km northwest of Mykolaiv city.
Delay of delivery of three Boeing 737 MAX passenger jets is prompting UIA to cancel its Kyiv-Vinnytsia flight and to cut frequencies on its flights from Kyiv Boryspil to Amman, Ankara, Athens, Baku, Geneva, Istanbul, Ivano-Frankivsk, Kherson, Minsk, Riga, Yerevan, and Zaporizhia. Compounding UIA's difficulties, the airline lost $100 million last year.
With Kolomoisky owning a major share of UIA, the election of his protégé, Zelenskiy, could result in government favors extended to the national flag carrier, analysts tell The Kyiv Post. While a frontal confrontation with discount airlines would be highly unpopular, a Kolomoisky-influenced government could cut aviation fuel taxes for Ukraine-based airlines and cut navigation fees, charges that the UIA already is fighting in court.