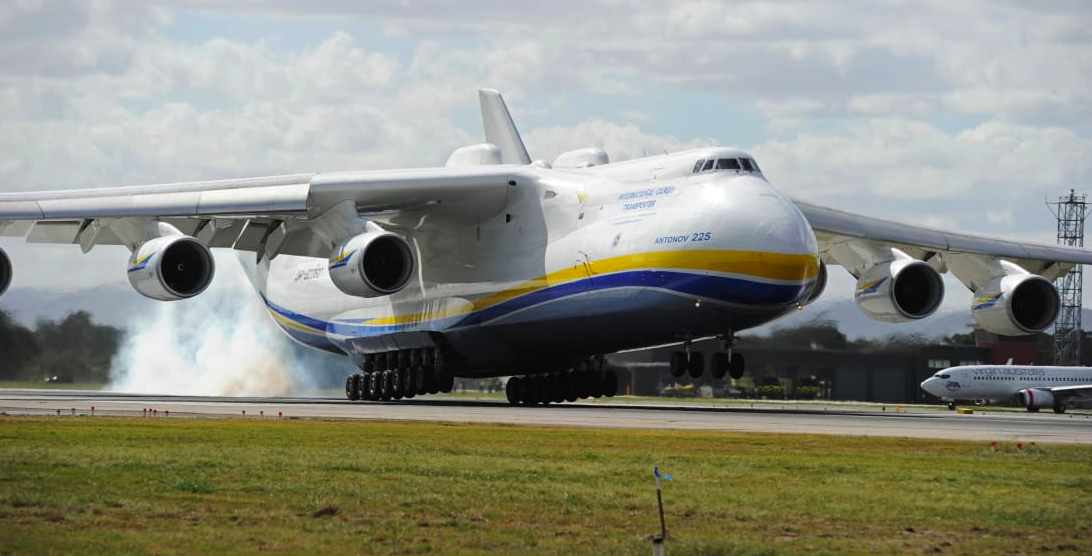 Monday, April 20
Ukraine's Mammoth Mriya to Ferry Medical Cargo from China to US...Chinese Build Highway, River Port, But Don't Get Jet Engine Factory...Ukraine Food Exports Up 6% in Q1...Exports to China Up 42%...Ukraine Looks at a Summer Without Flights
This week, the world's largest plane, Ukraine's Mriya An-225, is to fly medical protective gear from Shanghai to Columbus, Ohio, reports Buzzfeed. This is to be the inaugural flight of a month-long China-US medical cargo airbridge flown by the Mriya and five slightly smaller Ruslan An-124 cargo jets, Vitaliy Shost, deputy director of Kyiv-based Antonov Airlines, tells reporter Christopher Miller. Shost said that due to the coronavirus emergency, the Mriya or Ruslans have flown medical cargo over the last month from China to Austria, Canada, the Czech Republic, Denmark, France, Germany, Greece, Ireland, Kuwait, Poland, Portugal, Qatar, Slovakia, Spain, and Switzerland. Livestream of the Mriya landing last week at Warsaw's Chopin Airport was watched by more than 80,000 people.
"Antonov's poster boy An-225" can project Ukraine's soft power in this time of global obsession with the coronavirus,  Alyona Getmanchuk writes in an Atlantic Council blog, "Ukraine Flies to the Rescue."  "The current coronavirus crisis has provided Antonov with what can only be described as a golden opportunity to demonstrate its worth to Ukraine's international partners," writes Getmanchuk, director of Kyiv's New Europe Center. "Finland was able to significantly strengthen its national brand on the international stage with the help of specific Finnish companies such as Nokia and Angry Birds. There is no reason why Antonov cannot serve the same function for Ukraine," she writes in a blog first posted on Ukrainska Pravda. "Instead of appearing as a perennial victim always in need of help and protection, this allows Ukraine to present itself as a predictable and competent partner."
A bid by Chinese investors to take over Ukraine's aircraft engine maker has been blocked by a Kyiv court, Reuters reported Friday. The court rejected an appeal by Skyrizon Aircraft Holdings Ltd. to take over Zaporizhia-based Motor Sich. Skyrizon plans to appeal the March 13 ruling. The US opposes the deal, which would hand advanced jet fighter engine technology to China.  The court ruling was kept quiet for one month, apparently for geopolitical reasons.
After a slow start, China's Sinohydro Corp. Ltd. plans to finish on schedule this fall a complex €42 million, 22-km, cement highway bypass around Zhytomyr. Construction involves rebuilding a highway bridge over the Kamenka River and three viaducts over railroad tracks, and building four new highway interchanges and two pedestrian bridges. Funded largely by the EBRD and the European Investment Bank, the highway will unplug a major bottleneck: the only 2-lane stretch in the 322 km of the M-06 between Kyiv and Rivne. Last year, this part of the international highway carried 10,000 vehicles a day.
COFCO, China's largest food processor, manufacturer and trader plans to increase by 40%, to 30,000 tons, the storage capacity of its Unigrain-Basis Terminal on the Dnipro River, in Myshuryn Rih, reports the Dnipropetrovsk Development Agency. With eight port facilities in Ukraine, the state-owned Chinese company recently installed advanced grain handling equipment in Pereyaslav-Khmelnytskyi, a Kyiv region port one hour south of Boryspil.
Ukraine's food exports increased by 6% during the first quarter, compared to January-March of last year, reports the Ukrainian Agricultural Business Club. Exports totaled $5.7 billion. Among major commodities, sunflower oil exports were up by 17% and corn by 8%. In 2019, Ukraine exported a record  $22.4 billion worth of food, almost 20% more than in 2018.
Ukraine's exports to China jumped by 42% y-o-y for the first two months of this year, reports the State Statistics Service. The jump, to $760 million, helped to cut Ukraine's overall trade deficit in goods in half, to $423 million. China is Ukraine's largest single trading partner, with two-way trade totaling $2.1 billion in January and February. Ukraine's imports from China during the period were up only by 1.4%, to $1.34 billion
Air cargo prices between China and Ukraine have tripled since the quarantine started one month ago, Avianews reports, citing Andrei Krivorotov, director of Kyiv's Zammler Group of logistics companies. Previously, when 80% of air cargo was carried on passenger jets, the delivery price of one ton was $4 to $4.5 a kilo. Now the price is $12 to 18. UIA and SkyUp are using idled passenger jets to carry cargo.
When low cost carriers return to the air, prices may not be as low as before. Early flights will require passengers to wear masks and to fly separated by an empty seat, Wizz Air and International Air Transport Association predict in an article in Uvidpustku , the vacation news site. "If we ask to set the distance on the plane, we will have to neutralize a large number of seats," said Alexandre de Juniac, CEO of IATA. "This means that airlines will need to increase prices."
In March, tourism spending fell in Europe by 68%, with spending in Italy collapsing by 96%, reports UBS bank research. Of the world's 209 countries, 96% have imposed travel restrictions in response to the coronavirus pandemic, reports the UN World Tourism Organization. Zurab Pololikashvili, secretary generation of the agency, said: "We urge governments to constantly review travel restrictions, to cancel or ease them, when travels become safe."
It may take four months before scheduled flights are flying again out of Ukraine, Infrastructure Minister Vladyslav Krykliy said on Channel 24 TV. He said: "I think that scheduled [flights] are quite likely to be resumed in September or even earlier, by the end of the summer." Facing what could be a 6-month, government-imposed shutdown, Ukraine's four largest carriers – Azur, SkyUp, UIA, and Windrose — have already asked for aid from the Infrastructure Ministry. He predicts it will take two years for Ukraine's air traffic to return to the level of 2019. Municipal transit – buses, trams and metro networks – should restart in June-July, he predicts.
Starting today, Easter Monday, through May 3, visits to cemeteries are banned in Kyiv and many other cities to prevent the coronavirus spreading among people who traditionally visit graves of family member in days after Orthodox Easter. Yesterday, many churches were closed and many cities were under a lockdown banning movement.
In Kyiv, the biggest virus hotspot is the Kyiv Pechersk Lavra with 140 cases, or 16% of the city's known total.  Last month, the leader of this Moscow Patriarchate Monastery said prayer and hugs were the best way to combat the virus. Today, the leaders, Metropolitan Onufriy, is hospitalized with the novel coronavirus, along with a prominent pro-Russian politician, Vadim Novinski, who hand delivered medical protective gear to the monastery last week.
Kyiv and Kyiv region now have 1,105 cases, or 20% of the nation's known total of 5,449 laboratory-confirmed cases. Other hotspots are: Chernivtsi – 889; Ivano-Frankivsk – 480; Ternopil – 390; Vinnytsia – 330; and Lviv – 245. The armed forces have 32 soldiers hospitalized with acute respiratory illness caused by the novel coronavirus. About 300 more servicemen and woman are in self-isolation.  Mykola Balan, Chief of the National Guard, has been diagnosed with coronavirus.
From the Editor: Ukraine's IT scene continues strong, even if working at home. This Wednesday, at 8:00 pm Kyiv time / 10:00 am San Franciso time, the Ukrainian Venture Capital and Private Equity Association (UVCA) and Deloitte Ukraine will present a webinar on the results of the UVCA's 2019 report and 2020 forecasts. Discussants include: Yoram Wijngaarde, founder/ CEO of Dealroom.co; Roman Nikitov, head of the venture and tech investments at ICU Ventures; Olga Afanasyeva, CEO of UVCA; and Volodymyr Yumashev, Partner of TMT Industry Group at Deloittraine. Moerator will be: Washington-based business writer and podcaster Michael Buryk. With Best Regards,  Jim Brooke jbrooke@ubn.news