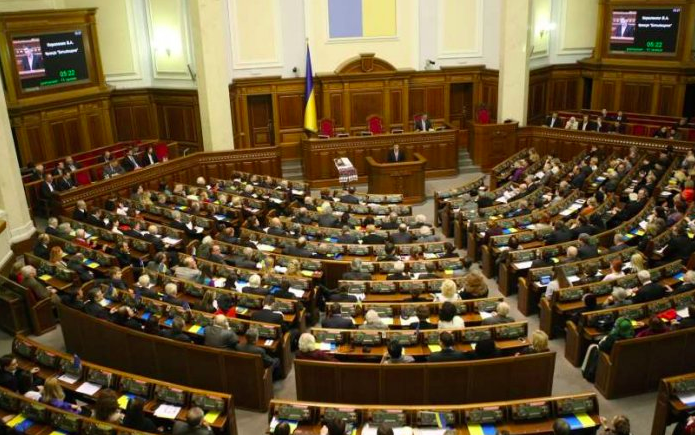 Monday, April 13
Rada Session Today: Green Light for Crisis Budget, Flashing Yellow Light for 'Anti-Kolomoisky' Bill...Expecting Covid Infections to Ease, PM Promises to Get Ukraine Back to Work in May...DTEK To Stop Ukraine's Largest Coal Mine...Shakeup at UZ as S&P Downgrades State Railroad
The Rada meets in special session today to debate a revised coronavirus emergency budget that allows for a tripling of the deficit to $11 billion. With much of the nation's economy shut down for two months, tax revenues are to fall by $4.3 billion. Spending is to go up by $1.1 billion, largely to pay higher salaries to medical workers, to increase pensions and to pay for medical equipment. Up to $10 billion in low interest funding could be unlocked with an IMF deal. But it is unclear how the Rada will deal with the 16,335 amendments placed on the key piece of legislation – the 'anti-Kolomoisky' bill.
The Rada vote on the 'anti-Kolomoisky' bill will be "a moment of truth for Ukraine," Kurt Volker, the Trump Administration's former special envoy to Ukraine, writes for the Center for European Policy Analysis, a Washington think tank. Alluding to the $5.5 billion 2017 government bailout of Kolomoisky's PrivatBank, Volker writes: "Ukrainian taxpayers already paid once when bailing out the bank after those former owners could not account for billions of dollars. Neither the Ukrainian taxpayers, nor the international financial institutions standing behind them, should pay anything more." If the Rada approves the bill to block re-privatization of nationalized banks: "At least $2 billion would be disbursed quickly by the IMF, making funds available almost immediately to fight the coronavirus. Without such financial assistance — and the seal of good housekeeping the IMF package represents — Ukraine's financial position would fall even faster than it is falling today."
Starting this month, government salaries are to be capped at $1,700 a month, or $20,000 a year, President of Zelenskiy announced Friday night in a video address touching on the new budget. "All public officials should tighten their belts," he said, stressing the new cap applies to board member of state companies, Rada members, judges, prosecutors and central bank officials.
Ukraine's publicly confirmed Covid-19 cases hit 2,777 Sunday morning, up 47% since Thursday morning. There are 83 dead. In Kyiv, the number of infected is 416, up by 24% since Thursday morning. Of the total infected, medical workers account for 12%, or 334, says Health Minister Maksym Stepanov. In the armed forces, there are now 18 cases, none of them in the Donbas conflict zone.
Public health authorities predict the pandemic will peak in Ukraine this week. With orthodox Easter next Sunday, health and political authorities are encouraging worshippers to stay home and to follow services on television. Similarly, many religious leaders urge the faithful to postpone remembrance visits to cemeteries, traditional in the days after Easter.
Sixty percent of Ukrainian Facebook users interviewed last week say they have only enough savings to get them through the May holidays, reports Postmen, a digital ad agency. Of the 800 participants in the Facebook poll, 47% said they have cut purchases of clothing, 41% have put off buying vacations, and one third are not buying event tickets. The May holidays end Tuesday May 12.
After the May holidays, Ukraine will start "going back to work," Prime Minister Shmygal said Saturday on his Telegram channel. This week, he promises to unveil a detailed plan: easing public transportation curbs in May and then, in June, creating 500,000 new jobs and extending easy credit to small and medium businesses. Separately on a conference call to mayor and regional administrators on Friday, Shmygal said: "We must prepare new social standards of life after tough quarantine measures: to develop new transport standards, new norms of social distance and of staying in enclosed spaces."
In Poland's coronavirus economy, farms and building sites desperately need Ukrainian workers, but shuttered stores, restaurants and hotels are happy not to have to pay salaries to idled workers, the Financial Times reports in a report from Warsaw:  "Poland's Ukrainian workers rush home amid pandemic." "It's our number one problem," says Cezary Maczka, executive Budimex, Poland's biggest construction company. The FT calls the rush home "a striking reversal of an exodus to the west that had been one of Europe's biggest recent migrations."
With inflation growing in March at 2.3% y-o-y, Ukraine could end the year within the target range of 4-6%, writes Oleksiy Blinov, head of research for Alfa-Bank Ukraine. Keeping inflation down, demand is weak due to the coronavirus economy and to low oil and gas prices. The big upside risk is the government printing money to cover the deficit of the new coronavirus budget. Blinov predicts Ukraine's low first quarter inflation will prompt the central bank to cut the prime interest rate next week by another 100 basis points, to 9%. On April 23, the National Bank of Ukraine has its scheduled monetary policy review meeting.
DTEK Energo is considering suspending work at Pavlogradugol, Ukraine's largest coal mining complex and employer of 30,000 miners, Dmitry Sakharuk, a DTEK executive, tells Interfax-Ukraine. On April 1, DTEK suspended work at three other mining complexes Belozerska, Dobropolyeugol, and Oktyabrska. Citing low energy prices, DTEK Energo announce March 27 it was halting debt payments and starting restructuring talks with creditors.
Ukraine ended its winter heating season with reserves at 15.8 billion cubic meters – the highest level in 30 years and twice the average level of the last five heating seasons. Although European gas prices are down 60% y-o-y, Ukraine is expected to buy little gas before the next hearing season starts, usually late October. Alfa-Bank Ukraine concludes: "All this turns natural gas from every year's word of macroeconomic worries into just a moderate-sized item of imports."
The Infrastructure Ministry has asked the Cabinet of Ministers to approve Ivan Yurik as acting CEO of Ukrzaliznytsia, reports Liga.Business. Since June, Yurik is the board member of the state railroad responsible for attracting investment. Previously, he worked for UkraineInvest, the Finance Ministry and Blackstone.
Separately, Infrastructure Minister Vladyslav Krikliy criticized the interim management of UZ for failing to move proactively to sell non-core assets, to restructure loans and to cut tariffs to attract users for 15,000 idle freight wagons. "They just wasted time and generated losses," he complained in an interview with RFE/RL about Željko Marček, the interim CEO who was let go on April 2.
S&P Global Ratings downgraded the long-term issuer default rating of Ukrzaliznytsia to the level of CCC from B-, the agency said Friday. S&P says the state railroad has one year to pay off $400 million in loans, including $200 million in July. S&P said: "We consider the liquidity of the company as weak, because we believe that the problems associated with COVID-19 may limit access to capital markets and affect the ability to generate cash flow from operating activities.
From the Editor: The Rada is expected to pass the big coronavirus budget today. Sorry, but it is not a great victory to get a parliament to vote to spend money they don't have. The real challenge will be to pass the banking bill, which pits the interests of 37 million Ukrainians against the interests of Ihor Kolomoisky and his business partners. The outcome will say a lot about Ukraine's direction in the 2020s. With Best Regards, Jim Brooke  jbrooke@ubn.news