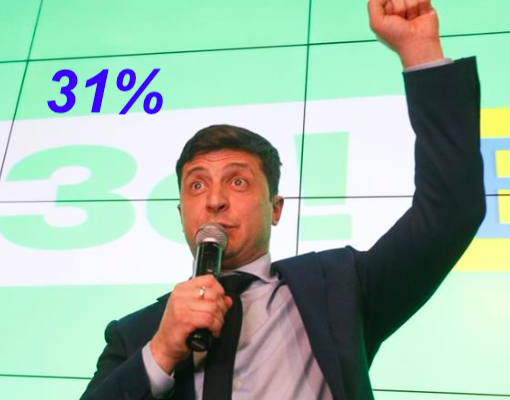 Monday, April 1
Zelenskiy x Poroshenko in Round 2...TurkStream to Bring Russian Gas thru Bulgaria to Central Europe...Solar, Wind Projects Up 5X in Q1...Worker Remittances up 17.5%, Russia Lags...Boryspil Cuts Crowding by Opening 2nd Terminal...New Flights to France
Volodymyr Zelenskiy and President Poroshenko will face each other in a second-round presidential vote on April 21, according to an exit poll by a consortium of polling groups. The poll gave Zelenskiy, a professional comedian, 31% of the vote. Poroshenko followed with 19% of the vote. Yulia Tymoshenko got 14% of the vote.
Poroshenko kicked off the runoff campaign by challenging Zelenskiy to a televised debate. Analysts predict that the Zelenskiy and Tymoshenko camps will negotiate an electoral alliance. They say Tymoshenko's goal is to win a large bloc of seats in this October's Rada elections, allowing her to become Prime Minister with Zelenskiy as President.
Poroshenko promises that if re-elected, he will make Ukraine self-sufficient in gas during his second term. "If Ukraine's energy diversification and independence program continues to be implemented, Ukraine will become an energy independent state," he told Ukrainian TV. Noting a 75% drop in gas imports in the last five years, he promised: "I firmly believe this goal of energy independence will be realized in the next few years."
Preparing for a cutoff of Russian gas through Ukraine next year, Naftogaz is expanding its storage reservoirs and looking for international financial aid to buy the gas to fill them, Andriy Kobolyev, CEO of Ukraine's state oil and gas company told an energy meeting in Brussels on Friday. Asked what Naftogaz will do if talks with Gazprom collapse this on a new transit contract, he responded: "The short answer is: more storage and more liquefied natural gas." Asked about last Wednesday's request by the Danish Energy Agency for another environmental review of the Nord Stream 2 gas line, he said: "This is definitely not a ban. But it is another big delay."
Arkad, an Arab-Italian consortium, submitted the lowest bid — €1.1 billion – to build a pipeline to take Russian gas across Bulgaria, from Turkey to Serbia, reports Novinite, a Sofia-based news service. Vladimir Malinov, executive director of Bulgartransgaz, said Friday the tender winner will be announced in April. The winner will have 250 days, about eight months, to build the gas line. Running under the Black Sea from Anapa, Russia, TurkStream made landfall last week on the Turkish coast near Kıyıköy. Gas is to start flowing on Jan. 1. Of the 15.8 billion cubic meters arriving at the Bulgarian-Turkish border, deliveries are to be: 11 bcm to the Serbian border, 9 bcm to the Hungarian border, and 4.3 bcm to Slovakia.
Hungary and Azerbaijan agreed Friday to work out a route for delivering Azeri gas to Hungary next year without going Ukraine. Noting that the Russia-Ukraine gas transit contract expires at the end of this year, Hungary's Foreign Minister Péter Szijjártó said in Baku: "This is a particularly serious challenge for Hungary in view of the fact that more than half of Russian gas imports to Hungary go through Ukraine."
Racing a Dec. 31 expiry deadline for the green tariffs, Ukraine commissioned 861 MW of renewable energy facilities in Q1 – five times the amount during the same period last year. Of the total, 172 MW were wind and almost 700 MW were solar, according to figures released Friday by the National Commission for Energy, Housing and Utilities Services Regulation. In coming weeks, the Rada is to vote on an auction system that would replace the green tariffs, some of the highest in Europe.
Remittances by Ukrainian working abroad jumped by 17.5% last year to $11 billion, reports the National Bank of Ukraine. Russia traditionally the top destination for Ukrainian workers is fast being eclipsed by Western nations. Remittances from Poland increased by 16.4% to $3.6 billion, almost four times the level of Russia – $948 million. While remittances from Russia were down by 27%, money sent from the US increased by 28%, to $870 million. Money sent from the Czech Republic jumped by 50%, to $846 million. Italy was in fifth place, with $492 million, a 10% increase over 2017.
To cut crowding at Kyiv Boryspil, the airport re-opened Terminal F yesterday for discount and charter passengers. Refurbished after five years and newly equipped with passport control booths, Terminal F is for passengers prepared to walk to their planes. The terminal now handles Bravo, Lauda, Ryanair, SkyUp, Windrose and Yan Air. Soon, it will handle Aigle Azur, Bukovyna and FANair.
SkyUp, Ukraine's new discount airline, is to receive three more Boeing 737s in April, part of a planned tripling of its all-Boeing fleet to 12 by the end of this year. Breaking with UIA's Boryspil hub strategy, SkyUp is launching direct flights this spring from regional airports: Chernivtsi, Dnipro, Kharkiv, Kherson, Lviv, Mykolaiv, Odesa, Poltava, and Zaporizhia. The flights, largely to vacation destinations, are a mix of charters and regular flights, Dmitry Seroukhov, CEO of JoinUp! travel agency, told reporters Friday.
France will benefit from Ukaine's low-cost air travel revolution as SkyUp negotiates launch dates for Kharkiv's first flights to Paris, for Kyiv's first regular flights to Nice and for a Kyiv-Boryspil-Paris flight.  Stemming from a France-Ukraine partial air liberalization negotiated last winter, SkyUp won permission on Friday to perform the three routes. As part of a reciprocal deal, a second French carrier, Aigle Azur, starts Kyiv Boryspil – Paris Orly flights on April 18. Aigle Azur is adding the Ukrainian language to its website. For years, France-Ukraine flights were a monopoly of UIA and Air France.
UIA, Ryanair and Wizz Air are being investigated for possible collusion over new restrictions on carryon hand luggage, the Antimonopoly Committee tells the Kyiv Post. Wizz Air and Ryanair announced stricter carryon rules on Nov. 1. UIA followed suit on Jan. 15.
Private passenger railroads are knocking-knocking on Ukraine's western door. Czech's RegioJet has "a great interest in going to Mukachevo," Alexander Krasnoshtan, Ukrzalyznitsya's director of long-distance passenger service, tells the Center for Transportation Strategies. The train would travel between Košice, Slovakia and Mukachevo, Zakarpattia. Tomorrow, UZ plans to test this European gauge route with Slovak rolling stock. For the last year, RegioJet has bused passengers from Mukachevo and Uzhgorod to Košice, where they board RegioJet trains heading west.
Separately, LeoExpress, another Czech private train operator, is applying to Polish Railway Transport Administration to run a train from Prague to Krakow to Medyka, on the Polish border. With Ukrainian permission, the train would then cross into Ukraine, traveling 20 km east, stopping at Mostyska-1, the eastern terminus of European gauge tracks in Lviv. UZ looks favorably on both proposals, Krasnoshtan told the Center for Transportation Strategies.
With ridership on trains to Russia falling by 20% a year, Ukrzaliznytsia has cut frequencies and may drop the Kyiv-St. Petersburg train entirely, Krasnoshtan says in the same interview. By contrast, westbound trains to Poland and Austria have high occupancies and are money makers. The new 'Four Capitals' train to Belarus and the Baltics is running at 40% occupancy, but UZ has hopes for more riders this summer.