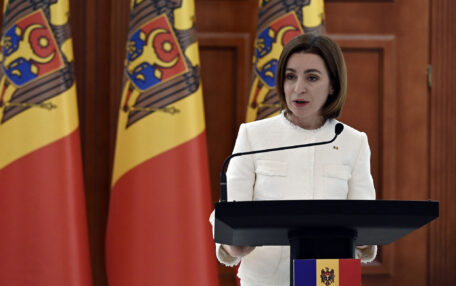 Wednesday, April 27, 2022
Moldova is on high alert following a bombing attack linked to Russia.
 Moldovan President Maia Sandu said the Transnistrian bombings and escalation attempts have been linked to forces inside the unrecognized region. A series of incidents in the breakaway Moldovan region of Transnistria and a warning from Moscow that the Russian-backed area could be drawn into the war in Ukraine has put the country's government on high alert. Transnistria, which borders western Ukraine, is controlled by pro-Russia separatists and permanently hosts 1,500 Russian troops and a large arms depot. Earlier this week, multiple explosions in Tiraspol were reported. Sandu said that Moldovan intelligence in Chisinau has information about the explosions at the Tiraspol airport and near the Ministry of State Security building.