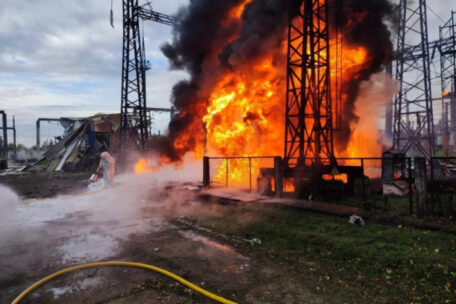 Wednesday, October 26, 2022
In one month, Russia has attacked Ukrainian energy facilities more than 50 times.
In October, the Prosecutor General's Office reported that Russia carried out 51 targeted strikes on Ukrainian energy facilities, one and a half times more than during the previous seven months of the war, the Prosecutor General's Office reported. The largest number of hits on critical infrastructure objects were made in the Dnipropetrovsk region with eight times, in Lviv region with six, Vinnytsia region with five, Sumy region with four, Kharkiv region with four, and four in Kyiv. In total, since the beginning of the war, the enemy has struck electricity facilities 85 times. According to Prosecutor General Andriy Kostin, "this is a policy of Ukrainian extermination by deliberately depriving people of basic needs: water, electricity, and heat. Just as (Russia) deliberately sentenced people to starvation during the Holodomor of 1932-1933. This is terrorism and a war crime," Kostin emphasized.