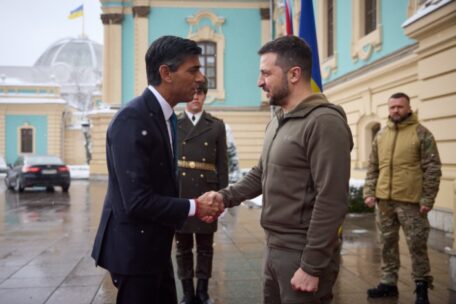 Monday, November 21, 2022
Great Britain will provide air defense systems and sign a new digital trade agreement.
President Volodymyr Zelenskyy announced these details at a briefing following a meeting with the Prime Minister of Great Britain, Rishi Sunak, who came to Kyiv as the newly appointed Prime Minister. The UK will provide £50M in air defense equipment to help protect Ukrainians from a barrage of Russian aerial strikes on critical infrastructure. Also, both leaders discussed the importance of a digital trade agreement between the countries. The agreement is in the final stage of preparation. It will include several dozen articles that define the principles, areas of cooperation, and mandatory norms that will apply to all aspects of their digital cooperation. Zelenskyy's office noted that the agreement foresees tax-free digital trade and full support for a general legal framework for electronic transactions, the electronic conclusion of contracts, electronic identification, paperless trade, protection of personal information, among other measures.