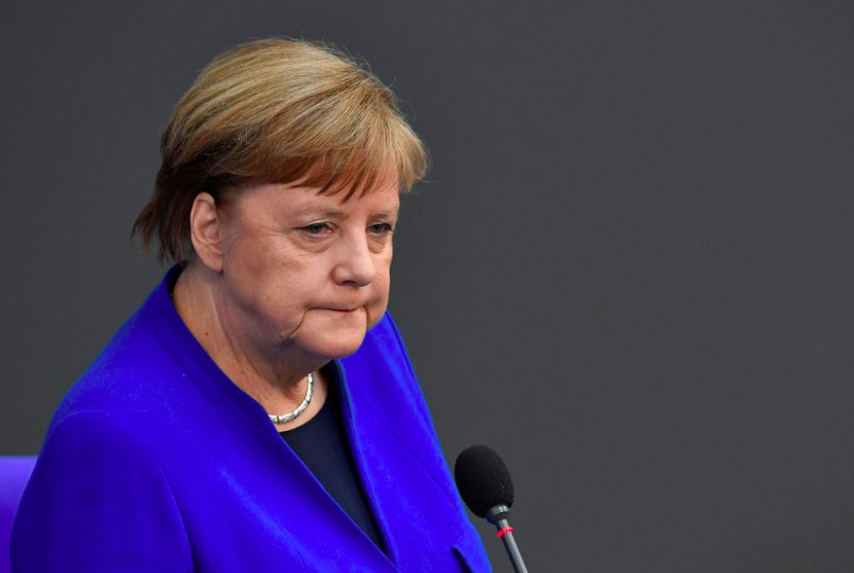 Friday, September 4
German Politicians Oppose Nord Stream II...Kyiv Court Ruling Threatens to Unravel PrivatBank Nationalization...Gov't Approves Road Map for Cutting State Ownership of Banks...Key Interest Rate to stay at 6% this Year...One Third of Kyiv Metro Riders Stay Above Ground...
Political pressure is mounting on German Chancellor Angela Merkel to freeze or drop the Russia-Germany Nord Stream II pipeline project, according to  Bloomberg and The Financial Times reports from Berlin. The game changer was a report by a German military laboratory Tuesday that said Russian opposition leader Alexei Navalny was poisoned Aug. 20 by Novichok, the same restricted use, military-grade nerve agent used by Russian agents in Britain in 2018.
At stake is a $9.5 billion, 1,222 km, trans-Baltic pipeline designed to take gas directly from Russia to Germany. Capable of carrying 55 billion cubic meters of gas a year, this is designed to end Russia's dependence on Ukraine's Gas Transportation System. From 2021 to 2024, Gazprom is contracted send 40 bcm year through Ukraine, earning Ukraine about $1.5 billion a year.
With Navalny lying in an induced coma in Berlin's Charité Hospital, a 10-minute walk from the Bundestag, the mood inside Germany's parliament building has turned sharply against the Kremlin.
"The EU should jointly decide to stop Nord Stream," tweeted Norbert Roettgen, Head of the Bundestag's Foreign Affairs Committee and a candidate to head Merkel's Christian Democratic party. "The only language that Putin understands is the language of natural gas."
Nils Schmid, foreign policy spokesman for the SPD, a junior partner in the Merkel coalition, said: "We need to make it clear that all talk of a strategic partnership with Russia is now over."
Christian Lindner, leader of the liberal FDP party, said: "A regime that organizes murders by poisoning is no partner for big cooperative projects — and that includes pipeline projects."
Katrin Göring-Eckardt, leader of the Greens in parliament, said: "Nord Stream 2 is no longer something we, together with Russia, can press ahead with."
While Germans wait for Merkel's move, Bild, Germany's best-selling newspaper, calls on the Chancellor to "stop Putin's pipeline."
In Ukraine, Germany's Ambassador Anka Feldhusen joined her G-7 counterparts yesterday to lobby Prime Minister Shmygal to defend PrivatBank against attempts to reverse the 2016 nationalization of the Ukraine's largest bank. With EU and IMF support, $5.5 billion was injected into the bank in 2017, filling a hole left by what forensic auditors have called an orgy of insider lending and theft.
On Tuesday, a Kyiv court ruled that PrivatBank should pay $350 million – principal and interest – for deposits of six British companies owned by Ihor and Hryhoriy Surkis, two brothers who were business associates of PrivatBank's former owners, Ihor Kolomoisky and Gennadiy Boholyubov.  PrivatBank lawyers said yesterday they will appeal, arguing that the brothers were related parties to the mismanagement of the bank. The Surkis and other depositors have filed hundreds of lawsuits suing for $1.2 billion.
"We will challenge this decision," Petr Krumphanzl, a Czech banker who is Board Chairman of PrivatBank, told Ukrinform. We will continue to seek justice for PrivatBank and Ukrainian taxpayers who are the bank's ultimate shareholders."
"One of the biggest transgressions in the history of the judicial power of Ukraine took place today," Justice Minister Denis Malyuska wrote on Facebook. Noting that the judge's name Vovk, also means 'wolf', he illustrated his complaint with a cartoon of a gray wolf happily carrying away a big bag of loot.
Alexander Danilyuk, Finance Minister at the time of the nationalization, warned on Facebook yesterday: "This is the beginning of the collapse of the results of the nationalization of PrivatBank." He warned that if the lawsuits are not stopped, they could cost Ukraine's government billions of dollars.
The Cabinet of Ministers has approved a strategy for steadily reducing the state share in Ukrainian banking, from 60% today, to below 25% in 2025. By the end of next year, all four state banks are to draw up road maps for the sale of public shares.
Ukrgasbank is to reach an agreement with the World Bank's International Finance Corporation next month about converting last year's €30 million loan into shares. Ukrgasbank will probably be the first state bank to be privatized.
Oschadbank should be privatized by 2025.
PrivatBank is to gradually shed government ownership.
Ukreximbank is to be matched with a minority investor, chosen by the Finance Ministry, with the long-term goal of privatization.
The Finance Ministry reported that Ukraine's state-owned banks wrote off $1 billion worth of non-performing loans at the expense of reserves during the first half of this year. For state banks, non-performing loans account for 63% of their loan portfolios. As of July 1, there are 57,000 outstanding claims by state banks in courts to reclaim $1.4 billion in assets.
Almost overlooked in the furor of the Surkis case, Ukraine's central bank met expectations yesterday and kept the prime lending rate at 6%. Dmitry Sologub, a deputy governor of the National Bank of Ukraine, predicted to reporters yesterday: "We expect the interest rate to remain at 6% by the end of the year." Two months ago, when President Zelenskiy installed his candidate, Kyrylo Shevchenko, a central bank governor, many analysts thought the shakeup was made to lower interest rates this fall.
Now, Tim Ash and others are having second thoughts. He writes from London: "The reality is dawning that pressure to make management changes at the NBU was never really about monetary and exchange rate policy, but rather the durability of banking reform. The real battleground remains Privatbank. I think we got another hard lesson in that last night with the Surkis ruling."
The central bank "expects an IMF [review] mission in the near future and plans to receive more money from the IMF by the end of the year," Shevchenko, the Bank Governor told reporters yesterday. Ash reacted: "Very optimistic in my view given backtracking on banking reform and anti-corruption agenda. I cannot see an IMF mission before local elections in October."
The Finance Ministry sold the Hryvnia equivalent of $102 million in bonds at this week's auction – three times the borrowings of last week. The only bill that sold – a 13-month bond – went with a weighted average interest rate of 9.29%.
UIA is scheduling a direct Kyiv Boryspil – New York JFK – Kyiv Boryspil flight next Wednesday. With a one-way fare of $482, the Boeing leaves Kyiv at noon on Sept. 9. After a 2-hour turnaround in New York, the plane takes off again for Ukraine, leaving at 5:45 pm New York time. Tickets can only be bought through the UIA site.
Three months after the end of Kyiv's full corona lockdown, daily metro ridership is about one million, down by one third from the pre-lockdown volume 1.5 million. Normally, the Kyiv's subway system earns $10 million a month. Due to the spring lockdown and today's week ridership, the Metro may run out of money to pay salaries next month, the transit system reports in an appeal to the Kyiv City Council for more money.
From the Editor: Putin may have gone a bridge too far in apparently trying to kill his chief political opponent Alexei Navalny. If today's mood in Germany's Bundestag translates into action, underwater archeologists may ponder this mystery a few centuries hence: What ancient civilization built an empty steel pipe running 1,200 km down the Baltic sea bed? Was it a religious totem? An attempt to communicate with extra terrestrial cultures?  With Best Regards Jim Brooke