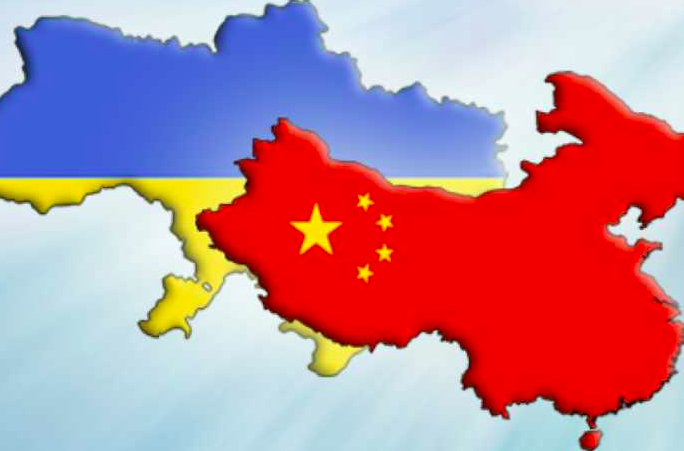 Friday, September 27
China Tops Russia as Ukraine's No. 1 Trading Partner...Booming China-EU Rail Traffic Bypasses Ukraine...IMF Team Flies Home Today, Talks Continue...Ze Talks Free Markets to US Investors...Foreign Demand for Hryvnia Bonds Hits Record Levels
China has displaced Russia as Ukraine's largest trading partner, according to new data posted by the National Bank of Ukraine. In the first quarter of this year, China-Ukraine trade hit $2.55 billion, or 10.6% of Ukraine's foreign trade. During the same period, Russia's trade dipped to $2.34 billion, or 9.7% of Ukraine's foreign trade. With new Russian sanctions imposed on Ukraine this summer, China's lead role is expected to become more pronounced. Ukraine's next five trading partners are Poland, Germany, Belarus, Turkey, and the US.
The boom in China-Europe train traffic is bypassing Ukraine due to Russia's restrictions on freight trains transiting its territory to Ukraine. Through, August, the number of freight trains passing through the China-Kazakhstan Khorgas checkpoint doubled over last year to 2,105. During the same time, the number of containers passing through Belarus, also doubled, hitting 178,300.
To accommodate the China traffic, Belarusian Railways completed this month a $10 million, 150% expansion of its rail car processing at its Brest North station. To cross the rail break between Soviet and European gauges, each car has to be lifted off the tracks for a wheel change. The number of containers crossing this Belarus-Poland gauge break is to grow from 350,000 this year to 500,000 next year. Ukrzaliznytsia wants to develop Kovel, the Volyn rail hub 130 km south of Brest, as a rail alternative for the booming China trade.
Chinese investors already own 75% of Motor Sich and are obliged by contract to keep production technologies in Ukraine and to provide enough orders to maintain staffing and salary levels at the Zaporizhia factory, according to a local publication, "Voice of Zaporizhia." Rebutting opposition to the sale by Washington, the author writes: "To ensure the smooth operation of the joint-stock company, more than 12 billion hryvnias [$500 million] are needed annually. Ukraine is not able to give so many state orders."
In late August, John Bolton, then US National Security Advisor, visited Kyiv in an attempt to block the sale. Two weeks later, President Trump fired Bolton. Aivaras Abromavičius, director-general of the UkrOboronProm defense industry holding, later told the UBN Motor Sich will not be sold to China. Ukraine's Anti-Monopoly Committee is reviewing the Chinese purchase.
The IMF mission is to issue a statement today capping their two weeks of talks in Kyiv. Led by led by Ron van Rooden, the team stayed longer than planned. Today, it flies back to Washington apparently without a staff level agreement on a new Extended Fund Facility. Without this agreement, talks continue at the Oct 14-20 Annual General Meeting of the IMF in Washington. Ukraine seeks to win a 3-year, $5 billion deal. More than the money, an IMF deal is a seal of approval for foreign investors.
"What will be the headache of the IMF team in Washington?" National Bank of Ukraine Governor Yakiv Smoliy tweeted Thursday. "At least ending pressure on reformers and maintaining financial stability, which depends on the course of a number of lawsuits in Ukraine and outside it." He attached a farewell photo of himself, two deputies and van Rooden. Smoliy seemed to be referring to oligarch Ihor Kolomoisky who has filed 600 lawsuits to reverse the IMF-supported nationalization of his bank, PrivatBank, almost three years ago.
From London, Timothy Ash, a senior sovereign analyst for Blue Bay Asset Management, wrote: "The right move from the IMF – until the issues around Privatbank and Kolomoisky are resolved…At the minimum, the IMF will want a firm statement from Zelenskiy and his government, that they support the former administration's approach to Privatbank – will not hand it back to former owners unless they cover losses incurred by the state, and fully recapitalize the bank."
In New York, President Zelenskiy told a gathering of 32 investors: "We understand that through cooperation with the IMF we will be able to achieve better results in the rule of law, maintain macroeconomic stability, attract foreign direct investment and carry out reforms that will lead to sustainable economic growth." He cited the free market changes his government is pushing: opening a farmland market, privatizing state companies, and curbing corruption.
Turning to the business climate, Zelenskiy said: "We have already started solving problems that have been discussed for years. We are changing the country, the rules of the game, creating a civilized business atmosphere – and we will do it very quickly. We do not have years, we have months." Speaking to a group assembled by the US Ukraine Business Council, he said: "This is what is most important to us: we identify and systematically address all the problems of Western companies in Ukraine – from customs and tax issues to investor protection and intellectual property rights."
In a separate, one on one meeting Zelenskiy invited Dara Khosrowshahi, CEO of Uber Technologies Inc., to increase Uber's investment in Ukraine. Uber has its regional headquarters in Kyiv. The company has expanded to Ukraine's five largest cities and offers Uber Eats and Uber Shuttle in Kyiv.
Germany's government has not publicly reacted to the White House transcript where Zelenskiy agrees with President Trump's criticism: "Germany does almost nothing for you. All they do is talk." Zelenskiy chimes in, saying the American president is "absolutely right. Not only 100%, but actually 1,000%."  Deutsche Welle, the German state-owned news agency, moved a story Thursday citing German Foreign Ministry data showing that since the 2014 annexation of Crimea, Germany has given Ukraine  €1.2 billion in direct aid to Ukraine and another €200 million through the EU.
Despite the worries over the IMF, Kolomoisky, and Trump-Biden, foreigners bought $332 million in the equivalent of hryvnia government bonds at Tuesday's auction, the largest amount in two months. With this auction, foreign holdings of Ukraine's hryvnia T-bills rose by 9% to nearly $4 billion. Foreigners now hold 12% of the market.
Demand was particularly strong because Tuesday's auction included five-year notes, which the Finance Ministry offers only once a month. "This issue set a few new records," writes Taras Kotovych, research director for ICU. There was a record number of bids – 77 – and record demand – 14.6 billion hryvnia, or $600 million.
From the Editor: The last two weeks have provided plenty of diversions: Ihor Kolomoisky almost knocking me off a ramp as he barreled through the YES forum. Then Trump and Zelenskiy trash-talking European leaders. Tuning out the static, foreign investors focus on the fundamentals. On Tuesday, foreigners put a record $600 million on the table in bids for Ukrainian government hryvnia bonds. Enough said. Best Jim Brooke – jbrooke@ubn.news.