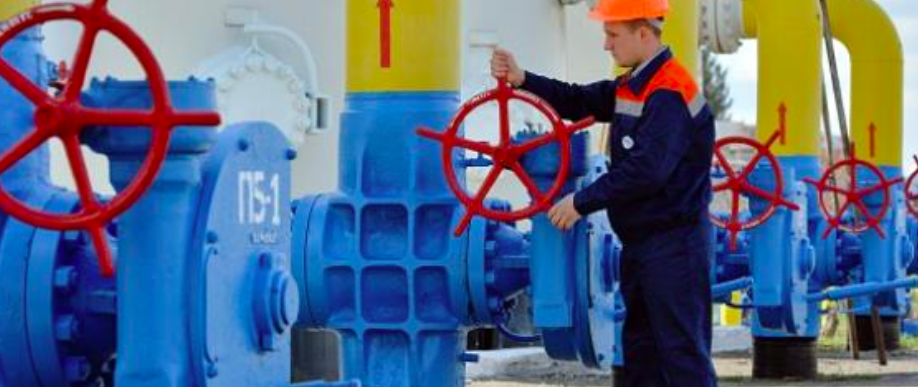 Russia, Ukraine, and the EU are optimistic that a new Russian gas transit contract will be worked out to keep gas flowing across Ukraine in the 2020s. "We are ready to work in line with the European rules" and to book transit capacities, Russia's Energy Minister Alexander Novak told reporters after 3-way talks ended Thursday evening in Brussels. "Today's consultations showed the parties have a positive attitude and are aiming to find solutions, to make sure gas flows are not interrupted from Jan. 1."
"In my opinion, the consultations were very constructive," Novak continued. If Ukraine's new gas pipeline company is not EU-certified by Jan. 1, he said: "We will be able to offer to extend the existing contract or sign an additional agreement until the regulatory framework is ready." The 10-year Russia-Ukraine pact expires Jan. 1.
Benchmark gas prices fell as concerns eased about a halt in gas flows across Ukraine this winter. With gas cheap last summer and uncertainties high over the future of transit, Ukraine stockpiled enough gas to get through the winter and Europe filled its storage facilities to 96% of capacity.
"Gazprom for the first time allowed the opportunity to work according to European rules from January 1, 2020," Ukraine's Naftogaz said, describing Russia's position as "constructive." After five years of Ukraine buying Russian gas through intermediaries, "the Russian side emphasized direct deliveries of Russian gas to Ukrainian consumers," Maroš Šefčovič, vice-president for the Energy Union, said after the talks. The three sides agreed to meet one month from now. EU and Ukraine negotiators say they are optimistic a deal can be reached by Dec. 1.
Bulgaria's state gas operator signed a $1.2 billion construction contract with a Saudi-led group Wednesday to build a natural gas pipeline that would carry Russian natural gas from TurkStream pipeline into central Europe. The 474 km pipeline will cross Bulgaria, linking up with pipelines in Serbia to take the Russian gas to Hungary and Austria. At present, Bulgaria and Hungary get much of their Russian gas from pipelines that cross Ukraine.
Foreign-owned Ukrainian companies will be able to buy farmland under a land market bill that the government will send next week to the Rada, Prime Minister Oleskiy Honcharuk told an agriculture forum in Kyiv Thursday. Noting that more than 1,000 foreigners already cultivate Ukrainian land, he said: "We have foreign companies that work. Nothing wrong with that." Otherwise, he said: "It will look like Ukraine is driving foreign investors out. For me personally, this is unacceptable."
One year from now, on Oct. 1, 2020, Ukraine's first real farmland since the 1920s is to start. Experts predict that only 3% of the nation's 40 million hectares will change hands each year. A market for farmland will eventually inject an additional $1 billion a year into the countryside, predicts the World Bank.  The Prime Minister predicts the market will raise Ukraine's economic growth by two percentage points a year. This year, growth is forecast to be 3%.
Farmland sales to individual foreigners will be banned, President Zelenskiy told the same group. "Horror stories about Arabs, Chinese, or aliens who will take our land by wagons are nonsense," he said. However, he called for full ownership of land. "Full means the right to own, use and dispose of your land. Otherwise, we will have the Soviet Union, he said. The list of countries without a farmland market includes North Korea, Tajikistan, Venezuela, Cuba, Congo and Ukraine. He asked the audience: "Which country do we want to be?"
To curb the creation of vast estates, the draft law limits land purchases by one individual to 15% of of the farmland in a region and 0.5% at the national level. To promote small and midsized farmers, the Finance Ministry is drawing up a credit program with interest rates limited to 5%. All sales are to be through transparent electronic auctions. Zelenskiy wants the bill passed by Dec. 1.
While cries of 'Shame!' greeted some of the Prime Minister's remarks, polls show that opposition to a farm land market is dropping. In a poll release two weeks ago, one-third of respondents said people should not be allowed to sell farm land. In 2011, that group was one half, according to the Ilko Kucheriv Democratic Initiatives Foundation.
Through August, crop production by agro-businesses was up by 15% y-o-y, while production from households was down by 2%, reports the State Statistics Service. Similarly, livestock production by agro-businesses was up by 7%. By households, it was down 3%.
Through July, Ukraine's food exports of Ukrainian to the EU were up by 34%, to $4.1 billion, reports Olha Trofimtseva, the former acting Agricultural Policy, and Food Minister. Last year Ukraine exported $6.3 billion in food to the EU, up 9% over 2017.
Since the July 1 start of the grain marketing year, Ukraine has exported 11.1 million tons of grain, 52% more than during the same period last year. Top grains were: wheat – 6.8 million tons; barley – 2.5 million tons; and corn – 1.9 million tons.
The EBRD, the largest lender to Ukraine, is "watching carefully" efforts by Ihor Kolomoisky to win back control or compensation for the Dec. 2016 nationalization of PrivatBank. "We expect the Ukrainian authorities to do the right thing, which is to go after the money which seems to have been stolen from the bank," Alain Pilloux, EBRD vice president, told reporters in Kyiv Thursday. "We expect that this bank is not going to be returned to its former shareholders. This is exactly what I heard from President Zelensky at a meeting with him. I have no reason to doubt his readiness to do this."
Three years ago, the EBRD and the IMF supported the seizure of the bank and the injection of public funds to cover a $5.5 billion hole created by the former owners. Pilloux said if attacks on central bank reformers and on PrivatBank's current leadership "were to continue, (they) would have the potential to derail part of the president's reform agenda by undermining investors' confidence in Ukraine."
Presidents Trump and Zelenskiy are to meet Wednesday in New York on the sidelines of the UN General Assembly, reports Dzerkalo Tyzhnia. In addition to talking about peace strategies in Ukraine's war with Russia, Trump may pressure Zelenskiy for information on Joseph Biden that could be useful in Trump's upcoming reelection campaign.
 From the Editor: Our analysis of UBN's subscribers looks at where our readers work. The largest segment is the financial sector: investment bankers, wealth managers, financial advisors, and analysts and reporters. Companies include Forbes, Morgan Stanley, Bloomberg, and The Financial Times. Other key segments include global consultancies, such as KPMG and PWC, and government and international organizations from the World Bank. Best Jim Brooke – jbrooke@ubn.news.