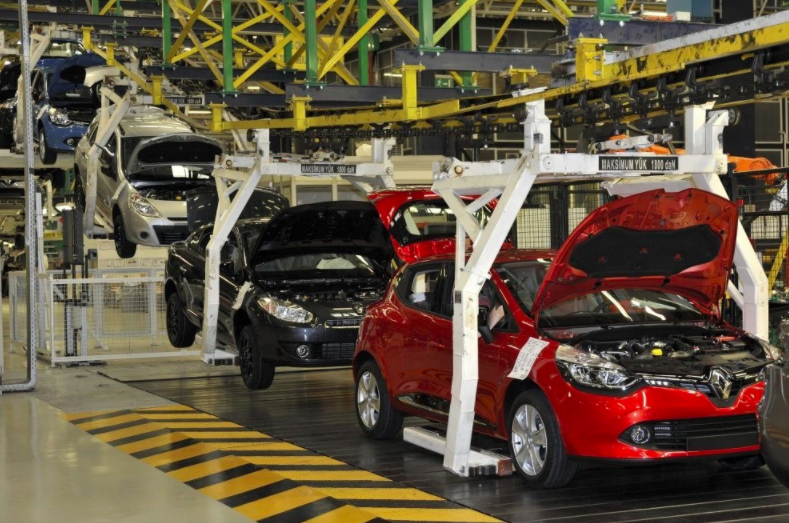 Friday, September 11
Road Trip: France's Renault Starts Producing Automobiles at ZAZ...US Car Imports Rebound...Speed Cameras Cut Accidents...Coming: Tenders for $2 billion in Toll Highways...Ukrainians Support Spending Billions on Roads...Motels to Follow the Pavement
France's Groupe Renault starts manufacturing cars this fall at the Zaporozhia Automobile  Plant, UkrAVTO corporation, parent of ZAZ, announced yesterday. "ZAZ underwent a large-scale modernization in order to fully comply with the international quality standards of Groupe Renault," UkrAVTO says, without specifying investment amounts or models to be produced. Max Missana, Eurasia managing director of Groupe Renault Export, says: "Made in Ukraine will be at the same quality level as the products of other plants of the Renault Group." In the region, Renault produces cars in Romania, Russia and Turkey.

Once Ukraine's largest car plant, ZAZ stopped producing cars in 2018. As recently as 2008, Ukraine produced 424,000 cars. Production has almost stopped. In July, Ukraine produced 172 cars – all at the Eurocar plant in Uzhgorod. Through July, ZAZ produced 26 buses. Nikolay Evdokimenko, ZAZ board chairman, says the joint venture with Renault will create jobs and contribute to the revival of car manufacturing here.
In August, used car imports were up 35% yoy, to 32,800, reports Ukravtoprom, the vehicle industry association. In contrast, imports of new cars were down 16% yoy, to 7,000. Through August, Ukraine imported 206,500 used cars, four times more than new cars.
Imports of used cars from the US are returning to a pre-crisis level of 10,000 a month, Volodymyr Kovel, co-founder of a new association to defend car importers, told Interfax-Ukraine. The association is forming in reaction to market disruption caused in February, when the Internal Affairs Ministry proposed banning imports of 'recycling' cars, or cars that had been in accidents. In protest, 18,000 people signed an online petition on President Zelenskiy's website. The import and repair of lightly damaged cars from the US is expected to be a $1 billion business next year. The most popular imports from North America are:  Volkswagen Jetta and Passat cars assembled in Mexico, and Ford Focus and Fusion cars.
During the first 100 days of speed cameras, accident rates in the areas with cameras have dropped by a factor of six, said Aleksey Biloshitsky, deputy head of the police patrol department. Since the first 50 cameras were installed in Kyiv City and Region starting June 1, patrol officers have issued 833,949 speeding tickets. Drivers have paid fines in 77% of the cases. Drivers who pay within 10 banking days get a 50% discount. No driver has overturned a speeding ticket in court. Cameras click on cars going 20 km over posted limits. Foreign plated cars with unpaid tickets are not allowed back in the country.
Tickets for major speeding violations are to be increased 6.5 times, to $122, under a law expected to be passed this month by the Rada at second reading. These fines would be levied on drivers exceeding speed limits by 50 km or more. Penalties for drunk driving will also be increased to include jail time and loss of license for up to 10 years, Anton Gerashchenko Deputy Internal Affairs minister, told reporters on Wednesday.
Ukraine aims to cut road accidents by 30% by 2025, Infrastructure Minister Vladyslav Krikliy, advised a government-business meeting, "Safety Matters." He said this would save 1,500 lives a year and avoid injuries to another 15,000 people. To get there, Ukravtodor, the state highway agency, is building 26 roundabouts, 76 collision absorber systems, hundreds of speed cameras and 887 illuminated pedestrian road crossings. The World Bank estimates road accidents cost Ukraine two percent of GDP, or $2 billion.
With the government investing $3 billion in road repair and construction this year, the Cabinet of Ministers voted Monday to expand checks for overweight trucks to 24 hours. They damage asphalt, and roads particularly in the hot weather. After initial tests this summer, another 50 weight-in-motion detection systems are to be installed this year. Infrastructure Minister Krikliy said 100 more will be installed in 2021.
Strong popular support seems to guarantee continuation of President Zelenskiy's "Big Construction" for years to come. Of 2,049 people polled nationwide last month, 90% supported this infrastructure renewal program, according to the Kiev International Institute of Sociology. Asked to name the top priority, 49% answered 'roads.' Respondents said they "fully support" these programs: ceasefire in Donbas – 80%; Big Construction – 67%; 5-7-9% affordable loans for small businesses – 38%; reduction of the central bank's key lending rate – 23%; introduction of a 'free land market' – 14%; and legalization of gambling – 12%.
Paving advances around the nation at the rate of 20-30 km per day, announced Ukravtodor. So far this year, repaving or rebuilding has been completed on 1,700 km, or 42% of the promised 4,000 km. With the roadwork season to last for another two months, Ukravtodor hopes to meet its target by mid-October. Next year's target is 7,000 km.
Of the 24 oblasts, there are road building winners and losers. According to Ukravtodor, the winners are:  Kharkiv – 200 km; Zakarpattia – 174 km; Zaporizhia – 167 km; Luhansk – 123 km; Sumy – 122 km; Lviv – 116 km, and Poltava – 109 km. The losers are:  Chernivtsi – 10 km; Kirovohrad – 11 km; Vinnytsia – 21 km, and Rivne region – 23 km.
Public-private partnership tenders are being prepared for 1,500 km of highways, with a total expected price tag of $2 billion, according to Infrastructure Minister Krikliy. "Thanks to the World Bank, we have already prepared a pre-feasibility study for six road sections, the total length of which reaches 1,500 km. The size is about $ 2 billion in investments. We are preparing a public-private partnership for these projects."
With Ukrainians largely bottled up inside the country this year, the number of Green Card international auto insurance agreements concluded from January through July dropped by 44% yoy. Similarly, premiums paid dropped by 35%, according to the Motor Transport Insurance Bureau of Ukraine.
Believing that Ukraine's highway construction will create a US-style long distance driving culture here, two Kyiv expats are raising $50 million to build a string of 10 hotels in the suburbs of Ukraine's major cities. The 3-star hotels would have 100-120 rooms, would follow international standards, and would be paired with McDonald's for food and beverage. Drivers behind Force One hotel chain are: Terry Pickard, chairman of Pickard Real Estate & Asset Services, and Jesper Henriksen, former Ukraine manager for Radisson Hotel Group.
From the Editor: I started my big city journalism career as 'Mass Transportation Correspondent' for The New York Times. That translates as 'subways reporter.' Today, it is clear that Ukraine, far larger than California, and has all the makings of a car culture. In the age of the internet, planners can skip trial and error and borrow the latest techniques for highway safety, highway construction, traffic management, and highway financing. For the 2020s, there is no need to – pardon the pun – reinvent the wheel. With best regards, Jim Brooke