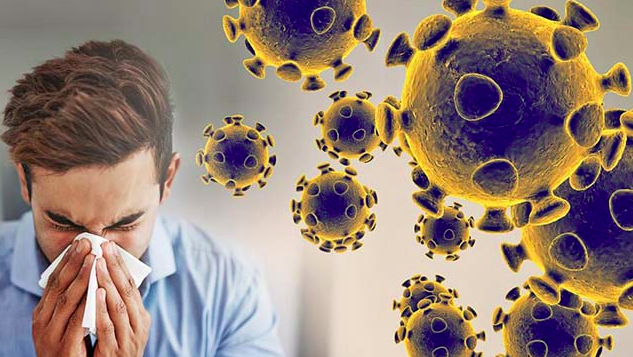 Friday, October 9
Covid in Ukraine: Up 7 Times in 3 Months...As Hospitals Fill, Stricter Quarantine Returns...China's Sinosteel Builds $250 million Plant for Arcelor...Germany's Kostal Builds €40 million Plant near Boryspil...UK Export Finance Raises Ukraine Loans, Insurance to £2.5 billion...IMF Watches and Waits
Over the last three months, the daily toll of new coronavirus infections and new deaths has increased seven fold. Yesterday, new infections inched up to 5,397 and daily deaths to 93. By comparison, on July 7, the Health Ministry reported 807 new infections and 13 deaths. Overworked doctors interviewed by the Associated Press for an article – "Virus Wallops Ukraine" – predicted that a looming shortage of hospital beds would force the government to re-impose a strict quarantine next month.
More than 20,000 people are hospitalized with coronavirus, Health Minister Maksym Stepanov warned yesterday in a televised briefing. He said: "The medical system will simply not stand it if we all, without exception, simply do not begin to adhere to the rules." With patients filling about 75% of Kyiv's coronavirus hospital beds, Kyiv, Ukraine's largest city, will be demoted Monday from "yellow" to "orange" level of quarantine. At the new level, all hostels, gyms and cultural institutions are to close. Restaurants must close after 10:00 pm. Kyiv is closing schools on Oct. 21, two days before the scheduled start of traditional late October weeklong break.
As the virus moves east, hospitals fill up. Nationwide, the highest hospital occupancy rates were: Donetsk region – 95%; Luhansk region – 90.5%; and Odesa region – 78%. Yesterday morning, the largest numbers of new cases were recorded in: Kharkiv region – 576; Kyiv city – 422; Odesa region – 367; Sumy region – 312; Dnipropetrovsk region – 306; and Donetsk region — 294.
With 5% of the Rada's 424 members and 75 Rada employees out sick with coronavirus, plenary sessions have been postponed. Rada committees are debating next year's budget. Next year, there will not a dedicated coronavirus budget, only increased funds for the Health Ministry and $100 million for a national vaccination program, Rada chairman Dmytro Razumkov said on the "Breakfast with 1 + 1" TV program. Of this year's $2.3 billion Covid Program, half was diverted to road construction.
If coronavirus controls slow Ukraine's economic recovery, the central bank may lower the prime lending rate from its current level of 6%, Kyrylo Shevchenko Governor of the National Bank of Ukraine, tells ZN.UA in a lengthy interview. "The biggest risk today, in our opinion, is the aggravation of the pandemic," he said. "If the coronavirus crisis has a significant impact on the economy, and we see that the rate of economic growth is significantly slowing down, the NBU may decide to further reduce the key policy rate."
China's Sinosteel started work this week on a 3-year, $250 million project to build a new metal pelletizing plant at ArcelorMittal Kryvyi Rih, Ukraine's largest integrated steel company. The plant is part of $700 million that ArcelorMital, Ukraine's largest foreign investor, is spending to replace or rebuild Soviet-era equipment – largely sinter mills and blast furnaces. The investments will save energy and reduce air pollution by 78,000 tons a year, Volodymyr Tesliuk, deputy director for mining, said at the groundbreaking ceremony.
Germany's Kostal is building a €40 million automotive electronics plant that is to employ 900 workers when it opens next April in Dudarkiv, 15 km north of Kyiv Boryspil Airport. With the new plant, Kostal will double its production in Ukraine. For the last five years, the company has employed 1,000 workers at another electronic components factory, in Pereiaslav, 65 km south of Dudarkiv.
Next year, foreign investors will be able to take advantage of 'Diya.City' – "a virtual free economic zone," Prime Minister Shmyhal told foreign ambassadors Wednesday. "Favorable tax rates, no bureaucracy, a convenient digital platform for doing business and getting all the necessary services online – these are the advantages of the project 'Diya.City,'" he said of an investment regime the government wants to push through the Rada this fall. In addition, the government plans to open a single investment window – 'Invest in Ukraine' – and to win Rada approval of the 'investment nanny' project.
Britain's UK Export Finance agency is resuming loans and insurance for major British exports to Ukraine, supporting up to £2.5 billion, Ukraine officials reported yesterday from President Zelenskiy's visit to London. Yesterday, Britain's Minister for International Trade, Ranil Jayawardena, signed a memorandum with Ukraine to identify investment in defense, farming, infrastructure, energy, and healthcare.
Through September, Ukraine's exports of goods were down 5.6% yoy, to $35 billion, reports the press service of the State Customs Service. Imports fell 11.8% yoy, to $38 billion. Due to the sharp drop in imports, the trade deficit in goods fell in half, to $2.9 billion. For the first nine months of this year, Ukraine's trade with China — $10.6 billion – was nearly double trade with Russia — $5.4. Figures for trade in services come out later this month.
The IMF signaled yesterday that it is watching the government's efforts to purge the last two Board Members of the Central Bank from the 2015-2016 bank clean up era. "The framework has served the National Bank of Ukraine – and the Ukrainian economy – well by strengthening the confidence in the NBU as an independent and professional central bank," Goesta Ljungman, resident representative of the Fund, said in a press statement.
In London yesterday, President Zelenskiy told investors in Ukrainian government bonds: "The National Bank was, is, and will remain independent…We are grateful to the IMF, the EU and the World Bank for financial support packages for our country and support for important reforms in Ukraine."
A different view in London came from Timothy Ash, strategist at BlueBay Asset Management: "It is hard to see any IMF review or indeed disbursements until this issue is resolved." After disbursing $2.1 billion from a $5 billion, 18-month standby program last June, the IMF has not sent to Kyiv a review team. Alluding to the summer purge of the central bank's Board, Ash adds: "It is fair for the IMF and markets to take some time to assess the new team and their actions."
Ostensibly, the Central Bank shakeup was driven by Zelenskiy's desire for lower interest rates and a cheaper currency. In the last year of Yakiv Smoliy as Governor, the prime rate dropped from 18% to 6%. The hryvnia now trades at 28.3 to the dollar, its weakest level in almost three years. Ash warns: "A less generous interpretation is that the NBU Council is being driven by a different agenda with oligarchic interests represented therein trying to clear out the former Gontareva/Smoliy teams as they want a different agenda on banking reforms – indeed, looking to reverse the reforms enacted from 2015-2020, with former owners being compensated for the loss of their failed banks."
From the Editor: Two weeks ago, we saw with the case of the 43-year-old An-26 trainer that the Air Force flies old planes until they crash. Now, thanks to the diligent train spotters at the Center for Transportation Strategies, we know that Ukrzaliznytsia drives locomotives until they burn up. The latest tally is 10 locomotive fires in 14 months. With these old workhorses laboring across the countryside at slow speeds, there usually are no injuries. The fires generally take place in the middle of the night in the middle of nowhere. But now, thanks to the ubiquity of smart phones, we can see the fires in living color. Yesterday, over dinner, my 4-year-old son, Junior Train Spotter First Class, studied the photos of a snowplow locomotive self-incinerating on a siding in Odesa. George concluded: "Fire!" With Best Regards, Jim Brooke