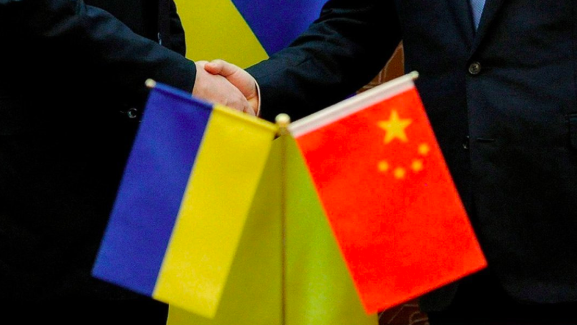 Friday, October 4
Food to China, Trains from China...State Railroad and Postal Service Opening to Private Investment...Rada Passes Concessions Law for Ports, Airports, and Roads...PrivatBank Looms as IMF Dealbreaker...To Counter Currency Nervousness, Central Bank Sells $200 million
China, Ukraine's largest trading partner, is opening up to imports of new agricultural products from Ukraine, stating with canola, a grain used for cooking oil, according to Olena Kuryata, head of international cooperation for Ukraine's Food Safety and Consumer Protection Service. Ideally, canola exports will start this year. She tells agroportal.ua that China also is considering for next year: apples, blueberries, chickens, sweet cherries, eggs, fish products and honey.
Ukraine's future role as a rail transit country for Chinese goods to Central Europe was reaffirmed Wednesday by the arrival from China of a 44-car freight train at Dobra, Slovakia, just across the border from Chop, Zakarpattia. Carrying Chinese goods for Austria, Hungary, Slovakia and the Czech Republic, the train took 14 days to travel to Slovakia from Xi'an, in central China. Slovakia wants to win 50% of all railway traffic between Europe and China, writes  RailFreight.com. With the collapse of eastern trade with the former Soviet Union, Slovakia has the capacity to handle 25 additional container trains from China, estimates Slovakia's Ministry of Transport and Construction.
Due to geography, the shortest and fastest route to Slovakia is through Ukraine. "Transport through Ukraine was more than competitive [than Belarus and Poland], as transit time was some 32 hours," Martin Koubek, Silk Road director for Metrans, a Prague-based railroad, told RailFreight.com. "We see big potential in this route." Noting that Ukraine's new government is upgrading customs procedures to EU standards, he said: "From this perspective, it may become even easier to transport trains via Ukraine."
As winter approaches, Russia is blocking shipments of thermal coal to Ukraine via Belarus, reports Liga.net, citing Mikhail Volynets, chairman of Ukraine's Independent Trade Union of Miners. "The situation of filling coal depots of thermal power plants on the eve of winter was already unsatisfactory," he writes on Facebook. "Now it will become disastrous." Due to Russia's new coal export permit system, coal stocks are 62% of last year's levels or 1 million tons short, warns Andriy Gerus, chair of the Rada's Energy Committee. DTEK is importing 388,000 tons of coal. In recent weeks, four shipments from Colombia arrived at Pivedenii (Yuzhne) port.
With the Rada's abolition of the list of state companies that cannot be privatized, the state railroad and postal service are now open for strategic foreign investors, officials say. "This means that we will be able to attract the funds necessary for the implementation of the development strategy from the world's largest investors," Yevhen Kravtsov, CEO of Ukzaliznytsia writes on Facebook, referring to the state railroad's 5-year, $6 billion spending plan. "An IPO is our strategic goal for the next few years."
Alluding to exploratory talks with China's Alibaba to invest in Ukrposhta, Infrastructure Minister Vladislav Krykliy writes on  Facebook: "Strategic objects will remain with the state holding at least  50 %+ 1 shares, but we will now be able to actively work on finding strategic investors Who knows maybe it will be one of the biggest e-commerce giants or international financial organizations."
The Rada gave final approval Thursday to a concession bill that allows for private investment in roads, ports, airports and other hitherto public infrastructure projects. Under preparation for two years, the new bill replaces four often conflicting laws on public-private partnerships.
Private companies may start building the first toll roads next year, says Infrastructure Minister Vladyslav Krykliy. Working with companies with experience working with toll roads in Europe, the Ministry plans to start with small pilot projects – the Kyiv-Bila Tserkva highway and the Lviv-Krakovets highway. The law stipulates that toll roads must compete with parallel free roads.
In the first three months of the 2019/2020 season, Ukraine has increased grain exports by 49%, to 13.6 million tons, compared to the same July-September period last year. The big driver was wheat: up 61% y-o-y, to 8.6 million tons. On Thursday, the government replaced wheat export caps with monthly monitoring by the Economy, Trade and Agriculture Ministry, reports Reuters.
Less than one week after leaving the government, Oleksandr Danilyuk warns that the threat of returning to PrivatBank to Ihor Kolomoisky is the main reason why the IMF team left Ukraine last Friday without a staff-level agreement. "The fact they left without a final agreement is a very negative signal – and it is a pity that it happened only because of a problem with PrivatBank," Danylyuk, former head of the National Security Council, tells BBC Ukraine. Danyluk who served as Finance Minister 2016-2018, adds: "No IMF, means no investment, no further privatization, all that gives impetus to the economy. Then what can we say about the 40% [promised growth] over the next five years?"
From London, Timothy Ash reminds readers of his financial email that in 2016-2017 the government injected almost $6 billion in taxpayer money into PrivatBank after Ihor Kolomoisky ran it into the ground. With a Kyiv court decision expected next week, he warns: "Reversal of the Privatbank nationalization would first of all risk macro stability. It would risk the failure of the banking system, because Privatbank is still the largest bank in the country, and it is systemic. Runs on the banks and currency would be a real risk."
The exit would be an immediate re-nationalization, he writes. "The new Zelensky administration has given no such reassurance…Where does this leave us? We do not know whether the largest bank in Ukraine will be solvent pending an upcoming judicial decision."
After a 3-day, 3.2% drop in the hryvnia, the central bank intervened Thursday for the first time in two months, selling $200 million. Drawn from $20 billion in reserves, the sale stopped the currency's slide at 25.6 hryvnia to the dollar. The sale of dollars came after the National Bank of Ukraine bought $930 million in September. Since the beginning of this year, net purchases of foreign currency amounted to about $3.7 billion, slightly more than the $3.4 billion in foreign investment in Ukraine's local currency government bonds.
Timothy Ash notes that the hryvnia started to slide after an IMF team flew home Friday without a staff-level agreement: "[The hryvnia's] recent appreciation has been driven by a weight of hot money inflows. Amid concern around the IMF, some of those are now leaving….The UAH is weakening because of concerns around Privatbank, the role of Kolomoisky and what all this means for the relationship with the IMF. Investors are nervous."
In one fallout from the Trump-Biden spat, a Republican senator plans to introduce a bill barring the immediate family of legislators and high-ranking government officials from doing business in Ukraine, The Hill reports. Citing the government of Ukraine as "historically corrupt," Sen. John Kennedy, R-La., plans to file on Oct. 14 a bill to ban members of the immediate family of the US president, vice president, Cabinet official or any lawmaker from "serving as a consultant, employee, independent contractor or board member for or owning 5% or more in any entity doing business in or with Ukraine."
From the Editor:  Melinda Haring has a good piece encapsulating Ukraine's Black September – the rolling series of setbacks that have hit the country. And she barely mentions the Trump-Zelensky telephone transcript and the resignation of Kurt Volker, the White House envoy who had Ukraine's back with Russia. After reading it, I watched the caller id flash on my phone with the name of an investor friend in the US. First-time investors are getting cold feet, he said. Toe dippers are finding Ukraine's October waters too chilly. Regards Jim Brooke jbrooke@ubn.news