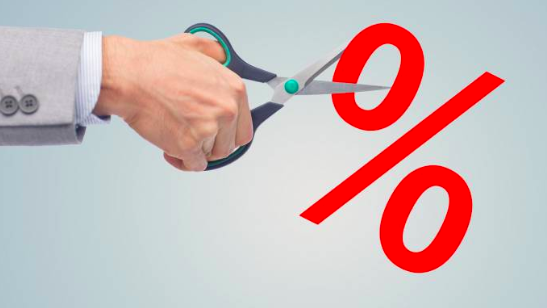 Ukraine cuts its prime interest rate by one percentage point today, to 15.5%, from 16.5%.  The fourth cut in six months comes as the central bank expects inflation to dip below 7% this month for the first time since 2016. The bank forecasts that inflation this year will end this year at 6.3%, and will end next year at 5%. "A more rapid decline in underlying inflationary pressure than anticipated coupled with no change in the balance of risks have made it possible to ease monetary policy somewhat more quickly this year than envisaged," said the National Bank of Ukraine.
Despite the cuts, Ukraine still has the highest prime rate in Eastern Europe. Drawn by these high-interest rates, foreign investors have invested a net $3.5 billion in Ukrainian government hryvnia bonds since this start of this year. This influx of money has boosted the hryvnia against the dollar by 12.5%, making it the best performing currency against the dollar this year.
Almost half of Ukrainians believe the economy will improve over the next year, according to a survey of 2,500 people polled from Saturday to Tuesday. Of respondents, 45% believe the economy will improve over the next 12 months, 26% believe there will be no change, 15% say it will get worse, and 15% can't say. "Against the backdrop of growing optimistic sentiments in the country after the presidential election, positive expectations about the future have also grown," concludes the pollster, the Rating sociological group.
Real salaries will grow by 10% next year, predicts the Ministry of Economic Development, Trade and Agriculture.  Exports of goods and services will climb by 7-8% next year. The central bank has raised its GDP growth forecasts to: 3.5% for this year and 2020; and to 4% for 2021.
Worked into the central bank's growth forecasts is the prediction that Ukraine will sign an agreement with the IMF and receive a tranche by the end of 2019. "The macro forecast we made public provides for the signing of an agreement with the IMF this year and the tranche this year," Yakiv Smoliy, governor of the National Bank of Ukraine told reporters Thursday.  The bank also stated: "The volume of international reserves, despite significant payments on external debt, will fluctuate around $23-24 billion in this and subsequent years, which is enough to finance future imports for three months."
Russia will pump at least 50 billion cubic meters of gas across Ukraine next year, the central bank forecasts, citing Gazprom's contractual obligations. This volume would bring Ukraine about $2 billion in transit fees. Through September, Ukrainian pipelines shipped 64 bcm to Europe and Moldova, up 1% y-o-y. Last year, Ukraine shipped 87 bcm. On Monday, Russia-EU-Ukraine talks start again in Brussels to forge a gas transit contract to replace the 10-year contract that expires Jan. 1. "There are opportunities for moving forward," Vladimir Chizhov, Russia's representative to the EU said after technical talks took place Monday. "We'll see how much they materialize next Monday."
Ukraine climbed seven spots this year in the World Bank's Ease of Doing Business rankings, nearing a spot in the top one third of 190 countries surveyed.  Ukraine's rise to 64th place was attributed to improvements in: protecting minority investors, dealing with construction permits, getting electricity, trading across borders, registering property and getting credit. Noting the data collection ended last spring, former president Poroshenko wrote on Facebook: "We are grateful to our team for the worthy result. In five years, we have risen 48 positions in this rating. I sincerely wish our successors to do better."
Looking ahead, Prime Minister Honcharuk promised on his website: "This is just the beginning: three days ago the Ukrainian Code of Bankruptcy came into force, a couple of weeks ago the Parliament adopted a law on increasing investment attractiveness of Ukraine…I am sure: at such a pace, through successful reforms, our state will become a magnet for investment in the near future."
Russia's MTS may sell control of Vodaphone Ukraine, the nation's second largest cellphone company, to Bakcell, Azerbaijan's second-largest cellphone company. On Thursday, Ukraine's anti-monopoly committee said on Facebook that it had granted Bakcell permission to buy more than 50% of Preludium B.V., the Dutch vehicle that MTS uses to own Vodaphone Ukraine. With 3 million subscribers, Bakcell network has 7,500 thousand base stations, reaching 99% of Azerbaijan's 10 million people.
Green bonds would be launched in Ukraine, according to a bill introduced this week in the Rada, reports State Agency for Energy Efficiency and Energy Savings. Experts says such bonds could draw up to $73 billion in investments in the 2020s for environmentally friendly projects in Ukraine. GIZ, Germany's development agency, worked with the Energy Efficiency Agency last summer to draw up market rules for green bonds in Ukraine.
Glovo, the Barcelona-based courier service, plans to almost double by year-end the number of Ukrainian cities where it makes deliveries. From 11 cities today, Globo plans to expand to 18-20 cities, Dmitry Rasnovsky, Glovo general manager in Ukraine, told reporters Thursday. While expanding into cities in the 200,000-500,000 population range, there is room to grow. He said in Ukraine, there are .2 food deliveries per month person. In Ukraine's European neighbors, the rate is 1.2. In China, there are now 9 deliveries per person per month.
Bolt, the taxi service, is launching a delivery courier service in Kyiv. Packages no bigger than 65x55x40 cm will be carried in the luggage compartments of Bolt cars.
The government's gambling bill submitted this week to the Rada will restrict gambling to hotels: casinos to 5-star hotels; and gambling rooms with slot machines to 3-5 star hotels. A limited number of gambling licenses would be sold by electronic auction. Gambling equipment and software would have to meet international standards. The Cabinet of Ministers would oversee a state gaming authority which would use an online monitoring system to watch gambling organizers by reviewing data from gaming equipment and software.
In one indicator of business health, purchases of company cars are up 12% through September, y-o-y. During the first nine month of the year, companies bought 20,300 cars, 94% of them new, reports Ukrautoprom, the car industry association. Overall, Ukraine has recorded 383,300 first time car registrations this year, 84% of them for used cars imported from abroad.
AIRLINE NEWS:
Azur Air Ukraine launches direct charter flights today from Kyiv Boryspil to Varadero, Cuba. "We have been working on the opening of direct flights from Ukraine for a long time," said Natacha Diaz Aguilera, Cuba's acting ambassador. "Finally, all efforts were united, and this idea became a reality."
Flydubai is doubling its Ukraine flights this month. It now flies twice a day to Kyiv Boryspil and three times a week to Odesa.
Starting Sunday, UIA stops flying between Kyiv Boryspil and Nur-Sultan (Astana), Kazakhstan. UIA passengers will be able to fly to Almaty and Nur-Sultan under a code-sharing agreement with Air Astana. Russia's closing of its airspace to Ukrainian airlines forced UIA to make costly detours, adding 1h15 minutes to each flight. Infrastructure Minister Vladislav Krikliy said last month that the government will not compensate airlines for losses due to Russia's overflight ban.
Lauda, now owned by Ryanair, starts a Stuttgart-Kyiv Boryspil flight Nov. 6.
Brussels Airlines, part of the Lufthansa Group, ends flights to Ukraine on Nov. 17. Brussels started service to Kyiv one year ago.
Ryanair's Lauda will start flights from Kherson to Vienna on March 30. On Dec. 17, Ryanair starts flights from Kherson to Krakow. Kherson increasingly draws passengers from Crimea who want to fly to Europe.
From the Editor – a Reality check on Ukraine's ease of doing business. Yesterday in Kyiv: Unable to pay my downtown office rent with Visa or Amex, I went to the Alfa Bank branch in my building with my US passport, Ukrainian residency permit, and 75 500-hryvnia notes. I went to the same teller window where I paid the rent one month ago. A new face behind the glass. Her i.d. said 'Senior Cashier.' A bad sign. She looked at my passport. Punching her telephone pad, she made three calls. Finally, she triumphantly announced that my documents – adequate last month, were not adequate this month. Ukrainian residency permits do not show home addresses. After a back and forth, I said I would walk to my apartment and get my lease. She cautiously aid that might suffice. On my way back from my apartment, I stopped by an office of First Ukrainian International Bank, or PUIB. The teller accepted my passport — and Ukrainian currency. Total time elapsed to pay this month's office rent: 1 hour. Best regards Jim Brooke jbrooke@ubn.news