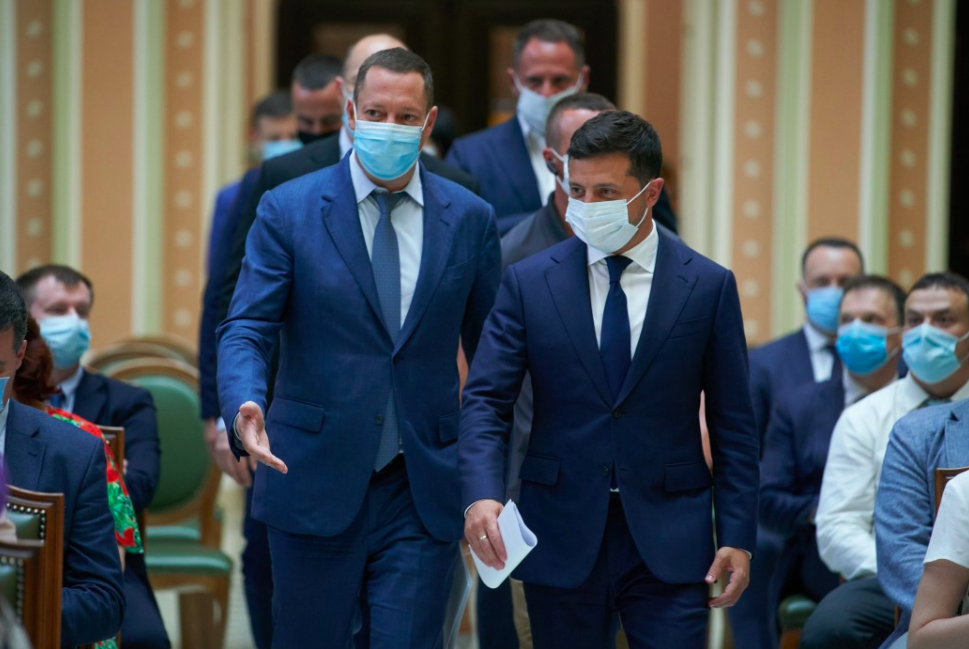 Although no IMF review mission has come to Ukraine in the five months since the deal was signed, top Ukrainian officials say all is well. President Zelenskiy told a group of TV interviewers yesterday: "There are requirements from the International Monetary Fund. I believe we have done everything." The new governor of the central bank, Kyrylo Shevchenko, told reporters yesterday: "As before, we expect the next tranche from the IMF to arrive at the end of this year."
Analysts say both sides are wait for the outcomes of two elections – Sunday's local elections in Ukraine and the Nov. 3 presidential election in the US. If Biden is elected in the US, the thinking goes, he will lean on Ukraine to get in compliance — and on the IMF to restart the program.
Timothy Ash writes from London sees no fresh IMF money until next spring: "Best case some time in Q2 2021, assuming Biden wins the presidency, and takes an interest in Ukraine again."
One German insider emails the UBN about semi-annual joint IMF/World Bank meeting concluded in Washington on Sunday: "The meeting on Ukraine was cancelled, as no progress on reforms was noted. Treatment of [National Bank of Ukraine] management totally inappropriate. Unprecedented! Therefore, no review mission, no next tranche. Wait and see what is going to happen after elections and potential government changes (Economy, Finance?)."
Bloomberg writes: "The prospect of further IMF financing is…fading, worrying investors who count on the lender as a backstop. The Washington-based fund has concerns over damage to Ukraine's anti-corruption agenda and central-bank independence. Highlighting the nervous mood, state-controlled energy company Naftogaz this week delayed a bond sale, signaling that the borrowing costs on offer from investors were too high."
Kernel, Ukraine's top vegetable oil producer, has placed 7-year Eurobonds at 6.75% — 105 basis points below the yield for a sovereign bond. Deemed a better risk than the country it operates in, Kernel placed $300 million worth of Eurobonds on Tuesday. By contrast, Naftogaz, the state energy company, aborted a Eurobond sale Monday, saying the offered yield of 8.95% was too high.
The National Bank of Ukraine decided yesterday to keep the prime rate at 6%, extending a 5-month run as the lowest rate in Ukraine's post-Soviet history. The bank's Board said: "Maintaining a soft monetary policy is aimed at supporting the economic recovery and achieving the inflation target." According to the bank's posted rate curve, the prime rate could rise to 7.5% by the end of next year.
Central bank forecasts:
Ukraine's GDP will shrink by 6% this year and grow by 4.2% next year.
Inflation will end this year at 4.1% and rise to 6.5% next year.
International reserves will end this year at $29.1 billion, then rise next year to $29.5 billion – assuming IMF disbursements resume.
Public and publicly guaranteed debt is now at 63% of GDP. Starting next year, it will decline by 2-3 percentage points annually.
Rail cargo was up 3.5% yoy for July-September, an indicator of a summer recovery from the recession. In August, cargo carried by Ukrzaliznytsia was up 10.3% yoy, reports the Center for Transportation Strategies, drawing on figures from the state railroad. The largest freight carrier in the nation, UZ carried 198 million tons through August of this year.
Bucking the world recession, MHP, Ukraine's largest poultry producer, increased exports by 37% in the third quarter yoy. Overall, the company reports, its chicken meat sales are up 2% through September, "mainly due to a significant increase in exports in the third quarter of 2020 – by 37% YoY to 108.47 thousand tons due to increased sales primarily in the MENA region (Middle East and North Africa)." Founded in 1998 by Yuriy Kosiuk, MHP is now the second largest poultry producer in Europe, according to WattPoultry.com. The largest is Netherlands-based Louis Dreyfus Company, or LDC.
A protégé of Maxim Nefyodov is the new head of Customs. Yevgeny Yentis, former deputy head of Customs for Digital Development and Transformation, previously worked with Nefyodov setting up ProZorro, the award winning online tendering and auction system. Nefyodov was pushed out as head of Customs last May because Zelenskiy was unhappy that he had not ended smuggling after six months on the job.
Half a million Ukrainians pay social security taxes in Poland, according to Bankier, a Polish business news site.  Gertruda Uścińska, president of Poland's Social Insurance Administration, or ZUS, says 750,000 Ukrainians pay for state health insurance. Poland's Main Statistical Office said that at the end of 2019 about 1.3 million Ukrainians lived in Poland. Uścińska says the number of foreigners in Poland's social security system dipped by 10% in the spring, due to corona controls. But, she says: "In September we exceeded the level from February. We have already made up for losses." Ukrainians make of 75% of the foreigners working in Poland, she said.
Through August, remittances of Ukrainian labor migrants were down by 11% yoy, to $7.7 billion, reports the National Bank of Ukraine. In August, Ukrainians sent home $906 million, down from $1 billion a month last year. This year, the transfer channels are: banks – 41%; informal – 35%; and international payment systems – 24%.
Marketing to migrant workers and students, FlixBus starts three new bus routes from Ukraine to Central Europe on Nov. 5 – two to Poland and one to the Czech Republic. One line goes Kyiv to Warsaw to Szczecin, on Poland's wester border with Germany. Another goes from Chernvitsi to Warsaw. The third goes from Lviv to Ostrava, on Czech border with Poland. One year after starting operations in Ukraine, the Germany-based bus company operates routes from 16 Ukrainian cities to 48 cities in six EU countries. Michal Leman, the regional director, says the most popular routes are: Lviv-Krakow, Lviv-Prague, and Kyiv-Prague.
Radisson is entering Odesa, rebranding the existing Hotel Milano on Derybasivska Street as Radisson Hotel City Centre Odesa. With the addition of this 127-room property, the Radisson Group will have eight hotels and 1,445 rooms in operation and under development in Ukraine. Marco Sartori, CEO of the group that owns the hotel, said: "Strong demand has accelerated the growth of the local hotel sector in recent years, but the presence of a leading hotel operator capable of offering high standards in terms of quality and service sets a new benchmark for all travelers visiting this beautiful city."
Editor's Note: After reviewing President Zelenskiy's address to the Rada on Tuesday, eagle-eyed opposition politician Inna Kostyria complained: "There was no place for the agricultural sector of Ukraine." I checked. Actually, out of 6,500 words, the President devoted 140 words, or 2%, to agriculture. Food accounts for 43% of Ukraine's exports. Farming is the largest source of employment. If a Martian were to listen to the President's speech, he/she/it might confuse Ukraine with Singapore. Maybe it's time for our state-in-the-smartphone President to come down to the (black) earth. With Best Regards, Jim Brooke.