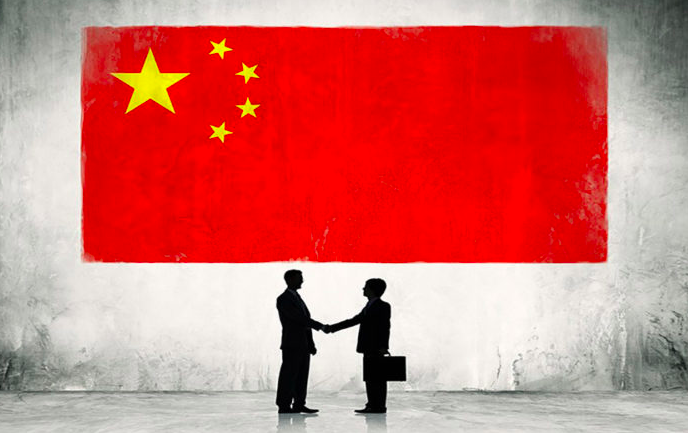 Friday, October 2
Study: Chinese State Behind 40% of Company Purchases in Europe...In Ukraine, China's Skyrizon Pushes Hard to Win Control of Aircraft Engine Maker...Political Winds Seem to Blow East...Chinese Company May Build Railroad in Luhansk...Sparked by Tracer Bullets? Fires Ravage Luhansk, but Spare Ukraine's Largest Fertilizer Factory
Of the 650 Chinese investments in Europe over the last decade, about 40% have high or moderate involvement by state-controlled companies, including some in advanced technologies, according to an article yesterday in The Wall Street Journal. Headlined "Behind China's Decade of European Deals, State Investors Evade Notice," the article drew on four years of research by Dutch consulting firm Datenna BV, which combed through millions of records in China's company-registration databases.
Noting that new EU rules to screen foreign investment go into effect from October 11, the Journal said the multi-billion euro deals are well known, but "less evident has been Chinese state involvement in hundreds of smaller deals and those without an announced price." These small acquisitions often target advance technologies in a clear bid to leapfrog Western companies. Datenna Chief Executive Jaap van Etten tells the Journal: "When there is state influence, it's often at a very high level."
Skyrizon, subsidiary of Beijing Xinwei Technology Group, is pursuing a new, multi-prong strategy in its 4 year bid to win control of Ukraine's Motor Sich, one of the world's largest manufacturers of aircraft engines and industrial gas turbines. Last month, Skyrizon informed Ukraine's Justice Ministry that it has started international arbitration, demanding $3.5 billion in compensation. Separately, Skyrizon and its Kharkiv-based partner, DCH Group last week filed an updated joint application with Ukraine's Antimonopoly Committee of Ukraine to buy Motor Sich. In August, the Committee rejected an earlier application.
Finally, the Chinese ownership group sent a letter two weeks ago to each of the Rada's 423 members asking that they conduct a parliamentary inquiry into 'state raiding' in the case. The Chinese say they invested $1 billion for the company only to encounter envoys from Ukraine's 'leadership' demanding a portion of shares and $100 million in return for permission to exercise ownership rights. Wang Jing, a key shareholder of Skyrizon, says in a video message: "To gain a greater market share in the world's largest, fastest growing Chinese market, to gain a stronger position in it and gain development prospects, a company must formulate and implement a strategic medium and long-term development plan."
Japan's Nikkei business news site highlights the military value of Motor Sich. "While Wang is bidding for Motor Sich as a private businessman, Beijing has been keen to upgrade China's engine manufacturing capabilities to support its ambitions for production of world-class military and commercial jets as well as missiles," the Nikkei wrote in a detailed article: "Chinese tycoon takes fresh aim at Soviet-era engine producer." The article quotes: Douglas Barrie of London's International Institute for Strategic Studies, saying: "The challenges of developing a high-end military turbofan engine are considerable, hence why only a small number of countries… have a national capability developed over the past six decades or so."
Five weeks ago, U.S. Secretary of State Michael Pompeo called President Zelenskiy. Citing Motor Sich, Pompeo said he "raised U.S. concerns regarding malign PRC [People's Republic of China] investment in Ukraine." Oleksiy Kusch, a Kyiv economist with the Growford Institute, tells the Nikkei: "The U.S. election creates a very narrow window to get this deal through since the Trump administration's focus on Ukraine is weakened…Motor Sich is not going to be a priority for Trump or Biden for the next few months."
Meanwhile, one key opponent of the Motor Sich sale to China is stepping out of the fray this month. Aivaras Abromavičius is awaiting President Zelenskiy's approval to resign as head of state-controlled arms producer Ukroboronprom, Bloomberg reported yesterday in an article titled "Ukrainian Politics Again Get the Better of a Would-Be Reformer." While not having direct control over the aircraft engine maker, Abromavičius has been an influential voice opposing ceding the company to Chinese control. He tells Bloomberg: "A fight is underway for which vector development of Ukraine will take, western or eastern."
With no serious Western buyer for Motor Sich appearing on the horizon, Zelenskiy says Ukraine's doors are open to Chinese investors. "Credit and investment, agro-industrial, machine-building, and transport sectors should be mentioned among the priority areas of practical cooperation," he says in a lengthy interview with Xinhua posted yesterday. "Ukraine has significant scientific and educational potential, rich culture. This provides good opportunities for increasing trade and economic cooperation." Noting that China is now Ukraine's top trading partner, he invites Chinese President Xi Jinping to visit Ukraine.
A Chinese company is to build a 50 km railroad in Luhansk that would connect the region's coal-fired electricity plant to the Ukrzaliznytsia system, Sergiy Gaidai, head of the regional administration told reporters Tuesday. "They are ready to invest, build," he said, according to Tribun, a Severodonetsk news site. Last February, Gaidai met in Kyiv with French Ambassador Etienne de Poncins. They agreed that France would finance the railroad construction, about €100 million euros. French financing was tied to the purchase of French equipment, notably signals. Located near the town of Schastia, on the north bank of the Severodonetsk River, the Luhansk power station supplies 1 million customers with electricity but it functions largely at the mercy of coal shipments from Russia.
The fires ravaging portions of Luhansk have spared Severodonetsk Azot, the nation's largest producer of mineral fertilizers and employer of 4,000 workers. Brush fires that broke out Wednesday night on the factory complex were extinguished and production was not affected, reports Oleg Arestarkhov, spokesman for Group DF, the owner of the nitrogen company.
Elsewhere in Luhansk, 146 fires killed 11 people, injured at least 17 and destroyed over 250 buildings in 30 villages. With many fires breaking out near the line of the control, fear of exploding land mines prompted the closure yesterday morning of the Stanytsia-Luhanska checkpoint, the only crossing with Russia-controlled Luhansk. Strong winds and dry weather provided the conditions for the fires. With the fires concentrated in three districts near the line of control, residents speculate that some fires were sparked by artillery shells and tracer bullets fired from the Russia-controlled side.
Two companies have been banned from trading in securities, accused of bilking legitimate companies of $100 million over the last two years, reports National Commission on Securities and Stock Market. The companies suspected of fraudulent trading are:  ZNPVIF Portfolio Investments and ZNPVIF New Technologies. "Securities professionals [running] controlled investment funds issued fictitious loans to related fictitious companies" and then used the falsified accounts to withdraw funds from real companies, reads the statement by the State Security Service, or SBU.
From the Editor: My former boss in the Washington bureau of The New York Times used to call it "the silly season" — the final stretch of a US presidential election, followed by the 10-week gap until the inauguration. Silliness was on full display for 73 million American TV viewers gathered Tuesday night to watch a presidential debate that degenerated into a sandbox fight. Looking forward, we now face a 4-month power vacuum in Washington until we know who the next president is — and get him inaugurated. Here in Ukraine, the Chinese buyers of Motor Sich are driving hard to consummate their deal. They know full well the nursery rhyme: 'When the cat's away, the mice will play.' With best regards, Jim Brooke