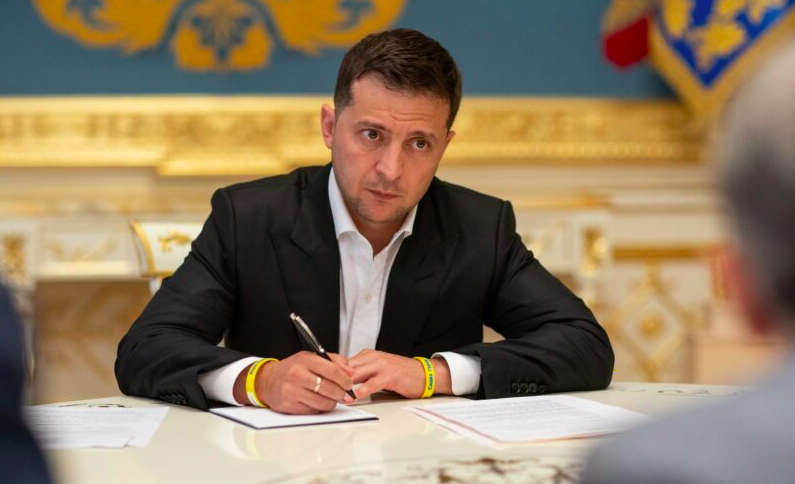 With the stroke of a pen, President Zelenskiy yesterday transferred 6% of Ukraine's 33 million hectares of farmland from state ownership to local community ownership. "On October 26, all newly created communities should receive land in communal ownership and will be able to use funds from land use for the development and welfare of their communities," he said, referring to the day after Ukraine's Oct. 25 local elections. "We return lands from the center to the people."
By superimposing Ukraine's modern cadastral map on the public map of Ukraine, it became clear this summer that 5 million hectares of farmland were moved from state ownership to private ownership since Independence, says Roman Leshchenko, head of the State Service for Geodesy, Cartography and Cadaster. Participating in the "Land to the People" forum in Chernihiv, alongside Zelenskiy, he said his office would soon post online a national land ownership map, completed with owed taxes. After the Oct. 26 land transfer, he said, 750,000 hectares will remain in the hands of the state – for schools, jails, military training grounds, and agricultural colleges and research stations.
Naftogaz is offering a bond issue of $335 million in an exercise to retire bonds coming due in 2022 and 2024. The state energy company's priority is to buy back $335 million worth of bonds maturing in July 2022. Once that demand is covered, Naftogaz plans to use the unused portion of money raised to buy back some of the €600 million worth of bonds maturing July 2024. The goal is to extend the maturity of Naftogaz debt. The 2022 Eurobonds have a yield of 7.375% and 2024 Eurobonds have a yield of 7.125%. The deadline for bondholders to apply is Oct. 27. Fitch Ratings has rated the new notes 'B'. Citibank is the sole arranger.
Concorde Capital's Alexander Paraschiy writes: "Naftogaz is the third Ukrainian bond issuer who initiated a debt extension this fall, after Metinvest (who tendered its 2021 and 2023 notes) and Kernel (who is tendering its Jan. '22 notes). The timing of Naftogaz's debt operation does not look optimal, in our view…Namely, there is uncertainty about the Ukraine-IMF deal, meaning Ukraine's sovereign risk is high, while the recent interim report of Naftogaz (with losses at the EBITDA level) does not add optimism about the company's prospects…All this means Naftogaz is likely to see a higher rate on its new bonds as compared to any of the existing notes."
By increasing yields, Finance Ministry almost doubled its sales of government hryvnia bonds at the weekly auction on Tuesday. The government sold UAH6 billion worth of bonds, compared to UAH3.4 billion at the Oct. 7 auction. To increase investor interest, the Ministry said yields on one-year bonds by 11 basis points, to 10%, and by 32 basis points on two-year bonds to 10.82%. Next week, high demand is expected for the Ministry's auction of one-year dollar denominated bonds.
Concorde Capital's Evgeniya Akhtyrko writes: "MinFin finally managed to boost UAH auction receipts amid hiked interest rates. The one-year government bonds at around 10% are likely to be the trade-off that most market players will agree upon for the nearest future.
The central bank's Council is expected to meet today and to vote to fire the last two Board members from the Poroshenko era: deputy governors Kateryna Rozhkova and Dmitry Sologub. NV business news site quotes a source close to the National Bank of Ukraine saying: "100% are going to vote." If these dismissals take place, they will complete the purge of the Board, a process that started four months ago with the forced resignation of Yakiv Smoliy, the governor. In recent days, the G-7 ambassadors, the EU ambassador and the IMF resident representative have spoken against the purge of the Board.
Ukravtodor is terminating its 4-year-old contract with China's Sinohydro to build a 22 km concrete bypass around Zhytomyr, the state highway agency reported yesterday. Ukravtodor charges the company is late, does not answer requests to repaid shoddy work and does not explain its delays. "It's a shame that cooperation with Sinohydro reached the point of no return," Alexander Kubrakov, head of Ukravtdor, said. "We cannot afford to hesitate or wait for reciprocal steps – Ukraine needs a road right now." The €42 million project is partly financed by the EBRD and the European Investment Bank. Sinohydro wasted two years by ignoring the local market and building a camp for its workers and building production facilities for construction materials, writes the Center for Transportation Strategies.
A series of interview videos with CEOs on how they cope with the Covid crisis has won the "Creative Network Award" for the American Chamber of Commerce in Ukraine. Directors of the 43 American chambers in Europe voted yesterday to selecte the video series: Leadership in Times of Crisis. Started at the height of the lockdown, the videos feature AmCham President Andrew Hunder interviewing a series of CEOs of local units of multinationals, including GE, Grammarly, Hyatt, Metro, L'Oreal, PWC, Roche, Shell and CMS Cameron McKenna.
Windrose is becoming Ukraine's air bridge to the Balkans, starting flights from Kyiv Boryspil to Ljubljana, capital of Slovenia, on Oct. 24, to Skopje, capital of North Macedonia, on Dec. 6, and to Belgrade, capital of Serbia, Dec. 7. Last month, Windrose started flying to Zagreb, capital of Croatia. Last summer, Windrose flew its regional jets and turboprops from Kyiv to three Croatian tourist destinations on the Adriatic – Dubrovnik, Pula and Split. On the domestic side, Windrose flies from Kyiv to seven Ukrainian cities.
This winter, Lviv airport may save money by not plowing snow from its 3.3 m runway at night, Tatiana Romanovskaya, airport director general, tells Avianews. "Since no night flights are planned, significant resources can be saved by not working during this time and not constantly clearing the strip," she said. Emerging from quarantine, the airport offered 50% discounts on airport services to returning airlines. With traffic down by 'only' 58% through September, to 703,000, Lviv has displaced Kyiv Sikorsky as Ukraine's second busiest airport. Lviv aims to finish this year with 1 million passengers, the level of 2017. Next year, Romanovskaya hopes to handle 1.5 million passengers, almost the volume of 2018.
After the hottest September in a century, Kyiv continues to set heat records. In the 27th heat temperature record, the Wednesday-Thursday night temperature did not fall below + 14.5°С, reports the Central Geophysical Observatory. This is 2.5°C. above the previous record. Last month the average air temperature was +18.4° C, exceeding the climatic norm by 4.5°. Last summer was Kyiv's second hottest since record keeping started in 1881. The average air temperature was + 21.7 °C, exceeding the climatic norm by 3°C.
Next week, night temperatures are to dip toward freezing.  Mayor Klitschko promises to turn on the municipal heating system today. With 2,700 km of hot water pipes heating 12,000 apartment buildings, it takes one week for the heat to reach all apartments. The Mayor said heating will be important in the fight against coronavirus, the flu, and acute respiratory viral infections.
Editor's Note: Problems with Sinohydro's performance on the Zhytomyr bypass were clear in the last year of Volodomyr Omelyan, Poroshenko's voluble Infrastructure Minister (and now a non-person). Since then, I have heard complaints from two European renewable energy companies about poor performance by Power China. Ukrainians are learning that Chinese companies can low ball in tenders to win contracts and buy market share. But if prices are 'too good to be true,' they may be just that. With Best Regards, Jim Brooke