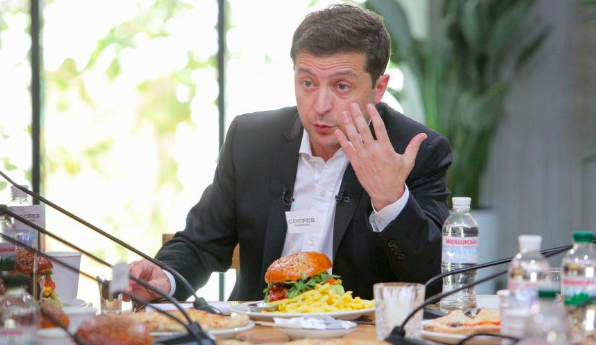 Friday, October 11
Govt. Will Not Return PrivatBank to Kolomoisky, says Zelenskiy…Top Ministers Go to U.S. Next Week…Inflation Slows…60 SoEs for Privatization, including 'Corrupt and Criminal' Ukrspirit…1.5 million Ukrainians Went Abroad…Big Tobacco Burned by Fines…Kyiv Bridge Costs Balloon…New Airport for Rocket City
Zelenskiy promises not to return PrivatBank to its former owners. In a televised press marathon on Thursday, the president vowed to defend the nation's interests. Oligarch Ihor Kolomoisky is trying to wrestle back control of PrivatBank through a lawsuit filed in the Kyiv Commercial Court. The bank was nationalized in Dec. 2016, after its ownership group, led by Kolomoisky, put the bank $5.5 billion in the red. PrivatBank, the country's biggest bank,posted a record $1.1 billion profit in the first nine months of 2019.
Top ministers head to the US next week to meet with the IMF and World Bank officials for training, Prime Minister Honcharuk writes on Facebook. He emphasized that "cooperation with international partners and donors" is important for Ukraine. Last month, IMF officials left Ukraine without announcing a finalized draft memorandum for a new program, agreeing only to continue talks.
Year-on-year consumer inflation slows to 7.5% in September, compared to 8.8% in August, the National bank said in a press report. This figure rate was below the government's official 7.7% forecast.
Naftogaz contributed 15% of the entire state budget, or $3.4 billion, in the first three quarters of 2019, the company reports. In 2018, the company paid $5.62 billion to the state budget, or about 5% of Ukraine's entire GDP.
The state's role is to reduce utility costs for people, despite IMF guidelines, President Zelenskiy says. "Market prices for our country today are an increase in utility prices. But as you see, since summer, we've been to reducing them. That is our task," he said. "Even if we do open the market, and if we have market prices, we have to agree that a [only] certain percentage of a family's income should go to utility bills. This percentage should decrease. And we guarantee it to the people."
Authorities are hunting for Kostyantyn Zhevago, CEO of Ferrexpo. Roman Truba, Head of the State Bureau of Investigations, said his agency is taking measures to put Zhevago on an international wanted list, reports Interfax Ukraine. The search is connected to Zhevago's alleged role in the embezzlement of $113 million from the Finance & Credit bank in 2015. It was later declared insolvent. Earlier in September, Zhevago was served in absentia with a notice of suspicion related to the embezzlement investigation.
More than 60 state companies, including Hotel Ukraine on Maidan are to be privatized, said President Zelenskiy during Thursday's press marathon. Some entities such as the residence of the Head of State will continue to be managed by the Directorate.
Ukrspirt, one of Ukraine's largest alcohol producers, is to be privatized, writes Minister of Economy, Trade, and Agriculture Timofey Milovanov on Facebook. He characterized the state-owned enterprise as "corrupt and criminal" and said Ukraine loses over $200 million each year from such companies.
This year, 1.5 million Ukrainians have left the country for long-term stays abroad, Dmytro Dubilet, head of Ukraine's Cabinet of Ministers, writes on Telegram. "Since the beginning of the year, the number of Ukrainians who have left and did not return within 21 days is 1.5 million."
New tax forms start in January 2020, the State Tax Service announces. "From Jan. 1, 2020, taxpayers will file a declaration of wealth and income in a new form."
The Antimonopoly Committee issues $265 million fine for several big tobacco companies and distribution company TEDIS. Committee Chairman Yuriy Terentyev said the penalty was for "collaborating to create and maintain artificial barriers for other companies" in Ukraine's cigarette market. Phillip Morris, JT International, British American Tobacco, and Imperial Tobacco were among the companies hit. Some foreign tobacco companies have alleged they are being unfairly targeted by the new administration and have threatened pulling investments.
ArcelorMittal will allocate $16.5 million for the construction of an oncology center in Kryvyi Rih, reports Interfax Ukraine. Earlier this year, criminal charges for "ecocide" were brought against the metals company, which was searched by Ukraine's SBU security service. President Zelenskiy, who is from Kryvyi Rih, has criticized ArcelorMittal for failing to curb pollution and called for targeted financial relief for those who victims of the company's emissions.
Construction costs expected to nearly double for Kyiv's Shuliavsky Bridge, according to Mayor Vitaliy Klitschko, reports the Center for Transportation Strategies. The initial figure of $24.5 million will increase to $42.8 million because "additional work must be performed in the adjacent areas." In a radio interview, Klitschko said: "The cost of building the bridge is the same, but we did not expect that we would have to work on the heating network located near the bridge." The mayor assured construction costs would be transparent, and additional work will be financed from the city budget.
A new international airport will be built in the city of Dnipro next year, Zelenskiy assured during Thursday's press marathon. Dnipro, formerly known as Dnipropetrovsk, the Soviet Union's "rocket city," is Ukraine's 4th largest city and a major industrial center. The new runway will be built according to international standards and its main runway will have a length of at least 2,900 meters. Construction will cost approximately $118 million and is to take two years.
Kyiv's Boryspil airport receives six new Hungarian-made Jetbroom 9600 snowblowers purchased at a tender in 2018, the Center for Transportation Strategies Reports. "We are fully prepared for winter. We plan to use 18 snow blowers, including the six new ones, to clean runways and lanes, and two snow blowers to clean other roads and platforms." The airport is also scheduled to launch 32 parking spaces for electric vehicles which will be equipped with charging stations.
 FROM THE EDITOR: More than 200 senior-level decision-makers from the private equity and venture capital industry in Central and Eastern Europe are meeting next week in Prague. In panel discussions and keynote talks, thirty-five speakers will discuss trends for private equity in the region. Only a few tickets are left. The one-day conference is Oct 16, and UBN is a media sponsor. For more information, visit https://www.0100conferences.com/16-oct-2019-prague-2019.html .