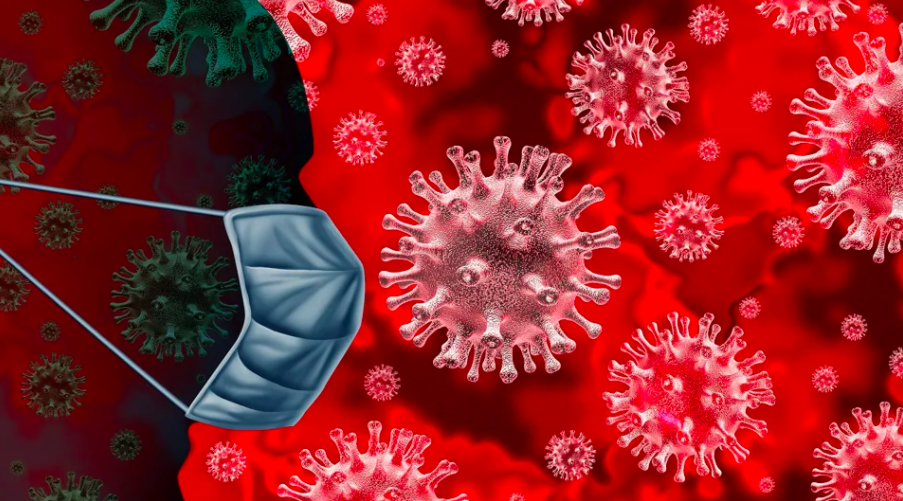 With new coronavirus cases approaching 10,000 a day, the government is drawing up new controls that could be implemented as early as Monday. "The Ukrainian economy should not suffer from a total lockdown," Prime Minister Shmygal told reporters yesterday. After talking to French and German epidemiologists on how to break the chain of human transmission, the government is considering these steps: elderly shopping hours, weekend lockdowns of cafes and restaurants, and a mass levy of $6-9 fines for not wearing masks in enclosed public places. Large cultural activities as well as gyms and swimming pools may stop.
Ukraine's new infections tripled over the last six weeks. But, Ukraine is a part of a second wave that is provoking new lockdowns across most of the EU. In Worldometer's index of new cases per 1 million inhabitants, Ukraine is on the low end compared to its six land neighbors. Here are the rates:  Hungary – 9,834; Ukraine – 9,864; Belarus 10,933; Russia – 11,375; Poland – 12,336; Slovakia – 12,587; Romania – 14,422.
With Ukraine's hospitals filling up, the Cabinet of Ministers has ordered regional authorities to set up makeshift hospitals in Kyiv, Kramatorsk and Odesa. "No matter what amount of beds we add, the coronavirus is spreading much quicker," Health Minister Maksym Stepanov warned the Rada Tuesday. "We have reached the point of no return and are close to disaster."
In Kyiv, where new infections are almost 1,000 a day, Mayor Klitschko has ordered police to strictly enforce rules on wearing masks in buses and subway trains – a major vector for corona infections. Nationwide, schools are to stay open. But 912 already have switched to distance learning, reports Health Minister Stepanov. Since Ukraine's schools reopened two months ago, 5,000 pupils and 10,500 teachers have fallen ill with coronavirus.
Responding to the pandemic, 39% of Ukrainian CEOs polled by KPMG have accelerated digitalization of their business, and 42% plan to reduce office space, according to a new study for the international accounting and consulting firm. Of 74 surveyed managers, 30% indicated that their investment in digitalization put the companies ahead for years to come.
While the pandemic hurt hotels, restaurants and airlines, delivery companies saw their business boom. Last week, Lviv-based Meest Express told Interfax-Ukraine: "With the likely [re]introduction of a lockdown, we expect an increase in demand for most of our services and products, since most of them are extremely relevant under strict quarantine."
The government's standoff with the Constitutional Court has settled into an impasse.
NV reports that the four judges who voted against the controversial Oct. 27 decision on anti-corruption legislation have temporarily refused to participate in the Court's work. At the same time, the Rada is to recess later today without voting on purging the court or adopting replacement legislation. Under the current calendar, Ukraine's parliament reconvenes Nov. 16. That week, it is to vote to restore anti-corruption laws quashed by the Constitutional Court.
Prime Minister Shmygal asserted to reporters yesterday that the IMF is understanding of the situation: "Because Ukraine clearly declares and shows its European intentions, intentions to continue and actively pursue anti-corruption reform and all the reforms that are spelled out in our international obligations." There was no comment from the IMF.
China nearly doubled its imports from Ukraine of sunflower meal during the marketing year that ended in August. China boosted its imports of this protein rich food additive to 1.8 million tons, 43% of all of Ukraine's exports, reports, Stark Shipping. From Ukraine, the top shippers were: Kernel – 999,000 tons; Bunge – 672,000; Alfa Trading – 275,000; COFCO – 257,000; Garsan – 248,000; and Cargill – 233,000.
Allseeds Group, a major Ukrainian manufacturer and exporter of vegetable oils and meals, has debuted in the American capital market, raising $10 million in commodity financing arranged by Kyiv's Skarb & Statok. Eying the growing Indian market, Allseeds opened an office last month in Mumbai.
Sunflower seed refineries are working at reduced capacity in Ukraine, the source of 55% of internationally traded sunflower oil, reports the national sunoil producers association. Due to drought, sunoil production could drop 15% yoy, to 6 million tons.  APK-Inform consultancy quotes a producer association official as saying: "There is no raw material. The refineries are half-loaded."
Kernel, the world's largest sunflower oil producer and exporter, has agreed to buy back early $287 million of its 2022 bonds, placed at 8.75%. The company will pay $303 million for the bonds, largely covered by $300 million raised last month with the placement of 7-year bonds at 6.75%.
Metinvest's new 2027 Eurobond joins three other Metinvest dollar denominated bonds on JPMorgan's corporate emerging markets bond index — CEMBI Broad and CEMBI Broad Diversified. Inclusion on the index affords greater visibility, greater liquidity and better pricing for bonds of the Ukraine's largest steelmaker.
Ukraine has the potential to attract as much as $73 billion in green bonds during this decade, Deputy Energy Minister Yaroslav Demchenkov says, citing calculations by the World Bank's International Finance Corporation. The Ministry and the State Energy Efficiency Agency are drawing up a draft concept for a green bonds market. The Ministry press service notes that the government and municipalities, financial and non-financial corporations can issue green bonds. Funds can be directed to alternative energy, energy conservation, recycling, and mass transit.
Ukrzaliznytsia plans to spend nearly $1 billion next year on capital improvements – locomotives, freight cars, passenger cars, and electrification of two sections of track – Volodomyr Zhmak, the new CEO of the state railroad, said yesterday at a transportation conference. He said: "Ukrzaliznytsia is one of the foundations of the Ukrainian economy. The health of our [investment] campaign is an indicator of the health of the entire economy."
DTEK is investing $10 million this year to construct Ukraine's first fully automated electric substation. Increasingly common in Western Europe, this kind of substation is entirely enclosed and controlled by a dispatching console – features designed to minimize outages. Located in Odesa's densely populated Kyivskiy neighborhood, the substation will supply 52 MW to 5,000 apartments, reports Oleksandr Fomenko, general director at DTEK Odesa Grids.
Editor's Note: Time to get out the Kindle, to upgrade the Netflix subscription. I have nothing against 'senior shopping hours,' but weekend quarantines this winter will be a drag. Wednesday, I was at the National Opera box office, asking about tickets to tomorrow night's performance of Gisele. The lady in the window gently, but firmly, suggested that I wait and buy my tickets on the morning of the ballet. Yesterday, in my courtyard, the neighborhood sheriff told me through her mask that she heard it on the radio: quarantine coming. With Best Regards, Jim Brooke