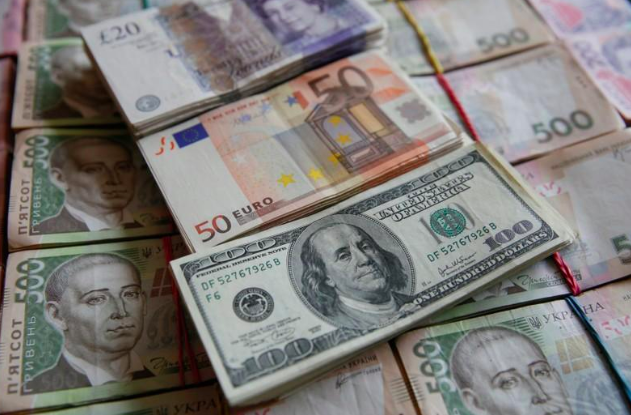 Friday, November 29
With Salaries up 25% in Dollar Terms, Zelenskiy Meets on FX...Labor Remittances: $1 billion a Month...Lviv To Get Better Roads and EU Gauge Track to Poland...Boryspil and Kharkiv Among Europe's Fastest Growing Airports...Foreign Airlines Fly Over Ukraine Again...A String of Upgrades for Ukraine Bonds
With the hryvnia up 15% against the dollar since the start of the year, President Zelenskiy discussed foreign exchange options yesterday with central bank officials and private bank executives, Bloomberg reports. The strong hryvnia hurts exporters, notably farming and metals companies. Ukraine follows a managed float exchange rate policy.
Adjusted for inflation, real hryvnia salaries have grown by 9.6% this year, Economy Minister Timofei Milovanov writes on Facebook. But for export-oriented companies that make their calculations in dollars, the salary appreciation looks more like 25%, due to the 15% appreciation of the hryvnia since Jan. 11. The average monthly salary in Kyiv is now $660.
Labor remittances to Ukraine this year are expected to be nearly $1 billion a month, Oleg Churiy, a deputy governor of the National Bank of Ukraine, tells UATV. Last year's level, as clocked by the central bank, was $11.1 billion. "The numbers will be slightly higher than last year, but there is a clear tendency to slow down the pace of labor migration," Churiy says. "This is due to the fact that incomes in Ukraine are growing quite quickly, the nominal growth in salaries is about 20%."
To cover the 'green tariff' on electricity generated by solar and wind, the Energy Ministry has developed a draft bill where people who use more than 500 kWh per month will pay higher rates. Noting that half of Ukraine's population uses less than 100 kWh per month, Konstantyn Chyzhyk, deputy Energy Minister, told the International Renewable Energy Forum: "Rich people will pay more."
In the last five years, $4.8 billion has been invested in renewable energy in Ukraine, Prime Minister Honcharuk told Francesco La Camera, visiting director-general of IRENA, the International Renewable Energy Agency. Honcharuk said: "Today, a number of renewable energy projects with a total capacity of 2.5 gigawatts are being implemented in Ukraine."
To protect roads after they are rebuilt, the government will install more than 100 weight in motion sensor systems for trucks, Infrastructure Minister Krikliy said Thursday in Lviv. Through 2021, the sensors will be installed where they have the best chances of catching overloaded trucks – border crossings and the entrances to seaports.
Nearly $100 million will be spent next year to improve roads in Lviv Oblast, Minister Krikli said. Visiting the Lviv-Medenychi road, he ordered contractors to speed up the work. On this road radiating southwest from Lviv into the Carpathian foothills, only 37 km of 60 km have been completed in four years.
In "Western Ukraine's biggest infrastructure project," European gauge tracks will be extended 70 kms east from the Polish border to Sknilov, a western suburban station of Lviv. Sknilov would be a multimodal hub with an express train running on Ukrainian gauge tracks to Lviv airport (1 km) and on to Lviv's central rail and bus station (5 km). Passport controls will be performed at Sknilov, which will be become the international rail station for Lviv.
"In one year, Ukrainians will receive direct, high-speed trains from Lviv to Krakow, Prague, Vienna," Yevhen Kravtsov, Ukrzaliznytsia CEO, writes on Facebook of the project. Competing with air travel, a train ride from Lviv to Krakow would take 3.5 hours.
The main work would be to rebuild the existing track to the border as a double gauge track with three rails. In the last year, Ukzaliznytsia started running trains from Budapest and Kosice Slovakia, on Ukraine's only significant stretch of European gauge track, to Mukachevo.
While UIA retires jets and cuts routes, SkyUp Airlines plans to increase its fleet by 50% over the next year, adding five jets, Eugene Haynatsky, the discount airline's CEO, tells the Center for Transportation Strategies, in Lviv. After basing a Boeing in Lviv in October, SkyUp started flights from Lviv to Paris Beauvais and Tel Aviv. Next spring it plans to start flights from Lviv to: Barcelona; Batumi, Georgia; Burgas, Bulgaria; and Heraklion, Crete.
With Ukraine's internal air traffic tiny for the nation's size, a foreign company is considering buying Antonov aircraft manufacturer and making short-haul commuter jets for Ukraine transport, Infrastructure Minister Krikliy tells UNIAN.  Antonovs are not certified for passenger traffic in the EU. However, they are used in the former Soviet Union, notably Ukraine, Belarus, Moldova, and Georgia. On Wednesday, Aleksandr Donets, president of the Kyiv-based company, said that Antonovs fixed assets are nearing the end of their life and without renovation within 5 to 8 years, aircraft production will be unviable.
Boryspil airport is the second-fastest-growing airport in Europe for its size, reports International Airport Council ACI Europe. Boryspil's traffic was up 25.8% in the third quarter, compared to the same period last year. In this 10-25 million passenger per year group, only Milan Malpensa had a faster growth rate, 26.1%, partly due to the closure of Milan Linate for runway repairs. With Boryspil handling 1 million passengers a month, the airport announced Thursday that it has completed construction of three additional gates in Terminal D, the main terminal.
For the first time, Kharkiv airport has joined the ranks of Europe's five fastest-growing airports for its size, under 5 million passengers, according to ACI Europe. In the third quarter, Kharkiv's traffic was up 42% y-o-y. With faster growth were: Tirgu Mures, Romania – up  113.5%; Ohrid St. Apostol Pavel, Northern Macedonia – up 54%;  and Turku, Finland – up 53%.
Bolstered by new flights, Kharkiv air traffic was up 70% in October, to 140,500 passengers. In recent weeks, this airport serving Ukraine's second-largest city has started to offer direct flights to Lviv, Poznan, Sharjah, Tbilisi and Vilnius. Next spring Ryanair and Wizz Air will start flights to Budapest.
International airlines are gradually returning to flying through Ukrainian airspace, Andriy Yarmak, acting director of UrSATSE, the air traffic control agency, tells the Center for Transportation Strategies. "The good news is that the flight dynamics have begun to recover since 2017," he said. "The annual increase in volumes is about 20%."
Moody's Investors Service has improved the rating outlook, from 'stable' to 'positive' for seven Ukrainian banks:  PrivatBank, Oschadbank, Ukreximbank, Raiffeisen Bank Aval, Prominvestbank, Sberbank, and Pivdenny Bank. Moody's also confirmed it basic credit rating of Ukrainian banks –Caa1. On PrivatBank, the subject of a takeover lawsuit by former owner Igor Kolmoisky, Moody's wrote of the bank, nationalized three years ago: "Improving PrivatBank's ratings is driven by an increase in Ukraine's sovereign rating, stabilization of the banking system, and improved asset quality and profitability of PrivatBank."
Fitch upgraded DTEK Energy's issuer default rating to B-/Stable. It also upgraded the company's Eurobond rating to B- from C. The upgrade reflects DTEK's "improved financial flexibility following the successful restructuring of the company's debt."
Concorde Capital's Alexander Paraschiy writes: "The company's rating is one notch below the sovereign level (B/Positive from Fitch), which is explained by its tough debt repayment schedule in 2023-2024 that implies refinancing needs…All in all, we remain bullish on DTEKUA bonds."
From the Editor:  With interest high in Ukrainian bonds, a record 150 investors and corporate executives have registered to participate Monday in London's Third Annual Ukrainian Investment Roadshow. Petr Krumphanzl, Chairman of PrivatBank, will update on the bank's key priorities; Dmytro Sennychenko, Head of the State Property Fund, will update on the government's ambitious privatization program; Oleksandr Lyubarev, Metinvest's Director of Corporate Finance, will talk about the company's issuance last month of over $800 million in Eurobonds. The UBN is proud to be a media sponsor and I am moderating the first panel. Late registrations can be done here. See you there! Jim Brooke jbrooke@ubn.news.