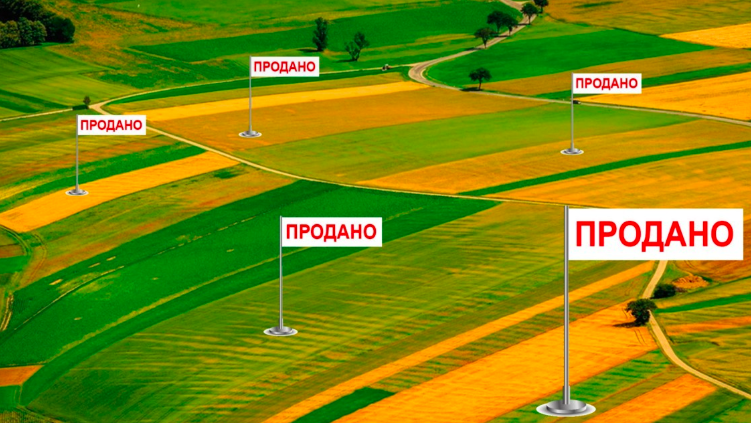 A national referendum on the sale of farmland to foreigners will take place several years from now, "after people see the benefits coming to them because of the land market," Timofei Milovanov, Minister of Economy and Agriculture, told a British-Ukrainian Chamber of Commerce dinner Thursday night. "People need to see real benefits, on the ground," Milovanov said of the step by step approach.
Separately, Roksolana Pidlasa, deputy chair of the Rada's economic development committee, told reporters Thursday: "People will see how this works in practice. And then they can conclude whether they are ready to let in foreign companies and foreign citizens."
Without waiting, a "big" Saudi delegation arrives in Kyiv today to study Ukraine's evolving farmland market, says Leonid Kozachenko, president of the Ukrainian Agrarian Confederation. Citing the looming food needs of China, he told the US-Ukraine Business Council: "The Chinese need 5 million hectares of farmland."
Low world steel prices are forcing Metinvest, Ukraine's mining and metallurgical company, to cut investment plans and to trim administrative staff by 30%. To avoid layoffs, the company is starting to shrink staff through attrition – retirements and resignations. "The metallurgical industry is cyclical, therefore the Metinvest group considers the current crisis as a temporary phenomenon," reports the Mariupol-based company. "Implementation of the developed action plan in conjunction with operational improvements will save the maximum number of jobs and ensure the stable operation of enterprises."
Since 2013, Metinvest has invested $1.2 billion in modernizing Ilyich Iron and Steel Works in Mariupol, Donetsk Oblast. Three weeks ago, the company inaugurated a $110 million modernization of its LPC-1700 plant, which makes hot-rolled coils. Aiming to win 4.5% of the world market for this kind of sheet steel, the upgrade raises the combined rolled coil production of Metinvest's two steel plants in Mariupol to 4.5 million tons. For the job, electric motors were designed and manufactured by Shanghai Electric Machinery Company and engineering and technology were supplied by Primetals  Technologies of Austria.
Mustafa Nayyem is a new deputy general director of UkrOboronProm. A former parliamentarian, Nayyem will be responsible for interaction with public authorities, NGOs, and international entities. Six years ago, on Nov. 21, 2013, Nayyem, a journalist for Kommersant Ukraine, detonated the Revolution of Dignity with a Facebook appeal to defend the European path. In recent days, UkrOboronProm CEO Aivaras Abromavičius named four deputies: Roman Bondar,  from recruiting company Odgers Berndtson Ukraine, for transformation; Nadezhda Bigun, from ProZorro, for procurement; Sergey Ivanyuta, from NBU and UkrGazvyDobuvannya, for finance;  and Oleg Yakovenko, from the Economic Development Ministry, for projects.
Net foreign purchases of new hryvnia treasuries has increased 17-fold to $4.4 billion, reports the National Bank of Ukraine. Now, the central bank wants to expand the secondary market by creating "a liquidity center in the government bonds market based on a modern trading platform." Even with most trading going through Ukraine's stock exchanges, buying and selling volume is up almost 70% y-o-y, to $2.7 billion through Nov. 8, reports the central bank
Ukraine and the IMF will reach an agreement by the end of December, Kateryna Rozhkova, first deputy governor of the National Bank of Ukraine, predicts in an interview with Liga.Finance. "I no longer see any particular difficulties: the law on illegal enrichment has been passed, the budge also, Naftogaz unbundling is signed by the President, there  soon will be formed new independent supervisory boards of state-owned banks," said the central bank officials. "Even the most difficult issue – the return of money spent on bankruptcy banks – has also been progressing lately. We will get our baseline scenario – a Staff Level Agreement by the end of the year."
On an IMF deal, a senior US diplomat told the US-Ukraine Business Council Thursday of his meeting last week in Washington with David Lipton, the IMF's first deputy managing director: "He is eager to supply assistance. It is very important for Ukraine to move forward, but there are conditions." The US official specified: "The IMF wants to know that the $15 billion that was stolen from the banks before is being tracked down and recovered. The IMF wants to be sure it will not happen again."
Prime Minister Honcharuk told reporters Wednesday of an IMF deal: "We have come quite close to reaching an agreement with colleagues at the working level."
Ukraine should build EU-standard institutions and implement free-market changes with an eye to graduating out of IMF tutelage by the end of the Zelenskiy government, Finance Minister Oksana Markarova said Tuesday night at the fifth-anniversary dinner of Hromadske International. "My ambitious plan is to be able to finish so that in 2023 we will not have a question of when we will receive a new tranche, but we can provide for ourselves," she told the news organization. "The program we are working on is good, and it will allow us to carry out a lot of reforms, privatizations, concessions and other things. But it should allow us to leave it at the end – as Poland was able to do in due course."
Visa, the international payment system, has agreed to work with the new Digital Transformation Ministry to popularize payment systems — QR codes and Tap to Phone technology — to turn smartphones into mobile Point of Sale terminals. Through the planned Дія, or 'Action' portal, citizens will pay utility bills, fees, and fines. "A person's communication with the state should be as convenient, fast and inconspicuous as possible," says Digital Transformation Minister Mikhail Fedorov. In December, the first project with Visa will start – using Дія to pay fines for traffic violations.
Starting this weekend, the number of highway sections controlled by radar will be increased by almost 50%, to 186, the Patrol Police report. Speed cameras will control the four main highways radiating out of Kyiv, according to a highway map posted by the Center for Transportation Strategies. Since highway police started using radar cameras one year ago, 350,000 speeders have been fined.
With more Ukrainians dying on the highways every year than in the war, the Infrastructure Ministry has set a goal of cutting accidents by 30% next year. In 2020, UkrTransSafety plans to illuminate 1,504 pedestrian crossings, deploy 87 digital speed displays at the entrance to villages, and to build 266 traffic circles. Over the next year, the highway safety agency will deploy 26 more weight in motion systems to detect overloaded trucks. After 2020, the agency plans to deploy 150 of these systems.
From the Editor: This weekend, drive safely! Best regards Jim Brooke jbrooke@ubn.news.