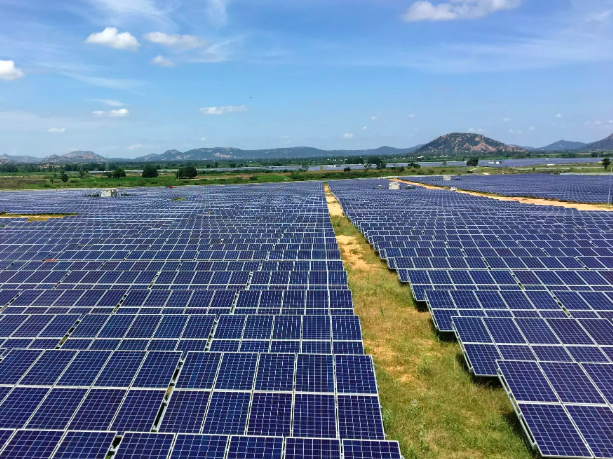 Friday, November 1
DTEK Opens Europe's 2nd Largest Solar Plant...Solar, Wind Investors Fight Changing Rules Retroactively...After Denmark's Green Light, Nord Stream 2 To Be Completed Next Month...China Co. to Build the First Section of 'Great Ring Road' Around Kyiv
DTEK Renewables inaugurated the second-largest solar plant in Europe on Thursday, the 240 MW Pokrovska plant in southern Dnipropetrovsk Oblast. Built-in six months with 840,000 panels supplied by China's Risen Energy, the plant spreads across 437 hectares of degraded industrial land, the equivalent of 817 football fields. In Europe, the only larger plant is the 300 MW Cestas solar station in western France.
The plant is part of a $1 billion, 1 gigawatt solar and wind crash investment program undertaken this year by DTEK. In February, the company inaugurated a 200 MW plant in Nikopol, 30 km east of Pokrovska. Today, DTEK plans to inaugurate the Prymorska wind power plant, a 200 MW station that rivals DTEK's existing 200 MW wind plant, Botievska, for the title of the largest wind power plant in Ukraine.
"We are the biggest investor in renewable energy in Ukraine — and we do not intend to give up that spot," Maksym Timchenko, DTEK CEO said at the event, backed by a sea of panels that stretched to the horizon.
Casting a cloud over renewables, Andriy Gerus, chair of the Rada's Energy Committee, has won committee approval for a bill that would relieve Ukrenergo of its obligation to buy power from renewable projects over 150 MW. The bill appears to be aimed at DTEK's mega projects.
Timchenko, DTEK CEO for 14 years, predicts to the UBN the government will realize it will be too costly for Ukraine's image and investment flows to retroactively change the rules of the game. "I am convinced that the President's goals that were publicly presented, such as 40% GDP growth in the course of the next five years, are not possible to realize without direct foreign investment and investment…I am convinced that Ukraine will fulfill its obligations before investors."
Foreign investor worries about the bill were clear Tuesday at the Mariupol investment conference. Renewable energy investors said new projects were slowing down or being abandoned.
Michael Yurkovich, president of TIU Canada, told the UBN: "If they change the rules of the game on electricity, what about the oil sector? the pharmaceutical sector? Retroactive cuts, defrauding foreign investors have very serious consequences." He said government policy switches on 'green tariffs' in Spain and Greece triggered "crippling litigations."
Thorstein Jenssen, Senior VP corporate finance for Norway's NBT, agreed, saying: "I have spent the better part of the last two years talking to people about investing in Ukraine, building confidence. Any retroactive change will destroy that confidence." Noting that he works with eight banks to finance a $1 billion wind power plant in Zaporizhia, he said: "Any change to the existing rules would be catastrophic. Already, banks have stopped financing. Investment is at a complete standstill."
Prime Minister Oleksiy Honcharuk said that talks will take place "with all the stakeholders." In response to a question from the UBN, he said: "We are civilized people. We understand how market financial processes work. We cannot change the rules retroactively."
The EBRD has approved €200 million in new financing for renewable projects in Ukraine. One year ago, the bank had suspended new project loans, pending approval of an auction system to phase out applying 'green tariffs' to new projects in the 2020s. Under a law passed last spring, auctions are to start in 2020.
DTEK Energy is completing a restructuring of its bank debt, including conversion of part into 5-year Eurobonds, the company said on the website of the Irish Stock Exchange. The coupon rate for new Eurobonds is 10.75% per annum, reports Interfax-Ukraine. Concorde Capital's Alexander Parashchiy writes: "After completion of the remaining restructuring, DTEK will complete the debt operation, which began in 2015. This will entail a rating upgrade and, therefore, will become a powerful catalyst for the growth of bond prices. We remain bullish on DTEKUA bonds."
Denmark's approval Wednesday for the last section of Nord Stream 2 will allow the undersea Russia-Germany gas pipeline to be completed by the end of this year, says Gazprom CEO Alexei Miller. With the €9.5bn Baltic pipeline 90% complete, it will take pipe-laying ships five weeks to complete the 147 km section near Denmark's Bornholm island.
Steffen Seibert, the spokesman for German chancellor Angela Merkel, said "the transit of gas through Ukraine must continue." He said Merkel made this point Monday when she talked by telephone with President Putin. Russia now supplies about 40% of Europe's gas needs. About half that passes through Ukraine, earning Ukraine about $3 billion a year.
President Zelenskiy said Thursday pipeline completion "strengthens Russia and weakens Europe." In Washington, John Sullivan, the Trump administration nominee to be US Ambassador to Russia, told a Senate committee that completion of the pipeline "is going give the Russian Federation an enormous lever over Ukraine and a hammer that they can hit the Ukrainians with…If the Russians cut gas transit through Ukraine, Ukraine will lose billions in hard currency that is desperately needed for its economy."
Emboldened by the prospect of pipeline completion, President Putin upped the ante for gas transit talks with Ukraine, saying that a new 10-year contract should be part of a "package" that would include canceling the $3 billion that Gazprom owes Ukraine due to a Stockholm arbitration ruling last year. After calling the ruling "an absurdity" he offered to sell gas to Ukraine "at significantly reduced prices." Andriy Kobolyev, the Naftogaz CEO, replied: "The issue of the transit agreement is not directly related to the issue of other package agreements."
China's Poly Changda Engineering signed an agreement Thursday with Ukravtodor, the state highway agency, to start work on the first phase of the 'Great Ring Road' around Kyiv. The first section of this high volume, limited access beltway would be a 13 km north-south arc connecting the Kyiv-Lviv highway and the Kyiv-Odesa highway. Infrastructure Minister Vladislav Krikliy said he hopes construction will start next year. "Our goal is to ensure 40% growth of the country's economy in five years, and for this we need to ensure large-scale construction throughout the country," he said at the signing ceremony. "Any infrastructure project gives a return with the greatest multiplier."
Zhang Feng, the commercial attache at the Chinese embassy, said at the DTEK solar plant opening Thursday: "Almost weekly, we get information about a new Chinese company in Ukraine as a supplier, contractor or investor."
From the Editor: Ukraine 'green tariffs' were too high — but they were set high to pull foreign investors over the Ukraine hurdle. In 2017-2018, most of the foreign investments I wrote about were solar or wind investments — from France, Spain, Germany, Lithuania, Turkey, etc. The price for changing the rules retroactively will be to send a message back to European capitals that Ukraine is not serious. If the government wants to make foreign investment a pillar for growth in the 2020s, it is best to change the rules for future projects, not for existing ones. Best regards Jim Brooke jbrooke@ubn.news