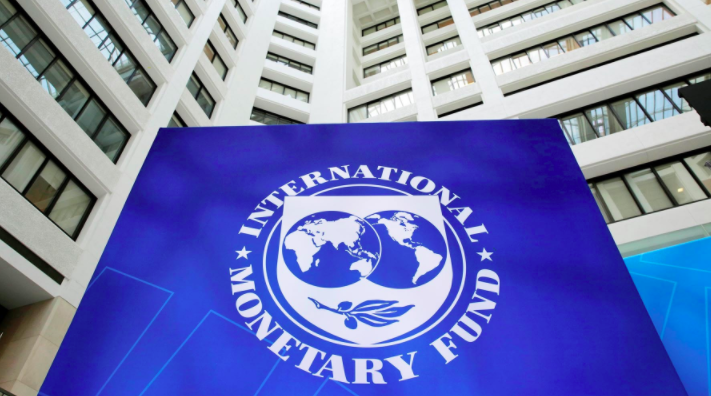 Friday, May 8
IMF Switches to Express Delivery...Reserves Rise as Repayments Loom...Saakashvili Wins Ceremonial Post As Criminal Probes Start Against Three Reformers...IKEA Prepares to Start Online Sales in Ukraine...China-EU Freight Trains Jump 46%...UIA Posts International Flight Schedule -- Starting May 23
More money with faster delivery to Ukraine is the goal behind the IMF's announcement yesterday of a switch to negotiating an 18-month 'Standby' deal, instead of a 3-year Extended Fund Facility. "It's easier to get $5 billion from the IMF in 2020-21 under the stand-by program than under the EFF program," Vladyslav Rashkovan Ukraine's representative to the IMF wrote last night on Facebook. "The EFF program…does not require "titanic" efforts to promote structural reforms." A Standby deal would also unlock additional promised macro-financial aid to Ukraine:  €500 million from the EU; and up to $1 billion from the World Bank.
In Washington, IMF spokesman Gerry Rice said talks with Ukraine switched tracks because of "the unprecedented uncertainty surrounding the economic and financial outlook, and the need to focus policy priorities on near-term containment and stabilization." Looking beyond the severe recession caused by government responses to the coronaviruses, he said: "When a recovery is in place, the focus could shift back to addressing Ukraine's longer-term structural reform needs to foster stronger and more inclusive growth."
With Ukraine closed to international travel, talks are conducted "virtually." The Finance Ministry said last night: "The government plans to finalize negotiations with the IMF next week." From the Rada, Davyd Arakhamia, leader of Servant of the People faction, said the big stumbling block to an IMF deal – the 'anti-Kolomoisky' banking bill – would be put up to a vote at a special parliamentary session next Wednesday.
With the change in strategy comes a new IMF team leader for Ukraine. Last Friday, Ivanna Vladkova-Hollar, a Bulgarian economist with IMF experience in Moldova and North Macedonia, succeeded Ron van Rooden as the Washington-based leader. Van Rooden, a Dutch economist, had led IMF talks with Ukraine since 2015. The Zelenskiy government has been in talks with the IMF since September.
Ukraine's international reserves grew by 3% in April, hitting $25.7 billion, reports the National Bank of Ukraine. In March, as investors reacted to the coronavirus economic downturn, reserves dropped by 7.8%. In April, the central bank's net purchase of foreign currency amounted to $679 million. All month, the exchange rate hovered around 27 hryvnia to the dollar. Ukraine now has enough reserves to cover 4.5 months of reserves, well within IMF guidelines.
Concorde Capital's Evgeniya Akhtyrko calculates that Ukraine's foreign currency debt repayments this month will total $1.6 billion. She writes: "In May, Ukraine's outlays in foreign currency will be high…With all the ins and outs, reserves are likely to lose around 3% in May."
Mikheil Saakashvili was appointed yesterday to head a newly-created Executive Reform Committee, a presidential advisory body, according to a decree on President Zelenskiy's web site. Oleksandr Olshansky, president of Internet Invest Group Holding, was appointed as Saakashvili's deputy. In press interviews, Saakashvili has said his job will be to advance free market deregulation. It is unclear how real power he will have. His nomination to be a deputy prime minister for reforms was blocked by Rada deputies close to oligarch Ihor Kolomoisky and Interior Minister Arsen Avakov.
Criminal investigations now are underway against three Western-supported reformers ousted in recent weeks from key posts. Yesterday, agents of the State Security Service, or SBU, searched the apartment of Serhiy Verlanov, who was ousted two weeks ago as head of the new Tax Service. Separately, the National Anti-Corruption Bureau of Ukraine, or NABU, have started a pre-trial investigation against Maksym Nefyodov, former head of the new Customs Service. Finally, the Specialized Anti-Corruption Prosecutor's Office told RFE/RL on Tuesday that it has opened "criminal proceedings" against Ruslan Ryaboshapka, who was ousted in early March as Prosecutor General. According to anti-corruption activists in Kyiv, all three men had cut off corrupt cash flows, triggering reprisals.
Free charter flights to Poland are being organized for Ukrainian workers by Evgeny Kirichenko, owner of Gremi Personal employment agency. "We are receiving a huge number of requests from Polish companies for labor from Ukraine," he told Interfax-Ukraine. "Our workers who temporarily left for Ukraine after closing the borders want to go back, but they cannot because of the difficulties with crossing the land border. We also receive numerous requests for vacancies from Ukrainians who are looking for work in Poland." Under new rules, Ukrainians can take the flights if they have work contracts, work visas and health insurance."
Skipping bricks for clicks, IKEA plans to launch online sales in Ukraine "in the next few days," Florian Melle, Ukraine director of the furniture and home good retailer, tells Interfax-Ukraine. Ukraine's first IKEA store was to open six months ago in Kyiv's Ocean Mall, next to Ocean Plaza. But completion of the shopping center is behind schedule. Melle said yesterday: "Now we are doing everything possible  in the next few days to officially launch online sales in Ukraine."
The number of China-EU freight trains were up 46% in April y-o-y, to a record 979, reports Gudok.ru, a Moscow-based rail news site. With a 90-container train entering the EU every 45 minutes, Ukrzaliznytsia would like to get more trains to diagonally cross Ukraine, bound for Central Europe and the Balkans. Russian Railways blocks most of this traffic, preferring to route trains through Belarus and into Poland.
On Monday, most trains resumed across Belgium, including international trains to Holland, France and Luxembourg. Passengers and railroad employees wear face masks. In Ukraine, officials have made vague and contradictory predictions as to when rail traffic will resume. On Thursday, Infrastructure Minister Vladyslav Krykliy told ObozrevatelTV the sequence will be: suburban, long-distance and then international. "This applies to absolutely all types of transportation – road, rail and air," he said, adding that international travel depends on quarantine restrictions in destination countries.
Eleron, Ukraine's expanding cargo airline, starts service Sunday between Lviv and Tel Aviv. Since mid-March, Eleron has started regular cargo flights from its Lviv hub to Nuremberg, Riga, Stockholm. Later this month, it will add Bratislava and Vienna.
UIA's website lists daily Kyiv Boryspil – New York JFK flights, starting Saturday morning May 23, the day after the most recent quarantine cutoff date. Starting May 23, UIA also posts much of its pre-coronavirus international schedule, with flights to Berlin, London Gatwick and Tel Aviv. To New York the economy one-way fare is $548. The return fare is $690. Separately, the US Embassy messages that UIA may have a Kyiv-NY flight on or around Friday, May 15. All reservations and tickets should be made through Ukraine International Airlines booking site.
From the Editor: Privately owned airlines are upstaging the government's leisurely approach to reconnecting the nation with the world. Rather than dying while waiting for bureaucratic approvals, these private companies are fighting back. Re-starting flights in two week to New York, London and the EU sounds a lot better than waiting for the government's target of September! With Best Regards Jim Brooke jbrooke@ubn.news