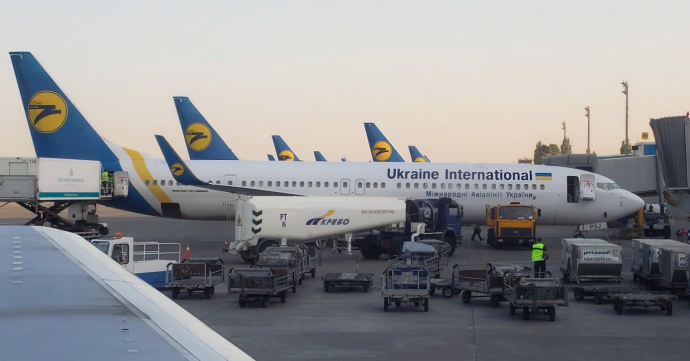 Friday, May 29
UIA Cuts Staff, Jets and Long Haul Flights...Kyiv Airports Predict Slow Recovery...Survey: Which Countries Will Open First For Ukraine Flights...Train Service Normalizes Monday in Eastern, Southern Ukraine...River Freight Tonnage To Triple by 2025...First Speed Cameras Start Snapping Photos Monday...
Ukrainian International Airlines is  cutting 35% of its staff, mothballing 60% of its fleet, cutting business class seats, and planning to delay resumption of long haul flights until next spring, Yevhenii Dykhne, UIA CEO, said yesterday in a statement. UIA will let go 900 employees and only fly 14 planes of its fleet of 34 aircraft. During the second half of this year, UIA hopes to fly 1 million passengers, one quarter of the volume of the second half of 2019.
Without offering details about such long haul destinations as New York and Toronto, Dykhne said only: "Long-haul operations may be resumed…in or about April 2021." The first phase of reopening will be to restore domestic flights and flights to the EU and Turkey. Ukraine shut down all scheduled air traffic on March 17. Since then, UIA has conducted several 'evacuation' flights, bringing Ukrainians home and 45 cargo flights. Flights are to restart after June 15. Dykhne has estimated that the three month shutdown will cost the airline, Ukraine's flag carrier, $60 million.
Kyiv Sikorsky airport hopes to return to 30% of normal passenger traffic by the end of this year, Oleh Levchenko, airport manager tells Interfax Ukraine. This would mean handling 2,000 passengers a day, the level of 2012.
Kyiv Boryspil airport received $1.85 million in revenue in April, about 13% the level of April 2019. The airport reports it is losing about $12 million a month.
The first countries to re-open regular flights with Ukraine may be the ones that did not ban international flights during the pandemic: Britain, Belarus, the Czech Republic, Germany, Ireland, and the Netherlands. A second group, according to a survey by UkSATSE, the air traffic control agency, plan to end their flight restrictions by Monday: Austria, Azerbaijan, Georgia, Greece, Romania and Slovakia. Countries heavily dependent on summer tourism are expected to open to flights by mid-June: Bulgaria, Cyprus, Egypt, Israel, Italy, Turkey, and Portugal.
Acting on the Ukraine government's promise to restart international flights by June15, several airlines have announced resumption of flights to Ukraine: Air Baltic to Riga on June 15; Wizz Air on June 16; Austrian Airlines Vienna-Kyiv on June 23; Belavia to Minsk late June Ryanair on July 1; Yanair to Georgia on July 1, and Air Astana to Kazakhstan on July 1.
With Ukrainians restless to travel again, Infrastructure Minister Vladyslav Krikliy posted a video on Facebook yesterday, saying:  "Work is ongoing so that our citizens can soon travel and fly safely in Ukraine and abroad. Together with the Foreign Ministry, we are negotiating with various countries on the resumption of regular passenger air traffic."
Even though Ukrainians have been cooped up for two months, spending on foreign travel will drop in half this year, to $4.5 billion, Dmitry Sologub, a deputy chairman of the National Bank of Ukraine, predicts in an interview with Liga.net. He said many Ukrainians have depleted their savings. Insecurity about the future will constrain spending. He added: "But this does not mean that people will stop consuming at all. Take at least the effect that people stayed at home for two months. Now they will have a subconscious desire to return to their former lives: go to a restaurant, go on vacation."
On Monday, Ukrzaliznytsia will start running 42 long distance trains, largely in southern and eastern Ukraine, areas with the lowest coronavirus infection rates. From Kyiv, trains will run on 17 routes, reconnecting the capital with such cities as Odesa, Kharkiv and Dnipro. Ivan Yuryk, acting CEO of the railroad, reports that 97% of the 21,000 tickets sold on the first day were sold online. In addition, 214 suburban 'elektrichkas' will start running, largely in the south and the east: Lviv Railway – 20 trains; Donetsk Railway – 38 trains; Odesa Railway – 44; and Southern (Kharkiv) Railway – 112.
Deutsche Bahn has restored 95% of its domestic train service, reports Railways of the world. Since Monday, international trains have been running to Austria, Switzerland and the Czech Republic. By mid-June, trains should be running to Poland.
Cargo shipped down the Dnipro River could nearly triple, to 30 million tons in 2025, if the Rada passes the "Inland Water Transport" bill, says Infrastructure Minister Krikliy. Revival of the Dnipro as a working river could generate $500 million a year – in greater economic activity, shipbuilding, tax revenues, and reduced wear and tear on roads to the Black Sea ports, Krikliy said Tuesday at a press conference. One tug pulling two river barges can move 1 million tons, taking 250 trucks off the roads, he said.
The EU "very warmly supports" the bill, EU Ambassador Matti Maasikas, said at the online press conference. Comparing current shipping volumes to the late Soviet era, he said Ukraine only uses 10% of the potential of the river's 1000 km inside the country. "The Ukrainian river network has the potential to become a backbone of a modernized Ukrainian transport system," he said. "However, reforms are required to do this, and the adoption of a new law would be a first step." A Dutch team of waterway experts is drawing up a development blueprint in a 3-year €1.9 million project, Assistance for Dnipro Transport Development.
The full length of the Dnipro opens Monday to river traffic with the reopening of the shipping lock at Kaniv hydroelectric dam, 150 km south of Kyiv. Yesterday Minister Krikliy visited the 50-year old lock which had been overhauled this spring by Ukrvodshlyakh, the state waterways company.
Ukraine's first 50 speed cameras start working Monday morning — 40 in Kyiv city and region and 10 in Lviv city and region. Later this year, the cameras will start recording other violations, such as running red lights or parking on sidewalks. By the end of this year, another 220 cameras are to be purchased for monitoring areas with high accident rates. By EU and US standards, fines are mild: $9.50 for going 20 to 50 kph over the speed limit; and $19 for going 50 kph or more over the limit. According to the Internal Affairs Ministry, 175,216 people have been killed in traffic accidents since Independence. Speeding is a factor in 40% of these fatalities.
From the Editor: Now that coronavirus has sensitized everyone to public health risks, my hat goes off to the EBRD and its sister institution, the European Investment Bank. They are funding 85% of a €177 million road safety program for Ukraine. The goal is to cut by 30% the human carnage on the roads. Last year, traffic accidents in Ukraine took the lives of 3,454 people and injured 32,736 more. The annual economic loss is $2.5 billion, says Minister Krikliy. In addition to installing speed cameras, the safety program will upgrade 1,000 pedestrian crossings, often with solar-powered lights and zigzag warning lines before zebra crossings. Last month, in the frenzy to fight coronavirus, attempts were made to raid the road safety fund. Not as novel as Covid-19, traffic accidents kill 9.4 Ukrainians a day. In Ukraine, Covid-19 has claimed 8.9 lives a day. With Best Regards Jim Brooke jbrooke@ubn.news