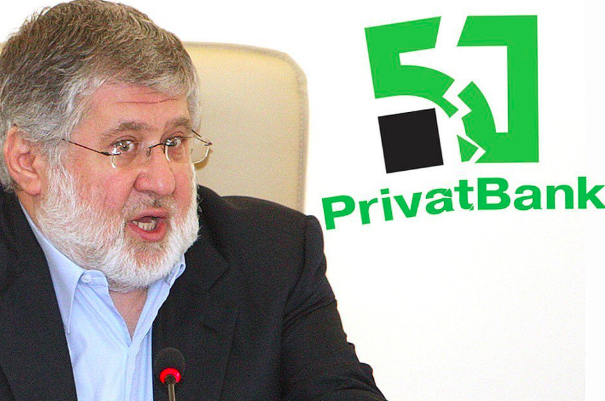 Friday, May 24
PrivatBank Sues Kolomoisky in US Court...Clearstream to Allow Worldwide Desktop Trading of Ukraine Bonds...Nibulon Launches Largest Ship of Independent Ukraine...Ukraine to Top Russia as No. 1 Grain Exporter...Russia's Energy Supplier Rep Dims...Kyiv Sikorsky Doubles Main Terminal...Israeli to Build 8-Story Hotel at Boryspil
PrivatBank has filed a lawsuit against its former owner Ihor Kolomoisky and  his associates in a Delaware court in the U.S. The 104-page filing accuses Kolomoisky of misappropriating hundreds of millions of dollars and laundering the money through 20 U.S. corporations to buy steel plants and commercial real estate in 12 U.S. states, including Ohio, Texas, Florida and Kentucky.
The complaint charges that Kolomoisky and business partner Gennadiy Boholyubov "used PrivatBank as their own personal piggy bank—ultimately stealing billions of dollars from PrivatBank and using United States entities to launder hundreds of millions of dollars' worth of PrivatBank's misappropriated loan proceeds into theUnited States." The lawsuit follows reports that the FBI is investigating Kolomoisky. The oligarch, who returned last week from two years of self-exile in Switzerland and Israel, has dimissed those reports as "nonsense."
The lawsuit was filed in the US on Tuesday afternoon East Coast time, a few hours President Zelenskiy appointed Andriy Bohdan, one of Kolomoisky's main lawyers, as Ukraine's new presidential chief of staff. According to media reports, Kurt Volker, US special envoy to Ukraine, telephoned Zelenskiy and "strongly recommended" that he not to appoint Bogdan.
On Monday, Clearstream, the international securities depository of Deutsche Börse Group, connects to Ukraine, making all Ukraine government hryvnia bonds tradable be desktop traders around the world. Citibank will act as cash correspondent bank and local operator of Clearstream's account at the National Bank of Ukraine. The Finance Ministry says the link will increase demand for Ukraine government bonds.
Expecting a boom with Clearstream, foreign investors increased their holdings of Ukraine bonds six-fold this year, to $1.5 billion. With foreigners holding only 5% of this debt, investment is expected to grow. Oleg Churiy, the central bank's deputy governor, predicts: "Creating easy access for foreign investors to Ukrainian government securities will foster long-term investments in hryvnia instruments, reduce the state's need for financing in foreign currency and respectively currency risks."
Nibulon launched Wednesday the largest ship made in independent Ukraine – a 140-meter long loading ship designed to move grain from Dnipro river boats to ocean-going Panamax freighters in the Black Sea. When fully completed four months from now, the Nibulon Max will have two German-made Liebherr grab cranes capable of moving 18,000 tons a day. With the autonomy of working offshore for 90 days at a time, the ship will help Nibulon's 75-ship fleet double its annual cargo handling to 5 million tons, the company says. Launched from Nibulon's shipyard in Mykolaiv, the ship was partly funded by loans from the EBRD, the European Investment Bank and the International Finance Corporation.
Ukraine is on track to top Russia as the world's largest grain exporter in the marketing year that ends June 30. As of Wednesday, Ukrainian farmers have exported 45.4 million tons of grain, reports Ukraine's Agrarian and Food Policy Ministry. This year, Ukraine expects to export 49 million tons. Russia forecasts exports of 44-46 million tons. Last year, Ukraine exported 39.9 million tons and Russia exported 43 million tons.
Just as Russia seeks to present itself as a reliable supplier of pipeline gas to Europe, EU companies struggle with the worst oil supply disruption since the Druzhba pipeline started pumping oil to East Germany in 1963. France's Total and Italy's Eni have stopped paying for contaminated oil sold them by Russian companies, Reuters reports. Belarus estimates that Russia shipped west 9 million barrels of contaminated oil. If clean, this oil would be worth half a billion dollars.
Russian oil exporters Rosneft and Surgutneftegas say Western companies should pay their bills — then file claims to get their money back. "This is probably the biggest Russian oil supply disruption ever," one oil trader tells Reuters. "Oil along Druzhba continued to flow during the 1969 Prague Spring uprising, and in 1991 when the Soviet Union was collapsing." Meanwhile, Gazprom, source of 37% of Europe's gas, assures EU companies that it can meet gas supply contracts next year without using the pipeline across Ukraine.
Russia is using trains, ships, and storage tanks to remove contaminated oil from the Russian section of the Druzhba pipeline, indicates analysis by Reuters. Some of the oil has been shipped by rail to the Black Sea port of Novorossiisk. There it is diluted with clean oil and exported. So far 100,000 tons of this 'clean' oil has been shipped to Italy.
Russian oil suppliers should compensate Poland for damage to Polish refineries and pipelines, Poland's Prime Minister Mateusz Moravetsky told reporters in Warsaw on Tuesday. "Russian suppliers committed business and operational errors and should answer for it," he said. "Russia and Russian companies must respond financially."
To reduce dependence on Russian gas, Bulgaria and Greece started building Wednesday a 182 km north-south pipeline interconnector. Due for completion at the end of next year, the €220 million gas line is to handle up to 5 billion cubic meters of gas a year, coming through Turkey from Azerbaijan's Shah Deniz-2 development.
To push Russia to restart gas transit talks with Ukraine and the EU, European Commission Vice President Maroš Šefčovič travels to Moscow June 13 to meet with Russian Energy Minister Alexander Novak. With the 10-year-old gas transit contract expiring on Jan. 1, Šefčovič wants "rapid progress with a view to concluding a long-term contract and conducting meaningful negotiations before the summer holidays," Anca Paduraru, energy spokesperson for the European Commission, told reporters in Brussels Thursday.
Air travelers at Kyiv Sikorsky start using today a $24 million expansion of the airport's main terminal. The expansion doubles checkin counters and passport control booths, allowing the airport to handle 1,000 passengers an hour. Widely known as Zhuliany, the airport is Ukraine's second busiest, after Kyiv Boryspil. A hub for Wizz Air, the airport saw its traffic grow by 52% last year. During the first quarter of this year, traffic was up 44% q-o-q, to 638,100.
Denis Kostrzhevsky, co-owner of Master-Avia, the airport leaseholder, tells reporters he lobbies for a $100 million public-private project to expand the single runway by one quarter, to 3,000 meters. This would be long enough to handle Wizz Air's new Airbus A321 jets.
Israeli developer Ofer Kerzner is to start building this year an 8-story, 264-room hotel near Kyiv Boryspil's Terminal D, Georgy Zubko, the airport's deputy director for development, tells reporters. Owner of property development company City Capital Group, Kerzner built Art-Zavod Platforma, recycling a former weapons plant into a popular cultural center.
Foreign and national air freight companies are interested in a public private partnership to build a new cargo terminal for Boryspil, Zubko said. The Infrastructure Ministry's competition will launched this summer, too late for completion in time for the Christmas/New Year's seasonal surge in packages. Last season, the airport outraged shipping companies by closing Boryspil to cargo for 10 days. Even without a new cargo terminal, officials say new cargo tracking software and modernized logistics will allow them to handle this year's crunch.
Next to Boryspil's increasingly popular 'Train to the Plane' rail station, airport officials plan to build a $1 million covered bus station. With 16 bus platforms and capacity for 300 passengers an hour, the station would make air travel easier for residents of regions surrounding Boyspil. The airport accounts for two thirds of Ukraine's air traffic.
From the editor: The Ukraine Business News is now in English, Ukrainian, Russian and German. Check out: www.ubn.news — best Jim Brooke — jbrooke@ubn.news