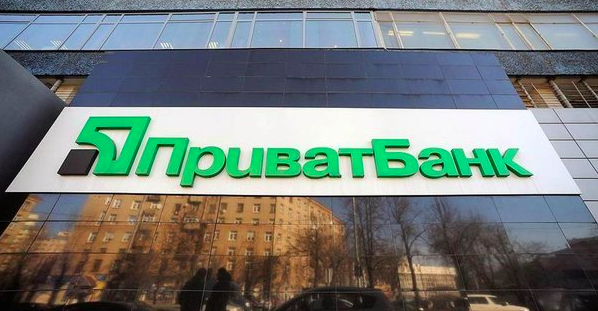 President Zelenskiy signed yesterday evening the law banning the return of bankrupt banks to their owners. Designed to block Ihor Kolomoisky and his business partners from winning back PrivatBank, the bill had been a key demand of the IMF since September. "This is our final 'goodbye' to bankrupt zombie banks!" Zelenskiy said, alluding to the nearly 100 banks that failed in the 2014-2015 crisis. "The law prohibits the return of bankrupt banks to their owners. The court will not have the right to make such a decision."
PrivatBank will transfer almost $1 billion to Ukraine's state budget this year from its 2019 profits. Now owned by the state, Ukraine's largest bank increased its assets by 11.4% last year to 310 billion hryvnia, or $11.7 billion.  In December 2016, when the state took PrivatBank away from Kolomoisky, it had a hole of $5.5 billion.
In Washington, IMF spokesman Gerry Rice said yesterday that the IMF and Ukraine are "discussing the parameters of the new Standby program." Finance Minister Serhiy Marchenko has said he hopes that Ukraine will receive the first tranche — $1.9 billion — by next Friday.
Ukraine needs to borrow this year the hryvnia equivalent of $17 billion, Minister Marchenko tells NV in a lengthy interview. He calculates Ukraine will receive about one third of that in soft loans from international financial institutions. Most of the rest will come through rolling over existing domestic debt and selling new hryvnia bonds. Although yields on Ukraine's sovereign bonds have receded to pre-crisis levels, he said he wants to avoid placing new eurobonds during the second half of this year.
"Ukraine's Frontier Market Risks 'Lost Year' as Virus Takes Toll" headlines a Bloomberg story on the reticence of foreign investors to return to the Ukraine market this year. "Overseas holdings of Ukrainian domestic notes have fallen to the lowest since November, despite an expected deal with the International Monetary Fund, interest rate cuts and rising currency reserves," Bloomberg reports from Kyiv and Moscow.
Tim Ash writes from London: "Illiquidity is now the biggest constraint. When investors wanted to sell at the peak of the crisis they could not and were locked into their positions. So to be invested you have to accept that risk and really love the Ukraine story as when push comes to shove you cannot sell."
The number of Ukraine's IT specialists registered as self-employed increased by 22% last year, hitting 183,000. DOU calculates that one third of this growth was in Kyiv City and Region, already home to 30% of the IT workers, largely programmers. The 56,000 self-employed IT workers in Kyiv City and Region is almost equal to the sum of the new three regions: Kharkiv, Lviv and Dnipropetrovsk.
Office rents will drop, vacancies will spread in shopping centers, and several hotels will fail, the Kyiv Post reports in a survey of the impact of the coronavirus lockdown on commercial real estate in Ukraine. The mass experience of remote working is softening demand for office space, prompting at least two business center projects to be abandoned. On the upside, the big increase in e-commerce means that construction continues on major warehouse projects on Kyiv's Ring Road.
Ukraine's migration from cash to card accelerated during the first quarter, reports the National Bank of Ukraine. The number of transactions was up by 24.5% q-o-q, to 1.4 billion. The amount of money was up by 15.6%, to $34 billion. Ukrainians have 69 million payment cards, more that double the nation's adult population. Contactless cards are increasingly popular, hitting 9 million at the end of March — 16% over the January level.
The first ever shipment of West Texas Intermediate oil is being pumped ashore today at Odesa's Oil Harbor. The 76,000 tons of BP oil is destined for Ukraine's sole working refinery, in Kremenchuk, for refining into gasoline. US oil exports to Ukraine started last July with a shipment of Bakken oil, originally from North Dakota. Over the last year, Ukraine has received three shipments of Bakken oil, totaling 250,000 tons. Similarly, the first ever shipment of US oil to Belarus is to arrive in early June in Klaipeda, Lithuania for shipment by rail to Belarus for refining.
Ukrainian Railways reversed its performance from last year, recording a $260 million loss in the first quarter. Pulling down performance, freight fell 4.8% y-o-y and the hryvnia devalued by 15.6% in the first quarter.
Concorde Capital's Alexander Paraschiy writes: "With such troubles, the company may face a liquidity deficit of about UAH 16 bln [$600 million] in 2020, including the need for repayment of UAH 11 bln [$415 million] in debt. Taking into account such data, the Infrastructure Ministry suggested that the cabinet reduce its dividend appetite from Ukrainian Railways to 30% of 2019 net income."
Cargo volumes for the first four months of 2020 fell by 15% compared to the same period last year, reports the State Statistics Service. The biggest drop was the 73% fall in volumes moved by pipeline, reflecting lowered Russian gas shipments across  Ukraine. Rail cargo amounted to 97 million tons, 92.5% of the same period last year. Rail accounted for slightly more than half of the 185 million tons moved January-April of this year.
Hennadiy Chyzhykov has been reelected for another five year term as president of the Ukrainian Chamber of Commerce and Industry, the nation's largest business group. The chamber has 8,000 company members, representing 70% of Ukraine's exports. In a video congress on Tuesday, delegates approved the chamber's mission: creating conditions for business development, opening new markets for Ukrainian exports, and promoting the integration of Ukrainian business in the global economy.
On Saturday, May 30, a UIA Boeing 767 will make a round trip flight: Kyiv Boryspil —  New York JFK – Kyiv Boryspil. A one-way ticket is about $800. Tickets can be purchased through the UIA website. UIA's North America office also reports there will be similar flights on Tuesday May 26, but those flights are not posted on the website. UIA flew 266 Ukrainians from New York to Kyiv yesterday. On arrival in Kyiv, all travelers have to go through two weeks of self-isolation.
From the Editor: Texas and Azeri oil go to Ukraine. Saudi and US oil go to Belarus. Lithuania gets all its gas from an LNG floating terminal in Klaipeda. With Norwegian pipeline gas and US LNG on the horizon, Poland tells Gazprom it will stop importing gas from Russia after 2022. After three decades, Russia is starting to reap the rewards of its post-Soviet energy sales strategy: 'The customer is always wrong.' With Best Regards Jim Brooke jbrooke@ubn.news