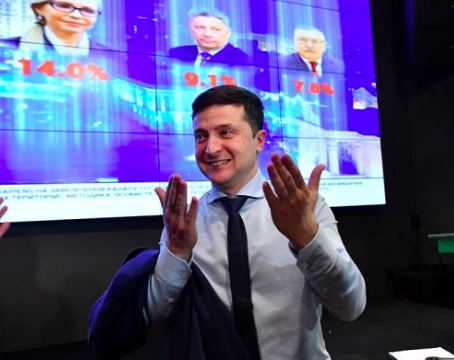 Friday, May 17
Zelenskiy Era Starts Monday Morning...Zelenskiy-Putin Talks Needed to Unblock Gas Talks...Bracing for a Winter Cutoff, Ukraine and Hungary Store Gas...Hryvnia Bond Fan Club Expands...Ukrposhta's Maidan HQ: A Hotel?...Flights Return to Uzhgorod June 3
Volodymyr Zelenskiy will be inaugurated President of Ukraine on Monday morning at 10:00 at the Rada's session hall. The May 20 swearing in date gives Zelenskiy one week to call a snap parliamentary election. Zelenskiy wants to take advantage of his 73% victory in the April 21 presidential vote to elect a support bloc in parliament. Forty percent of poll respondents said they would vote for his Servant of the People party, according to a poll completed Friday by a consortium led by the Rating Sociological Group.
Svyatoslav Vakarchuk, the popular singer, announced Thursday that he will run for the Rada with a new party called Holos – voice or vote in Ukrainian. Independent of Zelenskiy, Vakarchuk is expected to support free market, anti-corruption, pro-European legislation backed by the future president. In the same vein, Prime Minister Groysman plans to run at the head of a new independent, centrist party.
By using presidential powers, Zelenskiy plans to take "very concrete steps" in coming days to fight corruption, Oleksandr Danylyuk, his chief economic advisor, told Concorde Capital's international investment conference Thursday. These include: relaunching the National Agency on Corruption Prevention; making the new High Anti-Corruption Court "operational as soon as possible"; winning Rada approval for a new law on criminal responsibility for illicit enrichment; and "protecting whistleblowers on corruption."
Direct Putin-Zelenskiy talks are needed to unlock real negotiations to renew Russia's gas transit contract with Ukraine, Naftogaz CEO Andriy Kobolyev said Thursday, relating Russia's position to attendees at Concorde Capital's international investment conference. After the last talks, in January, Gazprom officials said they would only negotiate again after the inauguration of Ukraine's new president.
At present, chances are "quite high" that Gazprom will shut off gas though Ukraine next January, Kobolyev said. To minimize an economic "crisis" he said Ukraine should go into next winter with 20 billion cubic meters in storage. If Russia stops using Ukraine's gas transportation system, Slovakia and other western neighbors will not have excess gas to sell Ukraine, he predicted. Russia is storing 'record' amounts of gas in the EU in order to be able to meet minimal contractual requirements without sending gas through Ukraine.
Fearing a Russian cutoff of gas supplies through Ukraine next winter, Hungary is filling its gas storage reservoirs to 100% of their 6.3 Bcm capacity, MFGT, Hungary's state-owned storage company, said Wednesday at the Flame gas conference in Amsterdam. "If there is no flow from Ukraine from January 1, 2020, there is the real possibility, the real threat, that we might face problems," said Akos Kriston, MFGT's deputy CEO. Asked if traders consider storing gas in Ukraine, he replied traders fear "they might not get their gas back." Last year, Gazprom supplied 7.6 Bcm of Russian gas to Hungary, a 9.3% increase over 2017, reports S&P Global Platts.
DTEK's energy holding has purchased controlling interests in two of Ukraine's largest power generation companies, Odesaoblenergo and Kyivoblenergo, the company tells Interfax-Ukraine. The companies were bought from VS Energy International NV.
Naftogaz sees September as the earlier date for going into the Eurobond market, Kobolyev told the Concorde Capital conference. First, the state energy company wants to see the level of demand and prices for a Eurobond launch planned by the Finance Ministry by mid-June. Noting high foreign demand for hryvnia treasury bonds, Kobolyev said local bonds could be a good source of financing.
The recent jump in foreign purchases of hryvnia bonds also has caught the eye of Ukrzaliznytsia, the state railroad. "We are seeing a high level of interest, a lot of activity on this instrument from the Ukrainian and international players," Yevhen Kravtsov, CEO of UZ, said at the Concorde conference. Referring to issuing Eurobonds and borrowing money from EBRD and EIB, he added: "Our strategy is to use such a mix and continue to replenish our portfolio with hryvnia instruments."
The International Finance Corporation carried out its debut issue of hryvnia bonds, denominated at 15.75% per annum, to support its operations in Ukraine. The bonds were issued Monday, redeemable in 2020, said Jason Brett Pellmar, IFC manager ro Ukraine, Moldova and Belarus. IFC, a World Bank unit, has a AAA rating.
Representatives of international financial institution are hewing to a hard line on any backtracking on the nationalization of PrivatBank. "Tough decisions were taken – they were the right ones and they should not be reopened," Gosta Ljungman, the IMF representative in Ukraine, told the Concorde conference. "It is important to recover as much as possible the cost of this crisis to Ukrainian taxpayers."
Pellmar, the regional IFC head, said: "It would be such a painful signal, that it is unlikely to happen." If Igor Kolomoisky, former owner of PrivatBank, prevails in courts: "Then it will be possible to forget about international financial institutions in Ukraine."
Kolomoisky, the main media backer of Zelenskiy in his presidential campaign this spring, returned to Ukraine Thursday morning, ending two years of self-exile, first in Switzerland, then in Israel. According to Radio Free Europe, he flew on a private jet from Tel Aviv to Dnipro, an airport he owns.
Ukraine's Central Post Office, a Stalinist landmark on Kyiv's Maidan, should be sold, possibly for use as a hotel, recommends Igor Smiliansky, director of Ukrposhta. Noting that he rents out street level space in the building to Rozetka, the e-commerce company, and to Pf Retail LLC, a Vodafone Ukraine unit, he says the historic post office wastes space and slows mail delivery when demonstrations block the Maidan. Offering opportunities to real estate developers, he says post office sorting centers should move from traditional locations near rail stations to suburban locations near ring roads. Near train stations, "you can open wonderful offices and hotels – there is absolutely no need for Ukrposhta trucks to go there and clog traffic," he told reporters Thursday while presenting the state postal company's annual report.
In June 3, Motor Sich Airlines resumes Kyiv-Uzhgorod flights, says Mikhail Rivis, head of Zakarpattia's regional council, according to Mukachevo.net. The flights are to be direct, on Mondays, Wednesdays and Fridays, and coordinated with Motor Sich flights from Kyiv Sikorsky to Odesa. With an eye to the start of the tourist season, the Zakarpattia council decided on an unspecified "mechanism of financial support for the flight."
A four-year, $90 million road safety program is start this summer in Kyiv. Features are: more traffic lights and crackdowns on speeders, drunk drivers, and driving without seatbelts. Coping poorly with a growing number of cars, the capital has seen a 48% increase in the number of road traffic deaths since 2016, the city reports. Separately, the Rada voted Thursday to delay for 90 days, until Aug. 24, the imposition of fines on the owners of illegally imported cars from the EU. Fines will be as high as $6,400.
From the Editor: Ukraine Business News is now in English, Ukrainian, Russian and German. Check out our website – www.ubn.news. Share with friends and colleagues who want to follow Ukraine, Europe's next Frontier Economy. Best regards Jim Brooke – jbrooke@ubn.news