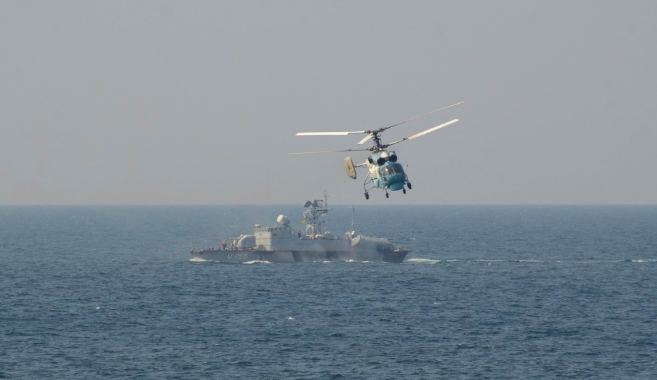 Friday, May 10
France, Ukraine Negotiate 22 Patrol Ships...Arcelor to Invest $350 million in Steel Production...Zelenskiy Vision: 'State in a Smartphone'...Targeting Migrant Workers, Ryanair Unveils More Ukraine Flights to Germany, Poland...Viking Kicks off Dnipro River Cruise Season
In a major deal with France, Ukraine is negotiating to buy 22 ships and 24 helicopters to patrol Ukraine's the Black Sea and Azov Sea borders. "These [22] ships will be of patrol class, which will reliably carry out the tasks assigned to protect the sea border," President Poroshenko said last week, reports Interfax-Ukraine. Last month, Petro Tsyhykal, head of the Border Guard Service, told Channel 5: "Negotiations are underway with French partners for the purchase of 22 modern patrol vessels with the help of the Internal Affairs Ministry."
France also would be the main supplier of the helicopters. Last July, the Internal Affairs Ministry signed a contract with Airbus Helicopters to buy 55 helicopters — models H225, H145, and H125.
Ukraine's largest integrated steel maker, ArcelorMittal Kryviy Rih, will reinvest its entire 2018 profits — $350 million – into upgrading production, the company reports. The decision was taken at the company's annual general meeting of shareholders on April 25.
Poland displaced Russia as the top buyer of Ukrainian goods, as Ukraine's trade with Russia dropped 11% q-o-q, to $2.4 billion. In the January-March period, Ukraine sold $818 million worth of goods to Poland, compared to $759 million to Russia. Ukraine's trade with Russia is expected to further drop this summer after the June 1 start of Moscow's second trade embargo list with Ukraine in six months. While trade with Russia fell, Ukraine's trade with the EU grew by 10% to $9.5 billion. The EU accounts for 38% of Ukraine's foreign trade.
President-elect Zelenskiy will inherit an economy with its macro indicators in the best shape in years, writes Timothy Ash. "Ukraine now runs modest twin deficits, at 2-3% of GDP, public debt is on a declining path, sub-60% now, while he has $20bn in reserves, above the three-month import cover minimum," Ash writes from London. "Foreigners seem happy to invest into domestic debt, given high yields, moderating inflation, hawkish NBU, and reasonably stable hryvnia." Efforts by Zelenskiy backer Igor Kolomoisky to win back PrivatBank, "is still the number one issue for the incoming president Zelenskiy in the sphere of the economy and relations with the international financial institutions."
In Sarajevo, Finance Minister Oksana Markarova says Ukraine is "either on track or well positioned" to meet all requirements of the IMF standby program. Talking to Bloomberg Thursday after a panel at the EBRD Annual Meeting, she declined to discuss timing of the next IMF tranche, saying most important thing is to "stay on track." On the panel, she said Ukraine's macroeconomic situation is "very good."
To cut corruption, 'our goal is the state in a smartphone," Zelenskiy told visiting Canadian Foreign Minister Chrystia Freeland on Wednesday. "We don't want to be talking about fighting corruption, we want to defeat it," he said. To do this, his team wants to minimize Ukrainians' contacts with bureaucrats.
Nibbling away at Ukraine's massive inventory of idle state-owned properties, ProZorro has auctioned off 552 state properties since July, earning $37 million for the treasury. Real estate accounted for the overwhelming majority of sales of these 'small privatizations'. Last December, Kyiv court rulings froze privatizations of large state companies.
Ukraine's new oil and gas production sharing agreement mechanism is drawing blasts from the American Chamber of Commerce – days before tenders are due and awards are to be made. "PSAs are not used in any EU country, and their use in Ukraine only underlines the urgent need for reforms in the existing oil and gas fiscal and regulatory regime," the ACC says. "The criteria discriminating PSA and other [license] blocks are unclear. The current PSA process is seriously flawed. A single, fair, stable and non-discriminatory environment for oil and gas is one of the key factors in attracting major international investment."
In an aggressive bid for Ukraine's migrant worker market, Ryanair unveils a fall Ukraine schedule with flights to five new German cities and eight new Polish cities. From Odesa, Ryanair launches flights to five Polish cities: Krakow in July, then Gdansk, Katowice, Poznan, and Wroclaw on Oct. 29-30. From Kharkiv, Ryanair starts flights to Krakow and Poznan, and Vilnius Lithuania. From Kyiv Boryspil, Ryanair starts a flight in the fall to Katowice and doubles its frequencies to Warsaw to twice daily. Ryanair already flies to five from Boryspil to five other Polish cities.
Targeting Germany, Ryanair starts flights in October from Boryspil to Hahn, Karlruhe/Baden-Baden, Nuremberg and Weeze; and from Odesa to Berlin-Tegel. Its Austrian unit, Lauda, starts flights in November to Stuttgart.
With three year head start, rival Wizz Air's Ukraine flight network already includes 12 Ukraine-Poland routes and 13 Ukraine-Germany routes. This summer Wizz Air launches three new flights: from Kyiv Sikorsky to Lublin in June and to Leipzig/Halle in July; and, in August from Kharkiv to Krakow, a new Wizz Air base.
After today's flight, Motor Sich suspends its weekly Kyiv-Lviv-Uzhgorod flight, inaugurated only two months ago. The Infrastructure Ministry is working with the airline and regional officials to promote the route, aiming to establish daily direct Kyiv-Uzhgorod flights for Zakarpattia's summer tourism season.
Budapest-based Wizz Air has studied flying out of Uzhgorod. Wizz Air has 10 international flights out of its eastern Hungary base as Debrecen, 145 km south of Uzhgorod. Uzhgorod airport was inaugurated in 1929 with flights to Prague. Today, with proper marketing, the airport could resume its regional role, serving passengers from eastern Slovakia, eastern Hungary, northwestern Romania and Zakarpattia.
Restoring a link broken with the end of the Hapsburg Empire in 1918, Austria's People's airline made a first charter flight from Vienna to Chernivtsi on Wednesday. Reserved for Austrians, the charter flight follows People's charter flights last year from Vienna to Lviv, another former Hapsburg city. For Lviv airport, Vienna is the fourth most popular destination, after Warsaw, Kyiv and Istanbul. Austrian Airlines flies the 1h15 min route 11 times a week.
In time for the summer travel crush, Kyiv Boryspil opens on May 23, the airport's first multilevel parking garage. Connected by a covered walkway to Terminal D, the garage will offer long term and short term parking, video surveillance, and digital signs indicating where spaces are free in the 1,000-space facility. Short term parking will be about $1 an hour. Frustrated by years of construction delays, airport officials will celebrate May 23 with a 'musical festival' on the roof, billed as "KBPAEROPARTY."
With the sailing today of the Viking Sineus from Kyiv River Station, Viking Cruises unofficially opens the start of the Dnipro River summer cruise season. Through late September, Viking offers 11 cruises from Kyiv to Odesa and the same number coming upriver from Odesa. The ship sleeps 196 passengers and per person prices start at $4,000. Last summer, the 11-day cruises proved so popular with affluent American and European tourists that the Swiss-based company decided to offer this season an extended option – Kyiv to Bucharest.
From the Editor: UBN will be the media partner for Ukrainian ID, the international economic and humanitarian forum, known as the "Ukrainian Davos." The conference runs June 7 – 8 in Kaniv, Cherkasy, under the theme: Revolution of Values. Last year 300 experts took part in discussions. This year, organizers plan to gather 500 opinion leaders. For more information, visit: ukr-id.com/en/#about_forum — best regards Jim Brooke – jbrooke@ubn.news.