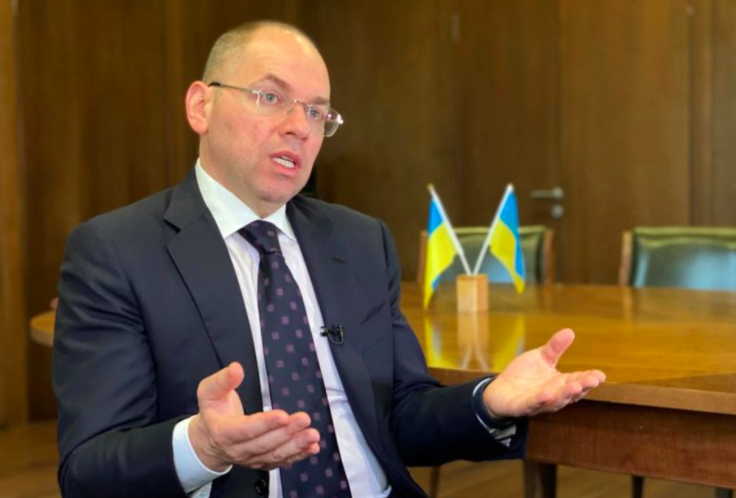 Friday, May 1
Gov't Loses Grip on Quarantine...Shopping Centers, Restaurants, and Media Groups Count Lockdown Losses...Eurozone Drops 3.8% in Q1 – Next Quarter Will be Worse...Antonov to Form Fleet for Ukraine's New State Airline...Travel Agents Dream up Domestic 'Hot Tours'
As the government gradually loses its grip on the quarantine, Ukraine's Health Minister held out the promise of restoring wider economic life — opening up small shops and small businesses — at the end of the May holidays. But Minister Maksym Stepanov's main message in a televised briefing Thursday was: "What do we see in the last days? We see rallies, people on the streets. We see traffic jams. We see an increase in the number of people in parks."
"I ask you to stay home during the May holidays – I ask you to observe the lockdown," he said as Ukrainians approached their traditional 10-day holiday period. But as he spoke big supermarkets were clogged with shoppers stocking up on essentials for holiday barbecues. By mid-afternoon, online maps showed major highways leading out of the capital turning red with traffic jams.
In the first six weeks of the pandemic, 239 people have died, a small number for a nation of 37 million. "This is not the thousands that are happening in Italy and Spain," said Minister Stepanov. "Quarantine was introduced very quickly [here], and it was thanks to this that we managed to contain the situation." Similarly, his deputy, Viktor Lyashko, told Rada leaders: "Quarantine is working…Today, 158 out of 2,133 intensive care beds are occupied, equipped with oxygen and mechanical ventilators. Today, our Ukrainian medics don't have to choose, whom to admit and treat — as was the case in some EU countries."
The quarantine has cost shopping center owners $50 million in lost rents and advertising revenue, NAI Ukraine real estate consultants tell Interfax-Ukraine. Often rents are tied to sales volumes. Since mid-March all shopping center stores are closed, except for supermarkets. A NAI survey of Ukrainians indicate that the recovery will be slow, restrained by shoppers' lost incomes and fear of contracting the Covid-19 virus.
Vacancies will grow in shopping centers, Yekateryna Vesna, head of retail for Cushman & Wakefield Ukraine, tells Interfax-Ukraine. "Shopping centers now predict an increase in vacancy," she said. "The less popular the facility is, the higher the share of free space will be at the end of quarantine."
The quarantine has 'liquidated' 40% of Ukraine's 30,000 restaurants and cafes, Nikita Poturaev, chairman of the Rada Committee on Humanitarian and Information Policy, tells Interfax-Ukraine. "12,000 of these 30,000 were liquidated," he said. "Not in the sense of 'closed for quarantine,' but in the sense of 'liquidated as enterprises.'" He added: "Perhaps some of these 12,000 liquidated enterprises will return. But we do not know how many."
Media revenues have fallen by 35% since the coronavirus quarantine started in mid-March, estimates Poturaev. He tells Interfax-Ukraine: "We can expect serious upheavals in this market will affect not only independent media, which are in a very difficult situation, but also large media groups."
The GDP of the Eurozone, Ukraine's largest bloc trading partner, may decline by 5-12% this year due to coronavirus lockdown measures, estimates Christine Lagarde, president of the European Central Bank. During the first quarter the Eurozone GDP dropped by 3.8%, the worst drop since statistic taking started for the Eurozone, in 1995. In the second quarter, from April to June, the drop could be as much as 15% y-o-y.
"The eurozone economy is facing an economic downturn, the scale and speed of which is unprecedented," Lagarde said Thursday at a news conference. "Polls show a drop in consumer and business confidence…With the gradual lifting of restrictive measures, economic activity will recover, although the speed and scale of this recovery are subject to high uncertainty." She said the European Central Bank has made €3 trillion available to banks at negative interest rates.
The Rada has approved fast track debate of the IMF banking law. The bill, designed to block Ihor Kolomoisky from winning back PrivatBank, is to be debated at a special session late next week. The law is seen as essential to winning a deal with the IMF. The deal would unlock about $10 billion in IMF and international aid, saving Ukraine from financial default.
Ukraine has climbed into the top quarter of nations in the world for budget transparency. Of 117 countries, Ukraine ranks in 26th place, according to the Open Budget Rankings,  an annual score compiled by the International Budget Partnership. Based on 109 indicators, Ukraine's latest ranking is a huge improvement since 2015, when the nation ranked in 57th place.
With Poland's gas transit contract with Russia's Gazprom due to expire on May 18, Ukraine successfully carried out test deliveries for gas traders on two routes to Poland. In one, gas left Slovakia, did a U-turn through Ukrainian pipelines, and entered southeast Poland. In the second, gas was delivered to Poland directly from storage caverns in western Ukraine. "These deliveries confirmed the possibility of fully providing the necessary [gas] resource to Poland in the event of interruption / reduction of deliveries from the Russian Federation," Sergiy Makogon, general director of the new Gas Transmission Operator of Ukraine, writes on Facebook. "Ukraine has once again proved that it continues to be an important element of Europe's energy security."
Kyiv-made Antonov regional jets and turboprops will dominate the fleet of a Ukraine national airline that President Zelenskiy plans to create. "Antonov aircraft can easily serve all regional flights that exist in Ukraine between cities, and [flights] to nearby countries," Kyrill Tymoshenko, deputy presidential chief of staff, told ZIK TV after Zelenskiy chaired a working group meeting Tuesday on creating the airline. "Budgeting is underway now," Tymoshenko said. Referring to Kyiv's largely dormant Antonov aircraft plant, he said: "They will work, produce planes. The airline will transport people."
Betting that Europe will not re-open to non-EU tourists until mid-summer, Ukrainian tour operators are developing vacation packages for domestic tourism, Marian Oleskov, chairman of the State Agency for Tourism Development, tells Direct TV program. She said: "We cannot talk about the summer season because it is unlikely that borders with many countries will be opened."
Starting today through May 9, UIA makes direct flights from Kyiv Boryspil to 10 foreign cities to bring Ukrainians home. On some flights, UIA may take passengers out of Ukraine. Today, flights go from Boryspil to Amsterdam and Tel Aviv. Starting Sunday, the schedule is: May 3 – to Geneva and Dubai; May 5: to Toronto, Dortmund and Prague; On May 7 – to Madrid and Milan; on May 9 – to Munich. For more information: https://www.flyuia.com/ua/en/information/fly-home.
From the Editor: The Ukraine Business News will continue through the May holidays. Enjoy your time off – and enjoy learning about new directions and new opportunities for Ukraine's economy! With Best Regards Jim Brooke jbrooke@ubn.news