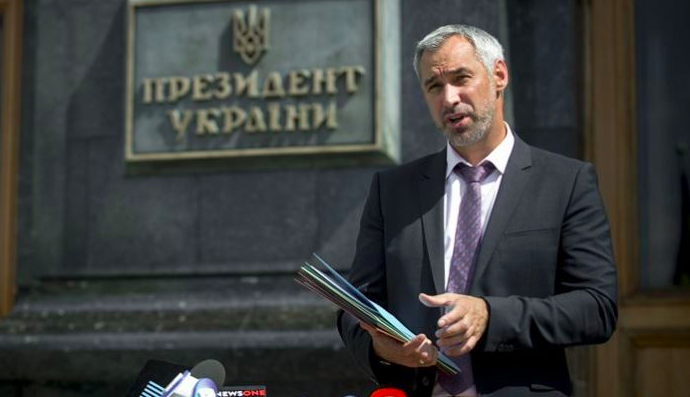 Prosecutor General Ruslan Ryaboshapka was sacked in a Rada vote last night, the latest casualty in a government purge that leaves analysts questioning Ukraine's free market momentum. Ryaboshapka, a former official at Transparency International, was supported by Western governments for his efforts clean up Ukraine's judiciary. Ruling party MP's complained he did not indict former President Poroshenko. Ruling party MP's propose one of their own: Serhii Ionushas, an MP who did intellectual property work for President Zelenskiy's TV studio.
The cabinet overhaul prompted Morgan Stanley to cut Ukraine's hard-currency debt to 'dislike', strategists Alina Slyusarchuk and Simon Waever wrote Thursday morning in an emailed report. By the end of the day, Ukraine's dollar-denominated sovereign bonds had suffered a second day of sharp declines. The 2032 bond fell 3.76 cents in the dollar to 105.51 cents, according to Refinitiv. Both the 2027 and 2028 issues lost more than two cents as well. Many bonds traded at multi-month lows.
Foreign holdings of government hryvnia bonds fell this week by 2%, to about 124.4 billion hryvnia, or $5 billion, reports the National Bank of Ukraine. Although foreign holdings of the bonds are up by 7.3% this year, growth stopped in mid-February.
Opinion roundups – on Bloomberg and elsewhere – were generally skeptical Thursday.
"There is disbelief with this cabinet reshuffle," Timothy Ash writes from London after a day talking to traders and analysts. "The general line I have heard is; what is President Volodymyr Zelenskiy doing?…Markets had rewarded his team and Ukraine with a collapse in borrowing costs, on hard currency debt from 10% to less than 6%, and in hryvnia from 20% to 10%. Conditions were well set for recovery. In the midst of all that he has decided to almost completely change the team, ousting the reformers, and going back in time to a team that would not look out of place in a Viktor Yanukovych cabinet, circa 2011."
Concorde Capital's Zenon Zawada writes in Kyiv: "To its detriment, the Zelensky administration is plagued by subservience to the reckless billionaire Ihor Kolomoisky, an IMF skeptic who is trying to retake Privatbank…We view these personnel changes as insignificant in the grand scheme of the ultimate goal for Ukraine, which is for the nation to become a rule of law society integrated in Western institutions."
After a day of skeptical press, Ukraine's new Prime Minister Denys Shmygal wrote Thursday night that the new government will continue "constructive" work with the IMF. "Changing the government means that we want even better and faster reforms in Ukraine," he wrote on Facebook. "The government will continue prudent fiscal policy and constructive cooperation with the International Monetary Fund and other creditors of Ukraine…Cabinet is ready to accept new challenges and move faster on reform path and integration with the EU."
Shmygal got a positive review from Andy Hunder, president of the American Chamber of Commerce in Ukraine. "I was impressed with Denys Shmygal as regional governor when I visited Ivano-Frankivsk six weeks ago," Hunder wrote in an Atlantic Council morning after roundup of opinion on the cabinet changes. "He was one of the most business-friendly governors that I had met in Ukraine. He's coolheaded, prudent, a no-nonsense kind of guy. The feedback that I got from companies in the region about him was positive throughout."
The European Business Association notes it had a good working relationship with outgoing Prime Minister Honcharuk. "In recent months, EBA member companies have engaged in a fairly constructive dialogue with most ministries and observed a prompt reaction to the appeals of the business community," the Association's press office emailed Interfax Ukraine. "So we really hope that the decision to restart the government, headed by Prime Minister Oleskiy Honcharuk, was made after a thorough analysis of all 'pros' and 'cons' and has a strategically sound goal."
Looking ahead, analysts polled by Reuters forecast the central bank will cut the key lending rate next Thursday, the sixth cut in a row. Lower-than-expected inflation and a slowing economy will prompt the National Bank of Ukraine to cut from the current level of 11%, although not as steep as the 2.5 percentage point cut of late January. At next week's rate setting meeting, nine out of 16 analysts forecast a rate cut to 10%. Three see a reduction to 10.5%. One person sees a cut to 9.5%. The other three see no change.
Economic highlights of President Zelenskiy's speech to the Rada Wednesday afternoon:
Accomplishments: "This government has accomplishments. The decrease in inflation, reduction of the National Bank of Ukraine's base rate, fight against the shadow markets, including gambling and illegal gas stations. The beginning of the privatization of state-owned enterprises that have been looted all these years. The loans to small and medium businesses. The reduction of the role of the state in the economy. But the truth is that it is not enough for Ukrainians today."
Need for doers: "We need new brains and new hearts. This government knows what to do. But to know is not enough – it is necessary to work a lot, it is necessary to do. And we must not fear the truth, we must admit mistakes. Because on the day we dive into the warm bath of illusions, the whole country will sink."
Industrial downturn: "We have constantly heard about the economic leap, but there is an impression that the economy has been gaining pace, stumbled and now risks to fall flat on its face… Unfortunately, the government has not provided tools stimulating domestic production and new production capacity. The industrial glory of Ukraine is gradually becoming a matter of the past. We risk that speaking about our industrial potential people will soon say: "That was a long time ago, and wasn't even true."
High priced foreigners on supervisory boards: "There are questions about the salaries and bonuses of many supervisory board members. We understand that there are laws of the market. We do not suggest paying a "minimum" wage in a populist manner. But, excuse me, when over 10 million people live on the poverty line, there can be no such payments to people who, being members of supervisory boards, come to Ukraine two or three times a year. Today, it has actually become more profitable to "supervise" than to work in Ukraine. And with all due respect to international partners, with all gratitude for their help, today our citizens in the supervisory boards of our enterprises feel like a national minority."
Walking back plan by his (now former) Energy Minister to close most of Ukraine's coal mines by 2030: "Closing a mine does not mean closing the issue. Therefore, first – training and retraining of people, creating new jobs, providing at least a similar salary, and only then can we raise the issue of closing an unprofitable mine. Only in such order."
From the Editor: Time for a 'Maski Show?' Wednesday after lunch at Kyiv's Arena entertainment center, three friends and I visited the 'Milton Group,' the downtown Kyiv call center 'fraud factory' that allegedly bilked millions of dollars from elderly people, largely Scandinavian retirees. In the past, Ukrainian police, faces covered and armed with automatic weapons, burst into Dragon Capital and Sikorsky Airport. No need for this in Mandarin Plaza.  Here is how: go to the office tower ground floor. Speak English audibly. The guard will wave you through to the two side elevators. Push 7 on either elevator. When the unmarked office door opens with employees coming and going, go inside and check it out. Given the millions of dollars that Finland, Norway, Sweden have given Ukraine since 2014, it would be nice if Ukrainian investigators shut down this scam operation, seize all computers, and prosecute all participants. The Organized Crime and Corruption Reporting Project provides a handy road map. After a visit to Kyiv on Monday, Sweden's Foreign Minister Ann Linde said Tuesday: "It is really upsetting to see how they bluff (con) Swedish retirees who have to leave their homes and live on a minimum subsistence level. And then they sit there, laughing." With Best Regards, Jim Brooke jbrooke@ubn.news