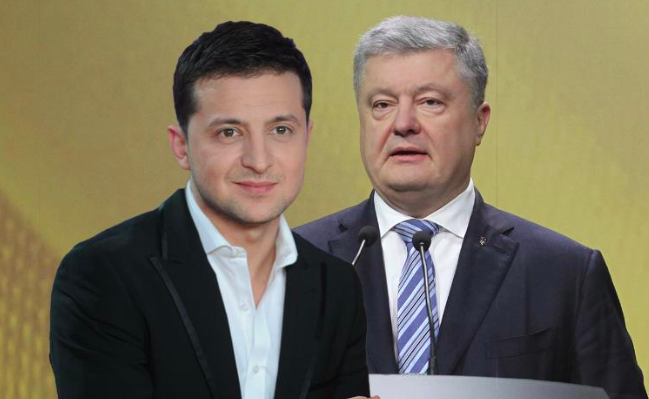 Friday, March 29
Zelenskiy and Poroshenko Lead in Polls Before Sunday Vote...BBC to Pay Damages to Poroshenko...Bloomberg, Reuters Analyze Zelenskiy...Construction Jumps 17%...Foreign Investment in Ukraine Bonds Triples...Rollins Out at Ukrnafta...Eying Foreign Miners, New Geology Service Chief Schedules Mining Auctions
TV comedian Volodymyr Zelenskiy and President Poroshenko lead in a respected poll prior to Sunday's vote, widely perceived as the first of two rounds. In the poll conducted by Razumkov Center, respondents were split: 25% for Zelenskiy, 22% for Poroshenko and 15% for Yulia Tymoshenko. A second round is to be April 21.
In an influential endorsement for young voters, Sviatoslav Vakarchuk, the intellectual rock star who dropped his presidential bid in December, posted an Instagram Wednesday: "Vote responsibly! Vote not as a joke!" Concorde Capital's Zenon Zawada writes: "President Poroshenko has a solid chance to be re-elected…Vakarchuk's statement lends more credence to MP Serhiy Leshchenko's claim that he gained political concessions from Poroshenko in exchange for not running for the presidency."
The BBC apologized and agreed Wednesday to pay damages to Poroshenko for an erroneous report in June 2017 that Ukraine's president paid $400,000 to Michael Cohen to meet with President Trump at the White House. BBC said: "We apologize to Mr. Poroshenko for any distress caused and have agreed to pay him damages, legal costs and have participated in a joint statement in open court." London's Guardian newspaper described the damage payment as 'substantial.'
Separately, Poroshenko will "sue TV Channel 1+1 for systematic lies on a large scale, for spreading large amounts of disinformation that damage the honor and dignity of the presidential candidate and president," according to ruling party Rada member Artur Herasymov. Owned by Ihor Kolomoisky, 1+1 is the home channel for Zelenskiy's comedy show.
"What would investors prefer?" Bloomberg asks about Ukraine's presidential race. "Having watched emerging markets like Argentina and Turkey get clobbered last year, the most important thing for Ukraine investors is that the new president maintains cooperation with the International Monetary Fund. Zelenskiy has said commitments under a $3.9 billion loan approved to get the country through the election year should be honored…With Ukraine frequently named among the most vulnerable developing nations to potential financial stress, an IMF cutoff would risk triggering a crisis."
Reuters writes of Sunday's vote choice: "With Zelenskiy's insurgent run for the presidency, Ukraine is surfing a wave of popular anger similar to the ones that brought the anti-establishment 5-Star Movement to power in Italy and U.S. President Donald Trump to office… Poroshenko, a multi-millionaire businessman, has not shaken off allegations he puts business before matters of state. Corruption allegations have tainted his entourage, reforms have been fitful and price rises have eaten into living standards…. 'His greatest weakness is that he values money over everything else,' said Mustafa Nayyem, a former member of Poroshenko's faction in parliament."
Part of Zelenskiy's lead in opinion polls stems from a backlash against President Poroshenko's Ukrainization policy, Vijai Maheshwari writes from Moscow for Politico. "Poroshenko's policy of "Ukrainization" — promoting Ukrainian language and culture and severing cultural ties with Russia, as with the creation of an independent Ukrainian Orthodox Church earlier this year — has left many Russian-speakers feeling disenfranchised…. Zelenskiy's meteoric rise is a sign that the pushback is underway…. Zelenskiy's message for voters is clear: Vote for me, and I will help unify Ukraine and protect the rights of Russian-speakers."
Of good news to rural voters, hundreds of thousands of hectares of state-owned farmland will be transferred this year 141 united territorial communities, reports that Government Portal. Last year, 1.5 million hectares of state owned land was transformed to 647 of these newly formed district governments.
Across the country, construction was up 17% for the first two months of the year, compared to January-February of 2018. Driving the building was good weather in February and a whopping 41% y-o-y increase in infrastructure construction in February.
Foreign investment in Ukraine government hryvnia bonds have tripled since the start of the year, hitting 20.3 billion hryvnia, currently about $740 million. Last year, foreign investments in the bonds only increased by 22%. Foreign investors may be shrugging off the political risk of an election year or may be positioning themselves for the opening of a Clearstream link in coming months. This will allow desktop trading.
Ukraine's government wants to reduce the country's public debt to below 50% of GDP, writes Finance Minister Oksana Markarova. The debt was 61% of GDP at the end of last year.
Mark Rollins, the British CEO of Ukrnafta, the nation's largest oil producer, is being let go after almost four years in the job. By terminating Rollins on April 30, Naftogaz asserts control of a company, where it controls 50% plus one share. During his tenure running Ukrnafta, Rollins turned the company into one of the top five taxpayers of the nation. But he ran afoul of Naftogaz over unpaid debts by the state oil and gas company. Responsible for two thirds of Ukraine's oil production, Ukrnafta has 43 drilling rigs, 168 gas wells, 1,936 oil wells and 537 gas stations across Ukraine.
Topping EU aid to Ukraine, the EU is allocating €104 million to winterize apartment buildings to cut gas consumption. "This is the largest amount of existing programs being implemented by the European Union in Ukraine," Olha Borodankova, the EU energy coordinator, said Thursday at a 3-way ceremony with Ukraine's Energy Efficiency Fund and the World Bank's International Finance Corporation. By contrast, Ukraine is budgeting €53 million for the program this year.
Gazprom's $12 billion Russia-Germany gas pipeline will be completed on schedule, at the end this year, the operators told reporters a foreign press tour Wednesday of the landing area, in Lubmin. As "hundreds of workers with heavy construction equipment [worked] at the pipeline's sandy landing site," project spokesman Jens Mueller told AFP: "The main installations have been completed, the shut-off valves have been installed, so we can assume that the project will be completed by the end of 2019." Lubmin is in eastern Germany's Mecklenburg-Vorpommern state, the home district of Chancellor Angela Merkel.
As the 1,225 km pipeline approaches Danish waters, Denmark's official Energy Agency is requesting an environmental assessment of a third route, a process that "will take several months," Agency spokesman Ture Falbe-Hansen tells Reuters in Copenhagen. Nord Stream 2 spokesman Mueller told Reuters Thursday the company will evaluate the request but did not say if it would delay the project. Designed to double an existing Russian pipeline along the Baltic seabed, Nord Stream 2 has the approvals of other countries on the route: Russian, Finland, Sweden, and Germany.
Companies from Austria, Brazil, Canada, China, Japan, and the US are interested in mining cobalt, lithium, manganese, nickel, and niobium-tantalum in Ukraine. "Ukraine is interesting to the European Union because today there is a supply problem of critical raw materials for the needs of industry in the EU," says Oleg Kirilyuk, chairman of the State Geology Service. On Wednesday, the Cabinet of Ministers appointed Kyrylyuk to a five-year term as chairman of the Service, known as Gosgeonedr. On April 22, ProZorro. The sale will auction mining rights to nine deposits for beryllium, zirconium graphite, and coal.