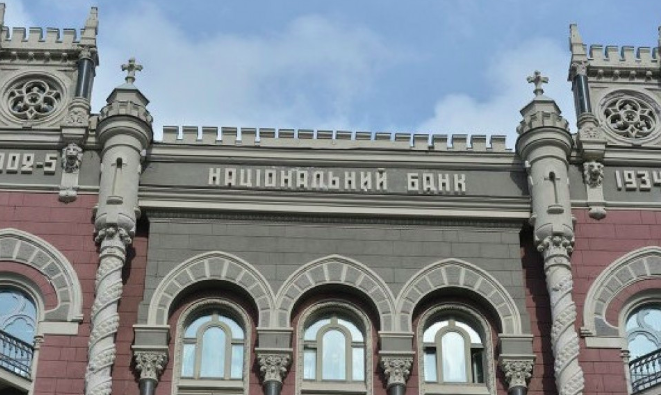 Inflation will end this year at 6.3%, one third below last year's rate of 9.8%, predicted Yakiv Smoliy, governor of the National Bank of Ukraine. Next year, inflation will be 5%, he told reporters Thursday.
Despite cooling inflation, Ukraine's prime interest rate stays at 18%, a level first set six months ago, the National Bank of Ukraine reported Thursday. To combat inflation, the central bank started raising the prime rate 17 months ago, when it went from 12.5% to 13.5%. Smoliy said Thursday: "The timing of the transition to lowering the discount rate will depend on how robust the inflationary risks will be and inflation expectations improve."
Timothy Ash writes: "Solid move by the NBU to hold its policy rate at 18%, despite inflation heading lower. Prudent move gave uncertainty around who wins the presidential elections – really a three horse race, with little real clarity on who will win."
One day after a weeklong IMF review mission flew back to Washington, Smoliy predicted Thursday that Ukraine will receive a second low interest loan tranche in May. "[We] continue to cooperate with the IMF and expect to receive tranches in May and in November," he told reporters. In December, the IMF board approved a 14-month, $3.9 billion stand-by programs for Ukraine. The release of more money is contingent on Ukraine's government making progress on anti-corruption. After noting the IMF team asked about the Constitutional Court's recent abolition of liability for illegal enrichment, Smoliy said: "We continue to work, as usual, continue to cooperate with the IMF." The May tranche is expected to be $1.3 billion, slightly below the December tranche of $1.4 billion.
In a key step toward allowing non-resident foreign investors to buy Ukrainian government bonds, the central bank signed an agreement Wednesday with Clearstream Securities Depository. Soon, the National Bank of Ukraine is to establish a "link" with Clearstream, simplifying access of foreign investors to government domestic bonds. "Correspondent relations with the international depository will allow Ukraine to accelerate its integration into the world capital market," said Oleg Churiy, the central bank's deputy governor.
The National Bank of Ukraine was awarded the 'Central Banking Award for Transparency' Wednesday night at a ceremony in London. Selected by Central Banking magazine, previous central bank transparency award winners were: Ireland in 2017, Israel in 2016, the Czech Republic in 2015, and Sweden in 2014. The US embassy in Kyiv tweeted Thursday: "We welcome the success of Ukraine in cleaning up the banking sector, and with the independent leadership the National Bank plays an important role in this transformation."
Ukrzaliznytsia redeemed the first part of its Eurobonds for $150 million and paid a coupon yield on them. Money to repay the bonds were raised domestically, notably from Oschadbank and Ukrinfraproekt. On Feb. 13, the Cabinet of Ministers authorized the state railroad to issue up to $500 million in new Eurobonds to pay off old debt. Yevhen Kravtsov, the railroad chairman, said Ukrzaliznytsia "is always on time and fully calculated on its obligations."
JPMorgan Chase bought $350 million worth of bonds from Ukraine's government Tuesday, paying 98.88 cents on the dollar, reports The Wall Street Journal. The bank has been reselling them to investors at about 100.50 cents on the dollar. The Journal calculates that if JPMorgan sells all of the bonds at that price it would make a $5.7 million profit from this private sale. "In general we have a supportive environment for emerging markets, and JPMorgan is taking advantage of that," Jan Dehn, research head at Ashmore Group, tells the Journal. "Good for them. That's what the market is there for."
From the government side, the Finance Ministry announced Wednesday the re-placement of Eurobonds with a maturity period up to Nov. 2028 for $350 million, with a coupon rate of 9.75% per annum. The placement price was not indicated in the posting. With this placement, the total nominal issue volume increased to $1.6 billion
In its three years of existence, the ProZorro electronic procurement system has handled 3 million tenders, saving the nation $2.8 billion, reports Maxim Nefyodov first deputy minister of economy. Open to foreign and national bidders, ProZorro posts tender details and electronically handles the bidding process.
In one step toward rebuilding Soviet-era hydro capacity, a $50 million contract was signed in Kharkiv Thursday to rebuild two of the 60-year-old power units Kremenchuk Hydroelectric Power Plant. With much of the money coming from the EBRD and European Investment Bank, the hydro turbines will be built by Turboatom and the hydro generators will be built by Electrotyazhmash. The third dam in the Dnipro cascade, the 624 MW Kremenchuk plant was inaugurated in 1959 at Svitlovodsk or Bright Waterway. Prime Minister Groysman who presided over the signing said: "This contract provides for work for 25,000 Ukrainian workers, engineers, designers."
China's Great Wall Drilling Company is looking for contracts to design, drill and overhaul oil and gas wells in Ukraine, reports the Ministry of Energy and Coal Industry. On Wednesday, several officials of the company, a unit of China National Petroleum Corporation, met in Kyiv with Ministry officials "to establish mutually beneficial cooperation to involve engineering and technical services in the oil and gas sector in Ukraine."
Estonia's Bolt, formerly Taxify, expands its smartphone taxi-hailing service to Lviv this weekend. After launching in Kyiv last June, the service expanded in December to Kharkiv. Now in  30 countries, Bolt competes in Ukraine with Uber and Uklon.
Kyiv's single car, self-propelled electric train to the plane has proved so popular that the state railroad plans to replace it with a conventional diesel locomotive pulling passenger cars, Yevhen Kravtsov, chairman of Ukrzaliznytsya, tells Segodnya news site. Marketed as the Boryspil Express, the 80 UAH ($3) ride between the airport and Kyiv Central Station is often so full that some passengers have to stand during the 35-minute trip.
Driving in Zakarpattia last weekend, Deputy Infrastructure Minister Viktor Dovhan blew a tire and dented a wheel rim while battling potholes on the stretch of National 09, leading to the Romanian border. Writing on Facebook, presumably from a tire repair shop, Dovhan said there was practically no asphalt on the road where he had the accident. Dovhan promised $8 million for road repairs on what should be a major tourist route: the 170 km stretch of National 09, Mukachevo-Khust-Solotvyno-Rakhiv. He drove to the Solotvyno border crossing with Romania to negotiate construction of a new bridge over the Tisa, the border river.