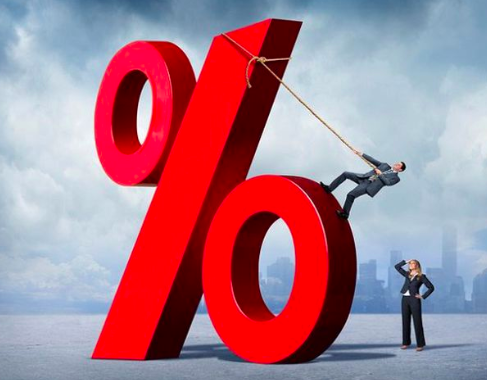 Friday, March 13
Prime Interest Rate Cut to 10% -- Lowest in Six Years...Demand for Dollars Eases...To Push Russian Oil Out of Europe, Saudis Offer Radical Price Cuts...Ukraine's Oil Bill Drops...Coronavirus Cuts More Ukraine Flights...Tired of Laundering Money, Central Bank Says Corona Will Promote Cashless.
Effective today, Ukraine's prime rate is 10%, the lowest since the war with Russia started six years ago. In the latest of an 8-month series of six cuts, the National Bank of Ukraine Board lowered the key rate by one percentage point, from 11%. With annual inflation at 2.4% in February, the bank is sticking with its goal of cutting the prime rate to 7% by the end of this year. The Bank said: "The Board of the National Bank made a decision on the discount rate in conditions when inflationary pressure is weakening faster than expected, and the economy requires further support."
The interest cuts come as collapsing Western markets and dropping investor confidence batter Ukraine's key financial indicators. Today, the official hryvnia/dollar exchange rate is 25.86 – an 8% devaluation in 10 weeks and a return to levels of last July. Over the last three weeks, the yield on Ukraine's 2028 dollar bond has jumped more than five percentage points, to 11.1%. GDP-linked warrants have fallen from a nominal value of $1.07 in late February to 60 cents today.
A deal with the IMF would help calm markets, Smoliy said. He said: "The conclusion of a new program with the IMF will reduce the vulnerability of the Ukrainian economy during turbulence in world markets at the time of peak payments on public debt." Separately, Ihor Umansky, the new Finance Minister, said Thursday the government believes a deal with the IMF can be in place by May.
In Washington, IMF spokesman Gerry Rice said at his scheduled press briefing: "A new government was appointed last week in Ukraine, signaling that it wants to continue working closely with the IMF, including on the Fund support program…We are ready to fully support Ukraine's reform efforts as well as policies aimed at achieving these goals."
Demand for dollars eased yesterday, as the central bank sold only $76 million of $200 million put up for auction. Monday was a banking holiday. On Tuesday, the National Bank of Ukraine sold $270 million. On Wednesday, it sold $350 million. "This week alone, the National Bank net sales of foreign currency reached $700 million," Yakiv Smolii, bank governor, told reporters Thursday. He said most sales were to Ukrainian companies. Demand from foreigners selling government hryvnia bonds was not significant. Oleg Churiy, a deputy governor, said: "There are no plans to introduce currency restrictions – we have sufficient foreign exchange reserves to smooth out currency fluctuations."
Saudi Arabia is offering radical oil price discounts in a drive "to push out" Russian oil from Europe, Bloomberg reports in a story headlined: 'Flood of $25-a-Barrel Saudi Arabian Oil Is Headed for Europe.' On Tuesday, Saudi Arabia announced that it would raise production in April by 25% over February's level. To sell the oil, state-owned Aramco offers allocations from 25% to 200% to a host of European refiners: Royal Dutch Shell Plc, BP Plc, Total SA, OMV AG, Repsol SA and Cepsa SA. To ensure fast delivery, Aramco has stocks in Rotterdam, for northwest Europe, and near Alexandria, Egypt, for the Mediterranean.
A test load of Azeri oil is traveling by Ukrainian pipeline north from Odesa, bound for Belarus, Alexander Tishchenko, Belneftekhim spokesman, tells Interfax-West. The shipment of 90,000 tons comes after Belarus and Russia tangled last month over oil prices. SOCAR, the State Oil Company of Azerbaijan, has agreed to supply 250,000 tons of oil to the Mazyr Oil Refinery in southern Belarus. From Odesa, the oil moves up Ukraine's pipeline to Brody, Ukraine, then is shunted east, on the Druzhba pipeline, to Mazyr.
Even before this week's 35% drop in the price of Brent oil, to $32.70 a barrel, Ukraine's oil import bill dropped by 11% in January-February y-o-y. In the first two months of this year, Ukraine imported $681 million worth of oil products, reports the State Customs Service. Last year, Ukraine spent $5.3 billion on oil imports, a 7% drop from 2018. Last year, the top three suppliers of oil products to Ukraine were: Russia — $262 million (38.5%); Belarus – $228.5 million (33.5%); and Lithuania – $103 million dollars (15%).
In January-February, Gazprom sent 6.5 billion cubic meters of Russian gas through Ukraine, 59% of the amount stipulated in last December's contract, reports Ukraine's new gas pipeline operator, OGTSU. However, the contract specifies that Gazprom pay transit fees on the full amount, whether or not it uses the full quota. Under the new contract, Russia is to send 65 bcm through Ukraine this year. After a mild winter, Europe has record high gas stocks and the lowest gas prices in a decade.
Two new cases of coronavirus have been reported in Ukraine, bringing the total to three, one of the lowest numbers in Europe. The two new cases are: a man in Chernivtsi, the site of the first case; and an elderly woman in Zhytomyr Oblast, immediately to the west of Kyiv.
Due to coronavirus, UIA is cancelling 2,000 flights this spring, largely to Western Europe and to Israel. In addition it is suspending service from Kyiv Boryspil to four regional capitals: Chernivtsi, Ivano-Frankivsk, Kherson and Zaporizhia. For comparison, UIA, Ukraine's flag carrier, made 58,600 flights last year. Similarly, LOT Polish Airlines is suspending flights between Warsaw and Zaporizhia.
Due to coronavirus, Ukraine's Foreign Ministry "insistently recommends Ukrainian citizens to refrain from any trips outside Ukraine." Citing the WHO's declaration of a coronavirus pandemic, the ministry said Ukrainians should be especially careful with trips to Western Europe as well as to such favored vacation destinations as Egypt, Israel, Thailand, Turkey and United Arab Emirates.
This drop in outbound tourism will cancel out an expected decrease in money transfers from Ukrainians taking short term jobs in the EU, says Dmitry Sologub, a deputy central bank governor. "We expect a slight decrease in transfers from abroad, but it will be relatively less than the effect of the fact that travel from Ukraine will now be much lower than they were," he told reporters Thursday. Ukrainians working abroad send home $1 billion a month.
With one third of last year's grain harvest waiting for export, the Ukrainian Grain Association asks the government not to close border checkpoints that will block exports. "Stopping grain exports will reduce the volume of foreign exchange earnings," the Association warns, noting that 20 million tons are to be exported over the next three months. "As you know, every third dollar of foreign exchange earnings of the country comes from agricultural exports."  The Cabinet of Ministers press service said Thursday: "About 70% of all points are planned for closing, but the final list is being specified."
In one gauge of consumer reaction to coronavirus, customers of Monobank on Wednesday nearly doubled their daily purchases at grocery stores — to $4.8 million – and increased their pharmacy purchases by 150% — to $750,000. Three years after launch, the internet-based bank has 2 million customers, largely Ukrainians aged 20-35.
The central bank plans to disinfect hryvnia currency notes by impounding cash for two weeks before releasing it again to commercial banks. The National Bank of Ukraine believe the coronavirus crisis will prompt more people to make cashless transactions. "Right now, the habit of cashless calculations can come in handy," the central bank advises. "During this period, order and pay for products and goods online. Do not visit bank branches. Choose remote services. Make utility payments using online services."
Electronic money is increasingly popular in Ukraine, the central bank reports. Last year, the number of electronic wallets increased by 18%, to 74 million. The volume of operations using electronic money increased 2.3 times, to $670 million.
Ukraine's network of point of sale card terminals increased last year by 19%, to 333,000. At the same time, the volume of card transactions grew 24%, to $145 billion. Over the last five years, cashless transactions have increased from 25% of the total to 50% today, Inga Andreieva, CEO of Mastercard Europe, told a recent conference in Kyiv.
From the Editor: What a week — Enjoy your weekend! With Best Regards, Jim Brooke jbrooke@ubn.news