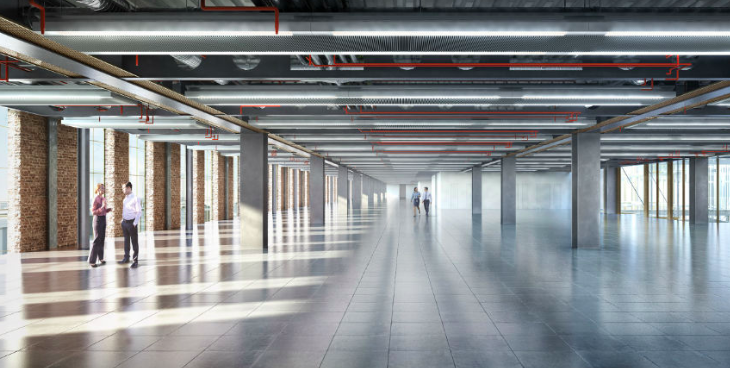 Friday, March 1
Big Real Estate Projects Announced for Kyiv…End of Ban on Illicit Enrichment Could Hit IMF Program…Ukraine Pays Extra for Nuclear Fuel from Russia…Will Kyiv Ask Yuzhnoye to Build Missiles to Fly East?...SkyUp to Move from Sikorsky to Boryspil
Israeli-Ukrainian City Capital Group plans to invest more than $50 million over the next four years to convert old industrial spaces in Kyiv into offices. "The office real estate market is coming to life," Maria Kazantseva, a CCG board member, tells Interfax-Ukraine. "All experts predict an increase in the demand in this segment. IT companies are declaring a shortage of quality space." Founded a decade ago by Israeli businessman Ofer Kerzner, CCG manages Platforma Art Factory, on the left bank, near Lisova metro station.
Degraded industrial land around the shipyard on Kyiv's Rybalski peninsula will be transformed into a residential complex, a shopping center, and offices, Sergey Tigipko, the new owner, tells Novoe Vremya magazine. "We are planning to start a large-scale construction project in the near future," Tigipko says. "Most likely, it will be a residential area – with schools, kindergartens, commercial real estate. As for the 9-hectare site near the railway station, we are planning to build a large shopping and office center." Adjacent to the Obolon commuter rail station, the peninsula also offers views of the Dnipro River. Tigipko promised to keep open the shipyard, a fabricator of assault boats for Ukraine's Navy.
Kernel, one of the nation's largest farm groups, saw its net profit jump 83% to $164 million in the last half of 2018, compared to the same period in 2017. In Kernel's fiscal year, ending next June, the company plans to process 3.1 million tons of sunflower seeds and export 6 million tons of grain. Concorde Capital's Andriy Perederey writes that the results "were higher than our estimates due to due to stronger sunflower oil segment EBITDA and better results in silo storage and farming."
President Poroshenko has proposed fresh legislation to fight corruption, a day after the Constitutional Court threw out an illicit enrichment law. The original law was passed in 2015 as a condition of receiving bailout loans from the IMF and for the EU to grant visa-free travel to Ukrainians. Although no one was ever charged under the old law, the National Anti-Corruption Bureau was investigating 65 officials on suspicion of stealing a total of $20 million.
Concorde Capital's Zenon Zawada writes: "In one fell swoop, the Constitutional Court rescued dozens of high-ranking officials from corruption investigations and possible prosecutions under a new president."
Timothy Ash writes from London: "This is a disaster in terms of future of anti-corruption effort and raises a huge question mark about future cooperation with the IMF."
Dragon Capital writes: "It is not clear if this ruling has any immediate implications for Ukraine's ongoing aid programs with the IMF and the EU, but it is obviously not passing unnoticed and, if not rectified, may at least entail stricter lending conditionality going forward."
Volodymyr Zelenskiy, the frontrunner in presidential opinion polls, tells Reuters that he would keep Ukraine in compliance with its IMF program, saying he would not allow Ukraine "to default and spoil the image of our country." Asked if he would return PrivatBank to Ihor Kolomoisky, owner of the TV channel that has hosted his comedy shows for the last decade, Zelenskiy responded: "Am I that crazy? Do I want to lose my life, reputation?"
Ukraine imported from Russia 61% percent of its nuclear power plant fuel last year — and only 39% from Westinghouse's plant in Sweden. Given that half Ukraine's electricity comes from nuclear power plants, critics call continued reliance on nuclear fuel from Russia a major national security risk. One year ago, Igor Nasalyk, Ukraine's Minister of Energy and Coal Industry, promised that Russian fuel imports would fall in 2018 to 45% of Ukraine's needs. Instead, the year end figures were: Russia — 335.2 tons of fuel for $374 million; Sweden – 211 tons of fuel for $148.5 million. Critics find it curious that Ukraine paid 59% more per ton for fuel from Russia than from Sweden. Last November, Westinghouse repeated its offer to supply 100% of Ukraine's needs.
The expected end on July 1 of the Intermediate-Range Nuclear Forces Treaty could prompt Kyiv to task the Yuzhnoye Design Bureau with making conventional warhead missiles capable of hitting military targets in Russia, Mariana Budjeryn, a disarmament expert, writes in a speculative piece in The Washington Post headlined: "Without the INF Treaty, Europe could see a new missile power. (Spoiler: It's not Russia.)" Referring to Dnipro as "Ukraine's missile capital," she writes: "The Yuzhnoye facility, which survives by engaging in international space projects, would probably be more than willing to resume its missile-related work." During the Soviet era, Yuzhnoye was a key designer and producer of ICBMs, intercontinental ballistic missiles that ultimately were aimed at the United States.
SkyUp Airlines, preparing for a major expansion this spring, will move its base on March 31 from Kyiv Sikorsky to Kyiv Boryspil. The Ukrainian discount airline will join Ryanair at Boryspil's newly reopened Terminal F.  Evgeny Khaynatsky, the airline CEO, said Kyiv Sikorsky "works with our heavy aircraft at the limit of its capabilities." SkyUp's all-Boeing 737 fleet is double over the next five years to 12. Between April 24 and June 15, SkyUp plans to launch 17 new destinations, for scheduled and charter service.
Boryspil has two runways – one 3,500 meters long, and the other 4,000 meters. Sikorsky has one 2,310 meter long runway. Surrounded by apartment buildings in the Zhuliany neighborhood, the airport has no for expansion. Last fall, flydubai moved from Sikorsky to Boryspil. Wizz has talked with Boryspil officials about moving from Sikorsky.
Motor Sich, Ukraine's all-Antonov airline, expands its flight network this spring. On March 15, it starts flights between Kyiv and Uzhgorod. On March 31, it increases to daily its flight frequencies between its Zaporizhia base and Minsk. On June 6, it starts flights between Zaporozhia and Burgas, Bulgaria's Black Sea resort city. Ukraine's fifth largest minority, 200,000 Bulgarians live in southern Ukraine, largely in Odesa and Zaporizhia. Bulgaria Air flies from Odesa to Sofia.
Concrete paving of Odesa's 2,800-meter new runway restarts in two weeks, weather permitting, reports the contractor, Highway-South. Work should be completed by this fall. Replacement of the Soviet-era concrete block landing strip is a key condition for Ryanair, Wizz Air, and other discount airlines to fly to Odesa.