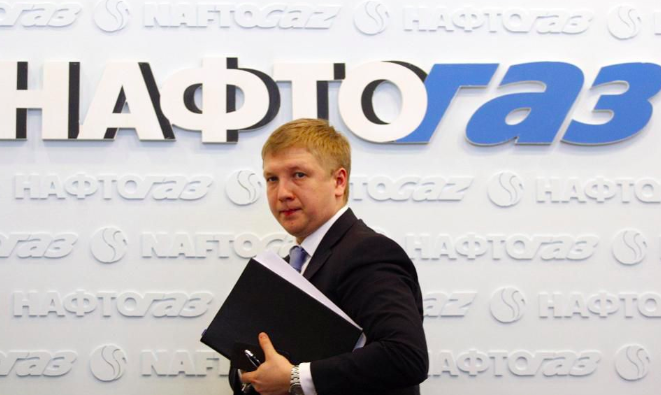 Friday, June7
Naftogaz Needs $1 Billion for Winter Gas War with Russia...'Massive' US LNG Will Compete with Russian Pipeline Gas in Europe...Work Starts on First LNG Terminal For Adriatic...Game Changer: ExxonMobil Pumping Gas from Romania's Black Sea Fields...Prime Interest Unchanged
As Russia and Ukraine brace for a winter gas war, Naftogaz needs $1 billion to fill reservoirs to the needed level this summer. Russia's Gazprom has filled European reservoirs with 60% more gas than normal for this season, Andriy Kobolyev, the Naftogaz CEO, warns in a Facebook post. Russia's push to stockpile in the EU is also evidenced by a 8% y-o-y rise in Russian gas volumes crossing Ukraine since January. In May, this gas transit was up 16.4%, Ukrtransgaz reports Thursday. Russia threatens to abandon its 10-year transit contract with Ukraine when it expires Jan. 1.
"If liquidity will not be resolved in the coming weeks – it will be impossible to purchase sufficient volumes of gas," Kobolyev writes. Needed money can be obtained: by postponing Naftogaz dividend payments this month, by getting payment on $2.3 billion in debts owed by regional operators; or by getting Cabinet of Ministers approval to place a Eurobond. He writes: "When we need money to buy gas for the winter, this is an extraordinary challenge for us. We have to choose: dividends now — or protection from the crisis."
 US LNG reserves are 'massive' and will compete for head to head in Europe with Russian pipeline gas, US Energy Secretary Rick Perry vowed Wednesday at a business conference in Slovenia. "This idea that somehow…LNG can't compete with pipelined gas is just false," said Perry, a former governor of Texas. "The U.S. supply, the U.S. reserves of natural gas are massive…the pressure downward on the price of LNG is going to continue."
Perry, who represented the Trump Administration at the May 20 presidential inauguration of Volodymyr Zelenskiy, told the gathering in Ljubljana: "For us not to support Ukraine in every reasonable, feasible way that we can is an irresponsible act…We are not going to allow anyone to coerce another country, particularly using energy as a weapon. It will not stand."
Hungary's Foreign Minister Péter Szíjjártó said limited pipeline connections block access to alternative gas sources. "We have very nice plans on the tables, we have very nice promises…about energy ports to be built in the region, but heating flats and operating an economy cannot be based on only promises," added Szíjjártó, who signed a deal in Moscow this spring guaranteeing Russian gas supplies if Gazprom stops sending gas across Ukraine on Jan. 1.
Two hours south of Ljubljana, work has started on a €235 million floating LNG regasification terminal on Croatia's Krk island, in the northern Adriatic. Planned to handle 2 billion cubic meters a year, the project is financed with a €102 million grant from the EU's Connecting Europe Facility, €100 million from the Croatian government, and €32.6 million from Croatian energy companies. Hungarian companies are interested in buying partial ownership. Due for commissioning in 2021, the Hrvatska LNG Terminal would bring American and Persian Gulf gas to Central Europe for the first time.
Romania's Black Sea gas reserves could challenge Gazprom's dominant supplier status in role Central and Eastern Europe, according to a report by consultancy Deloitte. The Neptun Deep project is designed to tap into a field holding up to 84 billion cubic meters of gas, earning Romania's government $26 billion over the next two decades. This production could eventually supply Ukraine.
Exxon Mobil Corp. and Austria's OMV Petrom SA, have put on hold a decision to develop the field. Exxon spokeswoman Julie King tells Reuters a decision depends on "a liberalized Romanian gas market that enables free trade, and sufficient interconnectivity with neighboring free and liquid markets." Hungary's Szijjarto told Reuters last month in Houston, where he opened a consular office: "Exxon Mobil can be the game changer in the energy supply of Europe. But they should finally make their final investment decision."
The dominance of Ukrainian state companies in tender bids for nine oil and gas production sharing agreements is "a major concern," says the US-Ukraine Business Council. Noting that state-owned UkrGazVydobuvannya participated in nine of the 22 bids, the USUBC writes: "A major concern has been expressed by many energy experts about state-owned companies like UGV, being allowed to bid in a program designed to attract private international and domestic investors…State-owned companies do not need any additional privileges and incentives."
Through May, natural gas production in Ukraine rose by 3.4% compared to the same five-month period last year, Ukrtransgaz reports. UGV lagged behind private companies, registering a 2.3% increase. UGV accounted for 73% of the 8.9 bcm produced.
The surge of foreign buying of government hryvnia bonds does not threaten to Ukraine's finances, Yakiv Smoliy, governor of the National Bank of Ukraine, told reporters Thursday. "Since the beginning of the year, the inflow of foreign funds from foreign investors in comparison with the previous year has increased by almost seven times, and has reached about 40 billion UAH," the central bank head said, citing the equivalent of $1.5 billion. "This portfolio is diversified in terms of time, and we do not see the simultaneous outflow of foreign investors from this portfolio…we do not see risks."
Ukraine's central bank kept its main interest rate unchanged at 17.5% on Thursday, citing the need to contain inflation risks that increased since the bank cut the rate in April. Pushing the National Bank of Ukraine to the side of caution were diesel fuel price hikes caused by Russia's June export cuts and the understanding that an IMF second tranche would only come in the fall, after talks with a new government.
'Green bonds' could allow Ukraine to raise $73 billion in the 2020s, Andriy Frolov, deputy head of the Energy Efficiency Reform Office, told reporters Thursday, citing an International Finance Company estimate. Accompanied by Jean-Erik de Zagon, European Investment Bank representation for Ukraine, Frolov said draft regulations under review by the Cabinet of Ministers envisage launching Ukraine 'green bonds' as early as next year.
If Brexit happens, Britain and Ukraine should be able to negotiate a liberal bilateral Free Trade Agreement that should increase Ukraine's farm exports to Britain, Sir Malcolm Rifkind, a leading Conservative Party politician, said on a visit to Kyiv this week. Ukraine is Europe's largest food exporter. Britain, with a population of 66 million, is Europe's largest food importer. Standing in between are France and Germany, countries with protectionist agricultural policies.
Effective today, Yanair's operating certificate is suspended for safety reasons, Ukraine's Aviation Administration reports. With five Boeings and four Airbus, Yanair had regular and chartered flights from its Kyiv Sikorsky base to Odesa, Israel, Poland, Armenia, and Georgia.
In the latest EU-Ukraine rail link, Ukrzaliznytsia and Slovak Railways Company start Sunday a daily train between Košice, Slovakia, and Mukachevo, Zakarpattia region. Slovak trains will run on the cross border European gauge track, originally laid during the Austro-Hungarian empire. The four-hour train will cost €7.5 and will stop in Chop (Ukraine) and Čierna nad Tisou (Slovakia).