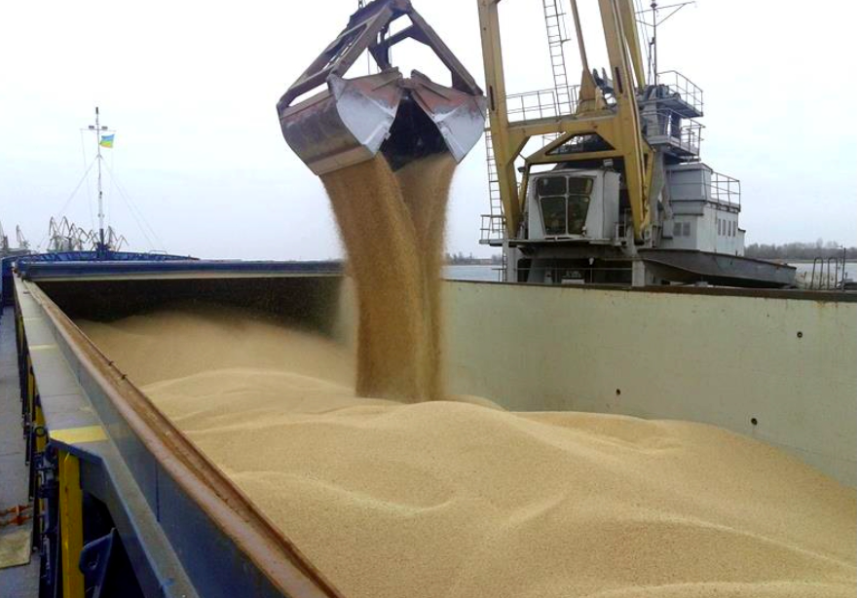 Friday, June 5
EU-Ukraine Integration: Big Jumps in Food Exports, Gas Storage, and Migrant Labor...China to Supply Trains for Kharkiv Metro...Reuters Consensus: Interest Rate Cut Next Week...Tourism Boosters: Flights Resume Today; Zelenskiy Proposes Visa Free for Chinese, 'Arabs,' Aussies, and Kiwis...
Ukraine had the biggest jump in food exports to the EU of any country in the 12 months ending in January, reports the European Commission.  Ukraine's exports increased 21% y-o-y, adding €1.2 billion. During that one year period, Ukraine was the third largest supplier of food to the EU, selling €6.8 billion, accounting for 6% of the EU's food imports. The top two were: Brazil, supplying €10.7 billion, or 9%; and the US supplying €10.1 billion, or 8%.
Foreign traders have tripled their volumes of natural gas stored y-o-y in western Ukraine's 'Customs Warehouse' reservoirs reports Uktransgaz, the pipeline unit of Naftogaz. Increasingly comfortable with the 2-year-old low duty regime, foreign traders now have about one third of their 2 billion cubic meters in the system as 'short haul transportation.'
 "We are confident that this trend will continue in the coming months," says Serhiy Oleksienko, Ukrtrangaz general director. "The level of filling of European gas storage facilities is rapidly approaching the maximum…in Austria today it is almost 85%, Germany – 84%, Italy – 68%. In Ukraine, this figure is 58%."
The flow of Ukrainian workers back into Poland rose to 94,000, nearly triple the 34,000 recorded in April by Poland's border guards, reports the Warsaw daily Rzeczpospolita. Krzysztof Inglot, head of the Personnel Service employment agency, estimates that as many as 400,000 Ukrainians left Poland in March, when the coronavirus threat first loomed. On Monday, Polish ambassador Bartosz Cichocki agreed in Kyiv with Ukraine's Deputy Foreign Minister Vasyl Bodnar to simplify procedures for Ukrainians to obtain work permits and to cross the border.
Ukrainians working in Poland earn about $5 an hour, four times the pay in Ukraine, writes the Warsaw Business Journal, drawing on figures from Personnel Service. Until the coronavirus recession hit, Ukrainian wages were growing by 20% a year and one quarter of Polish employers "declared that they would be willing to pay a Ukrainian employee more than a Pole, just to attract staff from the East." Inglot of Personnel Service says that although "the staff deficit has ceased to be as severe as until recently…the Ukrainians who stayed in our country do not have to worry about the salary."
"A new exodus is already gathering momentum," Lesia Dubenko writes in an Atlantic Council essay about Ukrainian workers spurning low interest loans and public works programs unveiled this spring to encourage them to stay in Ukraine. Dubenko, an analyst the Kyiv NGO Europe without Barriers, writes: "The vast majority of Ukraine's multi-million strong migrant labor workforce would rather return to the EU."  Noting Germany is recruiting guest workers from Eastern Europe, she writes that Kyiv must "tempt them to build their futures in Ukraine, without resorting to Soviet-style restrictions."
As a Russian pipelaying ship prepares this summer to finish the final 100 km of the Nord Stream 2 gas line in the Baltic, a bipartisan group of US senators plans to introduce legislation that places sanctions on companies that insure the Russia-Germany project, Bloomberg reports from Washington. Senator Jeanne Shaheen, Democrat from New Hampshire, said the pipeline "threatens Ukraine, Europe's energy independence and gives Russia an opening to exploit our allies."
China's CRRC Tangshan Co. has won a contract to manufacture eight, 5-coach trains for Kharkiv's expanding Metro system, reports Xinhua. The company has exported train coaches to Kazakhstan, Mongolia and Turkmenistan. Another branch of China Railway Construction Corporation, CRRC Zhuzhou Locomotive Co, is expected to bid this year on tender to provide Ukzalysnytsia with electric locomotives. The company's BKG1 electric locomotives have been operated on Belarusian railways since 2012.
Ukraine's economy probably contracted by 5% Jan-April, compared to the first four months of last year, estimates the Economic Development and Trade Ministry. The new state budget, revised at the start of the lockdown, is based on a 3.9% contraction for the year. Yesterday, Prime Minister Shmygal presented in the Rada a plan designed to stimulate a V-shaped recovery in the second half of this year.
Details of Ukraine's agreement with the IMF are still under discussion, prior to an IMF Board meeting on Tuesday. Gerry Rice, IMF spokesman, said in Washington yesterday: "The agreement on the Standby Agreement is the subject of discussions and should be approved by the Executive Council."
With IMF approval of the $5 billion deal expected Tuesday, the National Bank of Ukraine is expected to cut the nation's key interest rate Thursday. Of 15 Ukrainian analysts, polled by Reuters, six expect the rate to be cut from today's 8% to 7.0%; five expect 7.5%; and four 6.5%. Oleksiy Blinov from Alfa-Bank Ukraine predicts a cut to 6.5%, citing "the favorable situation on the foreign exchange market and the need to stimulate economic recovery after the removal of quarantine restrictions." The consensus forecast for May inflation, is 1.9% y-o-y, down from 2.1% in April.
State-owned Ukrgasbank is launching a home mortgage program in Kharkiv, offering loans at 8.8% per annum. With the Kharkiv city budget covering most of this interest, the real annual rate to borrowers will be 0.8%. These subsidized loans are only available for purchases of apartments from a local developer, Trest Zhilstroy-1.
Turkish Airlines restarts flights between Istanbul and Kyiv Boryspil on June 15. On June 24, SkyUp starts flights from Borsypil to Tirana, Albania and to four Italian cities: Bologna, Milan Bergamo, Rome Fiumincino, and Lamezia Terme in Calabria. Domestic travel starts today from Boryspil, with UIA flying to Odesa and Windrose flying to Dnipro.
From Kyiv Sikorsky, Belavia, LOT, WizzAir and Motor Sich plan to re-start international flights on June 16. With virtually no revenue during the 3-month lockdown, the airports managers recorded a video addressed to the nation's leadership asking that uniform landing fees be set for the entire nation. Alluding to their rival, Boryspil, Sikorsky managers argue that a big airport can impoverish smaller airports by artificially – and temporarily — cutting landing fees.
To boost international tourism, President Zelenskiy suggests abolishing tourist visas for Australia, New Zealand, China and 'Arab countries.' Speaking against the backdrop of the medieval Kamianets-Podilskyi Castle, Zelenskiy said yesterday: "We need to liberalize the visa policy." Tour operators who met with the President said the average foreign tourist spends $120-150 per day in Ukraine.
On the Move:
Former Finance Minister Oksana Markarova is returning to business. On Tuesday, she registered a startup, Arshidata. Markarova writes on her Facebook page: "With a team with extensive experience in reform and working with global investors, we will work on stock market development through the Capital Market Development Foundation registered yesterday. Markarova worked for five years at the Finance Ministry, stepping down as Minister three months ago.
From the Editor: Monday is a holiday in Ukraine – Whit Monday, part of Orthodox Pentecost celebrations. The Ukraine Business News will appear in your email inbox. But if you call Kyiv, the phone may just ring. With Best Regards Jim Brooke jbrooke@ubn.news