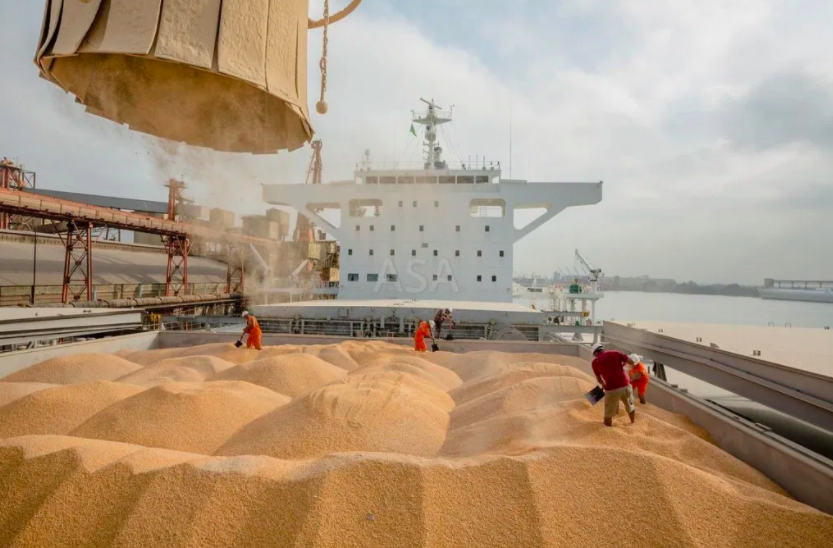 Friday, June 26
Bye-bye Brazil: Ukraine Now is Second Only to US in Grain Exports...May Rains, June Heat Make for Record Corn Crop...Road and Rail Links Reopen to Carpathians...UIA Plans Flights This Summer to 25 Foreign Cities...Buses Re-Start to Poland, Germany...1,000 Speed Cameras on the Horizon...
In the grain marketing year that ends Tuesday, Ukraine will have earned $9.6 billion in grain sales, second only to the US, Nikolai Gorbachev, head of the Ukrainian Grain Association, told reporters yesterday.  "We already left behind such large countries as Russia, Argentina, Brazil," he said. Comparable numbers are:  Argentina – $9.3 billion; and Russia – $7.9 billion.
Looking ahead, he said: "The main promising market for Ukraine will be Asia, especially China and Indonesia. A new generation is growing up there, which consumes less rice, but more wheat. In addition, there is a positive demographic situation." In 2018, Ukraine displaced the US as the top supplier of corn to China.
This year, Ukraine will have a record corn harvest and its second largest wheat harvest in history, predicts the Grain Association. Closing in on the symbolic goal of a 100-million-ton harvest, this year's harvest is to hit 97 million tons. Of this, 61% — or 59 million tons – will be exported to world markets.
The corn harvest is to hit 37 million tons, with 84% or 31 million tons, going out the Black Sea ports to feed the world. Similarly, Ukraine should have a strong wheat harvest – 27 million tons, compared to 28 million tons last year. This year, 18 million tons, or two thirds, will go out the door as exports.
The strong harvests come after a dry winter caused worries about drought. With harvests starting, the Grain Association reports: "The May rains corrected the spring drought and significantly improved soil moisture for both winter and spring crops, and the hot June weather promotes growth and grain ripening."
Most Ukrainian spring crops are in good or satisfactory condition thanks to return of warm weather in most of the country, APK-Inform agriculture consultancy reported Wednesday, citing weather forecasters. Drought only affected parts of southern Ukraine, a region where harvesting of winter barley started two weeks ago. Similarly, UkrAgroConsult reports that June's hot weather mixed with rains favorably affected the quality and quantity of crops ripening in the fields – barley, wheat, corn and sunflowers.
Due to good weather, the government's forecast of a 68-million ton grain harvest may be revised upwards, says Economy Minister Igor Petrashko. Other official forecasts are: Oilseeds – sunflower, soybean and canola – 20 million tons; Potatoes – 20 million tons; Sugar beets – 9 million tons; and Vegetables – 9 million tons.
Low productivity sets the stage for growth in the 2020s. Ukraine's average wheat yield is four tons per hectare – half of France's yield of eight tons per hectare. For corn, Ukraine's average yield is seven tons per hectare, well below the 12 tons per hectare recorded in the US state of Iowa. Ukraine's aging population means that consumption will not rise. "The United States grows 350 million tons of corn and exports more than 50 million tons," said Gorbachov. "Ukraine, this year, produced 35 million tons of corn and exported 30 million tons."
With the return of rail service this morning to the Ivano-Frankivsk mountain resort town of Yaremche, trains now run on key lines in the Carpathians. By last night, road access was largely restored in the region. On Wednesday morning, following 48 hours of heavy rain, the numbers of flooded settlements were: 161 in Ivano-Frankivsk;  15 in Chernivtsi; and eight in Lviv. The government will spend $25 million on flood repairs, Prime Minister Shmygal wrote yesterday on Facebook.
As Carpathian floodwaters move down the Dnestr River basin to the Black Sea, Emergency Situations authorities will close this morning the Odesa-Romania road from Mayaky, a left bank Dnestr town, to Palanca, Moldova, on the right bank. Adventure seekers are advised not to 'recreate' on the banks of the Dnestr.
UIA will fly this summer from Kyiv Boryspil to 25 foreign cities: Amsterdam, Athens, Baku, Barcelona, Batumi, Berlin, Chisinau, Dubai, Frankfurt, Istanbul, , Lanarca, London, Madrid, Milan, Munich, Naples, Nice, Paris, Prague, Rome, Tbilisi, Tel Aviv, Toronto, Vienna and Yerevan. UIA will also fly from Odesa to Istanbul and Tel Aviv. Domestic flights will be carried out from Kyiv to Kherson,  Lviv, and Odesa. UIA made no mention of restoring flights to New York.
Travelers arriving in Ukraine will no longer have to self-isolate for two weeks if they take PCR test for coronavirus after arrival and get a negative result, the Cabinet decided yesterday. UIA has set up a coronavirus test laboratory at Boryspil.
Germany's Flixbus yesterday re-started bus service from Kyiv to Krakow, Budapest, Vienna and 10 German cities. Buses from Odesa to Prague start next Friday. On Monday, competitor Ecolines started buses from Kyiv to Wroclaw, Poland. Passengers must wear masks throughout the journeys.
On Monday, Hungary opens all its road checkpoints with Ukraine, Peter Szijjarto, Hungary's Foreign Minister, said yesterday at a press conference in Kyiv. While Hungarians can enter Ukraine without restrictions, Ukrainians face travel restrictions inside Hungary.
Police plan to increase the number of speed cameras 20-fold, from 50 today to 1,000 in 2022. The system can handle 6,000 cameras, spelling the end to carefree speeding in Ukraine, Anton Gerashchenko, deputy internal affairs minister, tells Biz.Liga. The government wants to increase speeding fines 7-fold, to $130. Gerashchenko wants Ukraine to follow the lead of Finland and Switzerland, where fines are calculated as a percentage of the driver's income.
Starting Wednesday, police plan to crack down on running red lights and driving in bus lanes. Also starting July 1, Ukrainians will be criminal liable for drunk driving. Penalties will range from $640 to $1,280 and loss of license for three years.
Work is progressing on rebuilding the 505 km Kyiv-Odesa M-05 highway, Oleksandr Kubrakov, head of Ukravtodor, said Wednesday at the inauguration of a 25 km rebuilt section on the Kyiv-Cherkasy border. Next month, work is to start on the 40 km section south of Bila Tserkva. By the end of next year, three quarters of the highway to be re-built, eliminating left hand turns, adding two interchanges, building modern rest areas and installing Weight-in-Motion machines to catch overweight grain trucks. Part of the work is being financed by the EBRD and the European Investment Bank.
From the Editor: Heard on the street. Olena Bilan, Dragon Capital's chief economist said last week at an M&A conference: "Our agricultural exports now account for 40% of total exports. In 2008-2009, it was only 12%. That strongly supports the inflow of foreign exchange earnings." With Best Regards Jim Brooke jbrooke@ubn.news