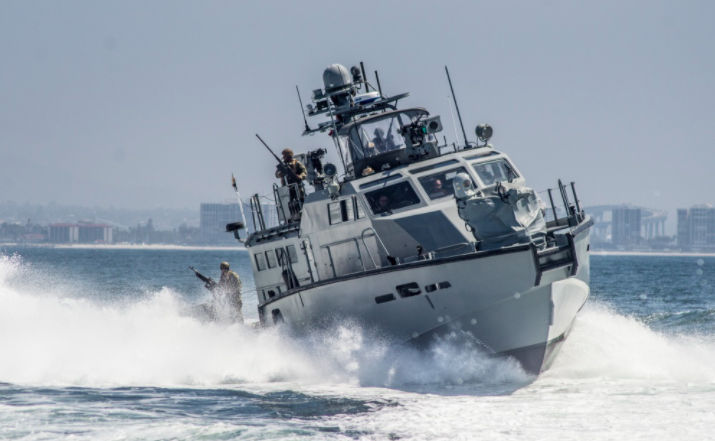 The U.S. State Department has cleared the sale to Ukraine of 16 Mark VI patrol boats and other gear worth $600 million, it was announced Wednesday. "The sale weapons, sensors and communications gear to deter Russia from muscling Ukraine in the contested Kerch Strait and key ports along the Azov Sea," Defense News reports from Washington. The boats are designed to help Ukraine patrol its coastal waters and exclusive economic zones in the Black and Azov Seas.
The State Department's Foreign Military Financing program will help finance the purchase. The sale would include: 32 MSI Seahawk A2 gun systems; 20 electro-optic/infrared radar, or FLIR systems; 16 Long Range Acoustic Device 5-kilometer range loudspeaker systems; 16 identification, friend or foe systems; 40 MK44 30mm cannons; and unspecified communications and support equipment. The approval comes after U.S. Embassy in Kyiv announced the delivery to Ukraine on Tuesday of $60 million in military aid — Javelin anti-tank missiles, radios and ammunition.
Last week, the US Congress voted to approve a Trump Administration proposal to send $250 million in military aid to Ukraine.  The Military Times quoted a former US military official familiar with Ukraine saying the aid "tells the Russians that they can't go to Kyiv and create a vassal state or change the geography of Europe again."
Russia has reduced harassment of ships bound for Mariupol, Ukraine's main port on the Azov. In the first five months of this year, cargo handled by this Donetsk region port increased by 23% yoy, more than double the national average. Benefitting from dredging and construction of new grain silos, Mariupol handled 2.7 million tons from January to May, ranking it as Ukraine's fifth busiest port.
President Zelenskiy says Ukraine wants full membership in the EU. "Eastern Partnership shouldn't limit the ambitions of its partners," he tweeted before the video mode summit meeting of heads of EU nations and Eastern Partnership states. Arguing that a common market is not enough, he wrote: "Ukraine seeks full membership in the EU."
Ukraine's parliament rejected Prime Minister Shmyhal's governing program in a vote yesterday that strips him of 1-year immunity from being fired. Reflecting President Zelenskiy's eroding control over his party, the confidence vote was not supported 72 of his deputies — 29% of Servant of the People bloc. The 27-member European Solidarity group, which could have provided the winning margin, voted against. Their leader, former President Poroshenko, missed the vote because he was in court facing a corruption charge. Western diplomats call the case 'political harassment.'
On Monday, health authorities may re-impose strict quarantine measures in regions where the coronavirus is spreading at high rates, Ukraine's Chief Medical Officer Viktor Liashko told reporters yesterday. Thursday's numbers showed infections growing fastest in three western regions: Lviv – 171; Zakarpattia –74; and Rivne -73. Liashko said daily hospitalizations have nearly doubled, to 190 Wednesday. About 3% of interned patients die.
Nationwide, a record 829 new cases of infection were detected, according to yesterday morning's daily bulletin. During that 24-hour period, 23 people died, raising the cumulative death toll since March 13 to 966, Health Minister Maksym Stepanov reported. During that period, a record 21,204 tests were performed. Lyashko said the surge in infection does not reflect increased testing, but spreading disregard for government restrictions. He warns that continued disobedience to health rules could cost Ukraine 7,000 lives in the second half of this year.
Traveling on Kyiv's metro without a face mask runs the risk of incurring a $634 fine – the equivalent of three years of subway tokens for the average commuter. The stiff fine comes as officials tighten sanitary controls in mass transit.
The Rada overwhelmingly approved – by a 105-vote margin – a bill to divert money from a coronavirus fund to pave roads. Two months ago, the parliament approved a $2.4 billion fund to fight the virus. Yesterday's bill amends the fund language to use new measures "to overcome the consequences of the pandemic, such as improving transport links, building, reconstruction and repair of public roads of national importance."
The EBRD is preparing to loan €50 million for repairing and repaving a 400 km north-south road, from Kotovka, Dnipropetrovsk to Melitopol, Zaporizhia. A preliminary agreement was signed by EBRD deputy director in Ukraine Mark Magaletsky and Dnipropetrovsk region head Alexander Bondarenko, EBRD spokesman Anton Usov writes on Facebook.
By mid-summer, Ukravtodor plans to complete repaving of the 120 km north-south road connecting Vasylivka, a Dnipro River port, with Berdyansk, the Sea of Azov resort. This roadwork will allow residents of Zaporizhia to make the 200 km drive to the beach in three hours.
Ecolines resumed bus service yesterday from Kyiv to Warsaw and Szczecin, Poland. Earlier, the company's Autolux unit resumed domestic bus service from Kyiv to Odesa, Kharkiv, Kherson, Kropyvnytskyi, Poltava and Zaporizhia. On July 2, LOT Polish resumes flights between Kyiv Boryspil and Warsaw Chopin.
Wizz Air now flies regularly scheduled flights from Kyiv Sikorsky to 15 cities in six European countries. They are: London Luton, Athens, Budapest, Tallinn, Copenhagen and Billund in Denmark, and nine cities in Germany — Berlin Schönefeld, Bremen, Cologne, Dortmund, Hamburg, Hanover, Leipzig, Memmingen, and Nuremberg.
Opening a base in Dortmund, Wizz Air starts flights from Dortmund to Kharkiv on July 4 and to Zaporizhia on Aug. 2. On Aug. 3, Wizz Air starts flights from Dortmund to the northeast Romanian city of Suceava, 90 km from Ukraine's Chernivtsi. Germany is fast becoming a destination for Ukrainian and Romanian seasonal workers.
Five months after the shootdown of the UIA passenger jet over Tehran, Iran says it will send the black boxes to Ukraine, Iran's Minister of Roads and Urban Development, Mohammad Eslami tells  Tasnim, a news agency close to the Islamic Revolutionary Guard Corps. The UIA flight was shot down Jan. 8 by an Iranian ground-to-air missile, killing 176 people in what Tehran later termed a "disastrous mistake" at a time of tensions with the US. Eslami said reading of the boxes will take place in coordination with the United Nations' International Civil Aviation Organization, Reuters reports.
From the Editor: It's amazing how approaching elections can focus a politician's attention on what people want. One year ago, President Trump was ignoring the will of the Congress and trying to use military aid to Ukraine for his personal gain. Now, with bipartisan support for Ukraine still rock solid, he is shoveling almost $1 billion in military into the Kyiv pipeline. Hopefully, in the future, White House support for Ukraine will not be so erratic. With Best Regards Jim Brooke jbrooke@ubn.news