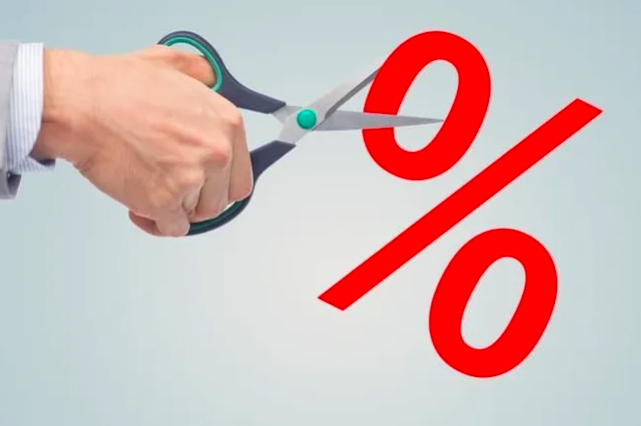 To kickstart Ukraine's economic recovery, the central bank cut the prime rate by an unexpected 2 percentage points, to 6%, the lowest level since Ukraine won independence from the Soviet Union in 1991. It was the ninth straight cut in 14 months, a series that started in April of last year when the prime rate was 18%. Effective today, the new rate is below the 7% target rate the National Bank of Ukraine had set for the end of this year.
Following a 2-point cut in late April, the bank clearly moved in reaction to the severe second quarter downturn triggered by the national lockdown to combat coronavirus. "With high probability, consumer and investment demand will remain depressed longer than predicted," said Yakiv Smoliy, central bank governor. "The fall of the Ukrainian economy may be deeper than expected… decisive enough steps are needed to quickly return the economy to growth."
The interest rate cut comes as the IMF gives a bearish view on Ukraine's economy, predicting an 8.2% drop this year and full recovery only by 2024. "Output isn't expected to reach its pre-crisis levels until 2023–24," the IMF said in a lengthy report accompanying IMF Board approval of a $5 billion, 18-month Stand-By Arrangement with Ukraine. "Reforms increasingly faced resistance from vested interests, and court rulings undermined reform progress, especially in tackling corruption and financial-sector reforms…As a result, investment, and notably foreign direct investment, continued to be held back by a difficult business environment, and growth was too low to noticeably close the income gap with Ukraine's peers."
The IMF deal comes with conditions: retaining foreign exchange rate flexibility, linking household gas prices to regional prices after August, passing legislation to establish the ultimate beneficiary owners of land, and keeping to this year's inflation target of 5%. Last month, prices were up 1.7% yoy.
The government expects Ukraine's economic rebound to start next month. "All these macro-forecasts roughly coincide: starting from the third quarter, we expect economic growth in Ukraine," Prime Minister Shmyhal told reporters yesterday. "There are businesses that have suffered, but there are also businesses and manufacturers who are quite optimistic." Promising an increase in government purchases and maintenance of the $4 billion road construction program, he said: "Warming up the economy is one of the main tasks of the government for the current year."
"Big" privatizations, over $10 million, will be only a handful this year, the Prime Minister predicts. However, he says 300 small and medium state companies will be sold this year. Dmytro Sennychenko, head of the State Property Fund, tells the European Business Association that 1,000 state-owned enterprises are to be sold in coming years, and another 1,178 will be liquidated.
Next month, Kyiv's iconic Dnipro Hotel will be put up for auction, Sennychenko says. The state-owned hotel on European Square has 186 rooms, restaurants and several conference halls. The starting auction price is $10 million.
Ukrposhta plans to sell its Stalin-era landmark headquarters on Khreschatyk Street, Kyiv's main street. Igor Smelyansky, CEO of the state postal company, believes the building would sell for $37 million. Modernizing the building would cost $3.5 million, he says in a TV interview. Ukrposhta plans to sell the main sorting center near the Kyiv central railway station, and with the proceeds to build a new sorting center outside of Kyiv. Two weeks ago, Ukrposhta held seven auctions on Prozorro.Sales, selling non-core real estate for a total of $3.4 million.
Turkey opens to tourists from Ukraine July 1, Ilker Adıgüzel, general director of Anex Tour, said citing a telephone agreement between the foreign ministers of the two Black Sea nations. On July 1, Anex Tour resumes daily direct charter flights to Antaly and Bodrum, operated by Azur Air Ukraine. He said that Turkey has "implemented all the necessary safety measures for tourists and tourism in general."
The EU plans a gradual opening of its external borders starting July 1, giving priority to countries with coronavirus infection rates lower than the EU's, Interfax-Ukraine says, citing Ylva Johansson, a European Commissioner for Home Affairs. "From July 1, we will begin to gradually open borders with some countries," she said. Referring to travel inside the EU, she added: "We are proposing countries to remove restrictions on internal borders from Monday."
This policy forces postponement of all Kyiv-Boryspil-EU flights scheduled for June: KLM to Amsterdam on Monday, Austrian Airlines to Vienna on June 22, and Czech Airlines to Prague on June 22. Ryanair is selling tickets from Ukraine to 18 EU cities, starting July 1. Ryanair flies from Kyiv Boryspil, Kharkiv, Lviv and Odesa.
In the three years since the visa-free regime started, on June 11, 2017, Ukrainians have made almost 50 million trips to the EU, reports Ukraine's State Border Service. With the explosion in discount air links, air became the most popular form of travel. Travel to the EU grew by 6.5% yoy, to 18.65 million. During the first two months of this year, travel was up 30%, to 3 million. Last year, nearly 1 million Ukrainians traveled to the EU by rail, with Ukrzaliznytsia maintaining 20 trains into the EU.
Ukrainian workers and students are waiting 7-9 nine hours to cross the only pedestrian crossing into Poland, at the Medyka crossing, 80 km west of Lviv city, Radio Free Europe reports from the crossing. With up to 3,000 people walking across the border daily, many say they lost their jobs due to the coronavirus lockdown. Increasing numbers are from central and eastern Ukraine, RFE reports.
Poland will have the lowest economic drop in the EU due to coronavirus this year, Poland's Prime Minister Mateusz Morawiecki, predicts to TV Wschod. Morawiecki, an economist, said: "Data from the European Commission and the EBRD show that Poland will suffer the least in Europe and will have the least drop in GDP from all EU countries, including the United Kingdom, Norway and Switzerland." In May, Poland's unemployment rate increased by 0.2% to 6%. The Prime Minister said he hopes Poland's contraction this year will not be worse than 4.5%. In 2008-2009, Poland was the only major economy in Europe that that did not contract.
During the height of the lockdown the number of trucks crossing the Lviv region section of the Poland-Ukraine border dropped by one quarter, Edita Khabowska, spokeswoman for the Polish Customs Service in Podkarpackie Voivodeship, tells Ukrinform. Between March 15 and May 15, the number of trucks fell to 42,000.
Lockdown Freight Flows: Rail Containers up, River Cargo down. During the first five months of this year, Ukrzalynistia carried 16% more containers than during January-May last year. Trains moved 185,000 containers, reports Magistral, the state railroad's inhouse news site. During the same period, river freight was down 14% yoy, to 2.7 million tons, reports the River Information Service, a unit of the Ukrainian Sea Ports Authority. Last year, the river carried 11.8 million tons of freight, up 19% over 2018.
During the first 10 days of speed cameras on Kyiv's streets and highways, the number daily violators has dropped in half. Speeders paid 7,399 fines, bringing $54,000 to the Treasury, reports Internal Affairs Minister Arsen Avakov.
Kyiv-Uzhgorod, once Ukraine's longest domestic flight from the capital, may resume after a Slovakia-Ukraine agreement is signed next month, Infrastructure Minister Vladyslav Krykliy writes on Telegram. Due to the airport's location on Slovakia's eastern border, all takeoff and landings have to be coordinated with Slovakia, an EU member state. Two years ago, Uzhgorod airport was certified by European Union Aviation Safety Agency.
From the Editor: For the fifth time in five years, Ukrainian authorities say the issue of use of Slovakia's airspace by planes using Uzhgorod airport will be 'solved' – probably too late for this summer of domestic tourism. The fence at the western end of Uzhgorod's runway doubles as Ukraine's international border with Slovakia. Ukraine's Infrastructure Krikliy – and his processor Volodymyr Omelyan – have a better idea: rebuild the old Soviet interceptor air base south of Mukachevo. Abandoned 30 years ago, the base is now a 2.5 km gash in encroaching forest, a strip of crumbling concrete and rusting steel rebar, 10 km south of Palanok Castle. Building a more centrally located airport for Zakarpattia would boost tourism. But, it would deprive Slovakia's Foreign Ministry of an important make work task. With Best Regards Jim Brooke jbrooke@ubn.news