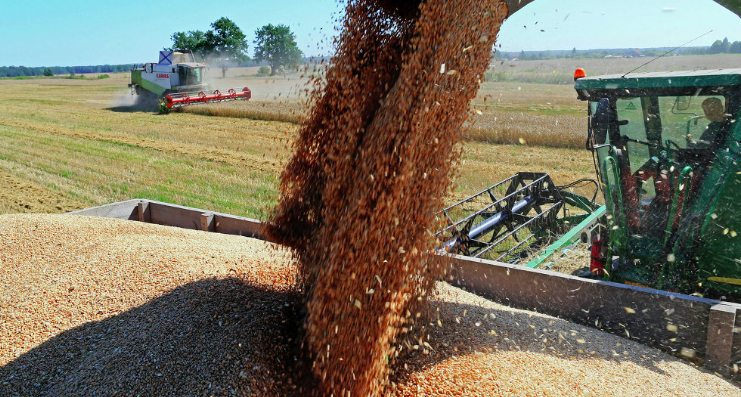 Friday, July 5
Grain Harvest Starts Across Ukraine...New Silos, River Port, and Black Sea Terminal to Handle Harvest...Racing US Sanctions, Russia Puts 23 More Ships on Nord Stream 2...At Crunch Time, UGV Gas Output Drops 9%...Kolomoisky Says He Does Not Want to Kidnap Ex-Central Bank Chief
The early grain harvest has started across Ukraine, with farmers bringing in 6.1 million tons from almost 2 million hectares spread across 20 regions, reports the Agrarian Policy and Food Ministry. Last year, Ukrainian farmers harvested 70 million tons and exported 50 million tons – both records. With a new bumper crop expected this year, World-Grain.com headlines from Kansas City: "Ukraine grain harvest in full swing."
Facing competition from Poland, Ukrainian farmers will be paying their workers about 25% more in hryvnia this summer than last. Through May, the average monthly salary was UAH 8,000, currently, $307, reports the Agrarian Policy Food Ministry. Inflation over the last year has been 10%. Wages usually rise during the long work days of the harvest season.
Crop receipts – posting future harvests as collateral for bank loans – are catching on in Ukraine, reports the International Finance Corporation, a backer of the financing mechanism. From a pilot in 2015, the project went nationwide last year. To date, 1,600 crop receipts have been issued, raising $452 million in loans for farmers. Sponsored by the IFC, a World Bank unit and Switzerland's State Secretariat for Economic Affairs, the project attempts to compensate for the inability of farmers to post their land as collateral for loans. President Zelenskiy promises to win Rada approval to start a farmland market in Ukraine next year.
With the opening of a 120,000-ton modern grain elevator in Poltava this week, Astarta completes its five-year, $83 million programm to increase its storage capacity by 50%, to 600,000 tons. Using Astarta's record 1.1 million-ton grain and oilseed harvest last year, Dragon Capital calculates that the Warsaw-listed company has now reached "55% self-sufficiency in storage facilities." With the state railroad struggling to keep up with booming farm production, storage can mean the difference between selling grain or letting it rot in the fields.
In time for the harvest, Nibulon opened this week its latest river port, a $23 million silo and pier complex capable of handling 300,000 tons of grain a year. Located on a left bank tributary of the Dnipro, on the border of Zaporizhia and Dnipropetrovsk regions, the port is expected to cut truck traffic to Black Sea ports and to save farmers money. To guarantee safe access for river ships, Nibulon dredged two kilometers of the tributary, the Ploska Osokorivka River, and installed navigational equipment on the 12 km from the Dnipro to the port town, Ternivka.
Ukraine's newest Black Sea terminal, EuroVneshTorg, is already expanding its grain handling capacity by 50%. From 2 million tons today, it is to reach 3 million tons in September. Located in Olvia, Mykolaiv region, the company, which means 'Euro Foreign Trade,' handles grain exports for Dutch Louis Dreyfus, French Soufflet Negoce and American Cargill. Company director Sergei Hunko says: "Today, the terminal is able to handle about 3% of all grain exports in Ukraine. In the future, we plan to increase the capacity to 8% annually."
Powered by Ukraine's food sales, Dubai's non-oil trade with Ukraine nearly doubled since 2016, hitting $571 million last year, a Dubai Chamber of Commerce and Industry representative told an export forum in Kyiv this week, reports WAM, the Emirates News Agency. He invited Ukrainian companies to participate in Arab Health, Gulfood and Gitex Technology Week, three of the Middle East's largest trade fairs, all held in Dubai.
Beating the Black Sea to Baltic Sea highway project, Ukrazaliznytsia plans to launch "in the future," an Odesa-Gdansk container train, says Vyacheslav Eremin, the railroad's operational director. The train would be UZ's 20th regular container route, one of the fastest growing businesses for the state railroad. This month, an Odesa-Chisinau, Moldova container route is to start. Planned for later this year are Odesa-Belarus-Klaipeda, Lithuania; and Kyiv-Leipzig, eastern Germany.
Ukrzaliznytsia needs to spend almost $3 billion through 2025 to buy new locomotives and modernize existing ones, Anton Sabolevsky, the railroad's director of strategic development and investment, says on the UZ website. There is also a massive need for new cargo wagons. About one-third of this rolling stock, or 64,000 wagons, are over 25 years old. With EBRD loans, UZ is buying 5,000 new gondola cars this year.
Racing to complete Nord Stream 2 before US sanctions can be adopted, Russia has put 23 additional ships on the gas pipeline project, reports RBC-Ukraine, citing Russian media. Bills moving through the US Congress would impose sanctions on European companies working on the Russia-Germany project. Of the ships, 2 are from Russia – the rest are from five EU countries, including 12 registered in the Netherlands. Last week, the pipeline operating company said the 1,220 km line was 59% completed and vowed to meet Gazprom's Dec. 31 deadline.
Ukraine should prepare for the end of Russian gas transit in 2020, but preparation is being undermined by a drop in state company production, warns Yuriy Vitrenko, Naftogas executive director. He writes on Facebook: "If we compare the average daily production, which was achieved in December 2018, with the data for June 2019, the decline in daily gas production at UkrGazVydobuvannya is already 9.2%. The first days of July show even more threatening trends." UGV, a Naftogaz unit, produced 74% of the gas produced in Ukraine last year. Foreign investors accuse UGV of fighting to keep them out.
With long-delayed EU-Gazprom-Naftogaz talks to resume in September, the lead European negotiator assured the new European Parliament on Thursday that he will do all he can to keep Russian gas flowing across Ukraine to the EU.  Maroš Šefčovič, vice president of the European Commission for energy, said: "I personally will do everything possible to ensure the continuation of long-term gas transit through Ukraine for the next long period." Last year, Russia supplied the EU with 38% of its gas. About half of that flowed across Ukraine.
Dutch gas futures spike in December, reflecting worry that Russia will not renew its gas transit contract with Ukraine, reports Fortune magazine. For now, "European natural gas prices [have] reached their lowest in at least a decade," Fortune reports in a story headlined: "Race to the Bottom: The U.S.-Russia Gas War Has Sent Prices Plummeting in Europe."
Igor Kolomoisky tells Novoe Vremya that he was misunderstood when he told an earlier interview that he could bring his arch nemesis, Valeriya Gontareva, back to Kyiv from London "by private order" to answer a prosecutor's questions about the 2016 nationalization of his bank, PrivatBank. "It was taken out of context," he says. Instead, he meant to communicate that he could send his private jet to pick her up in London. Referring to the former governor of Ukraine's central bank, he asked: "Why should I kidnap her? Why? To marry her secretly?"
Editor's Note: Ukrainian Catholic University will have its mid-summer benefit cruise on the Dnipro River liner Rosa Victoria, Saturday afternoon July 13. Acting US Ambassador William Taylor will speak, there will be a kids program and music by Taras Topolya, lead singer of the band Antytila and by Yo-gurt band. It looks like a lot of fun! More information: https://supporting.ucu.edu.ua/ best Jim Brooke jbrooke@ubn.news