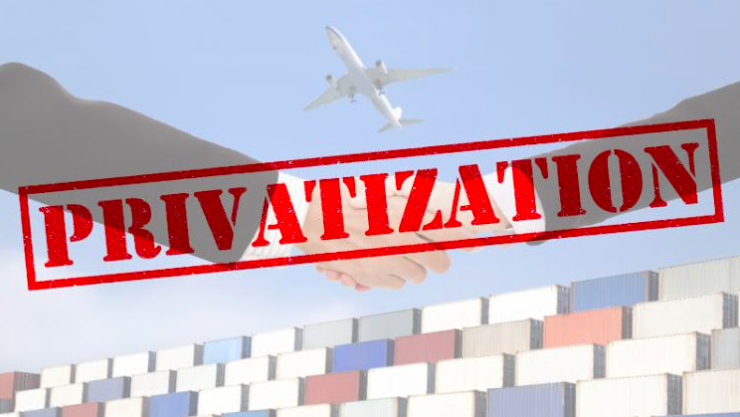 Privatization of big state companies could bring $1 billion to national budget in coming years, Prime Minister Shmygal told the Cabinet of Ministers Wednesday. After a pause during the initial market turbulence of the coronavirus pandemic, sales of big state companies started last week with auction on Prozorro.Sale of Kyiv's Dnipro hotel for $41 million. This year, the government plans to raised $435 million through sales of state property, half through 'small privatization' – under $10 million – and half through 'big privatizations." Shmygal said: "We have high expectations from large-scale privatization."
By the end of this year 780 state companies should be transferred to the agency responsible for privatizations, the State Property Fund, Dmytro Sennychenko, head of the Fund, tells the UBN. This would be eight times the number shifted to the privatization agency in the previous 15 years. About 40% of these companies are not viable and have to be liquidated, he estimates.
To attract foreign investors, Sennychenko, a former Ukraine director for Jones Lang LaSalle, has set up a bilingual Ukrainian-English website with 'data rooms' on each property up for sale. Sennychenko admits that major properties have 'poison pills' – management, supplier or labor contracts that are hard to break. "We don't have the capacity to fight all the poison pills in 1,500 properties," he says. Instead, his team works to provide as accurate picture as possible of the assets and liabilities of each property. The buyer of the Dnipro Hotel publicly praised the Fund for its transparency.
Following the sale of the Dnipro, the Fund is putting up two regional hotels up for auction. The high end Slovyanskyi Hotel in Novgorod-Siversky, Chernihiv region has a starting price of $2 million. Separately, on Aug. 14, an auction will be held for a half-built, 274-room hotel on Railroad Square, Slavutych, 180 km north of Kyiv. The starting price is $200,000.
Next week's lot of 34 'small privatization' properties is the usual mixed bag of abandoned properties dating back to the Soviet era. Scattered across 15 regions, they range from a half-finished distillery with an asking price of $42,000 to a padlocked garage with an asking price of $439. As the concept grows of finding private uses for excess government property, the number of participants in privatization auctions has doubled, says Sennychenko. In the first five months of this year, these mini-sales netted the government $18 million.
Aivaras Abromavičius, head of Ukroboronprom, is signaling he is ready to move on. Noting that he took the job running the state arms conglomerate last August, he told a Kyiv School of Economics roundtable Wednesday: "I have been in this position for 11 months — and it is three or four times more than I planned, and what were my agreements personally with the President." Abromavičius, a former Economy Minister, said that during his year running Ukroboronprom he replaced about one quarter of the top 260 people, replacing all the deputy general directors and the heads of almost 30 of the largest companies.
Military transport jets, notably the An-178, represent the most promising niche for Antonov, Abromavičius told Channel 24 last month, shortly after firing the head of the state aircraft maker. "Together with the new management of Antonov, we will make every effort to ensure that in 2021 our military and police purchase at least two An-178 transport aircraft," he said. Noting that Antonov is now building one An-178 for Peru's National Police, he said the company is participating in a tender to sell a second plane to Peru and is pursuing potential sales in Azerbaijan, India, and Turkey.
Western standard corporate governance of state companies is a key demand of the IMF under the $5 billion Standby Agreement reached last month. On Wednesday, the IMF's representative to Ukraine declined to answer a question on whether the program is on track. "I will refrain from answering," Goesta Ljungman, the representative, said in an online discussion. "We have a program with Ukraine. In that program, Ukraine has made a number of commitments." In response, Finance Minister Serhiy Marchenko assured Reuters: "Ukraine continues to fulfil its commitments under the IMF memorandum."
Matteo Patrone, EBRD regional managing director on corporate governance reform: "This is now a negative period in corporate governance reform. But I believe that this is a small pothole on a very long road that is headed in the right direction…Incorrect corporate governance narrative, illogical legislative initiatives, as well as some interference in asset management, are things we would love to do without."
Timothy Ash writes from London: "The Zelenskiy team will need to work overtime to provide assurance to the IMF to keep the existing program on track. The IMF resident rep's diplomatic response I think reflects Fund concerns over recent developments at the [central bank] and question marks now [about] where all this is heading."
The Finance Ministry provides this x-ray of who bought the $2 billion Eurobond that settled yesterday: US – 48%; UK – 38%; and EU – 13%. The investors were: asset management funds – 81%; hedge funds – 13%; banks – 4%; and pension funds – 2%.
Ukraine reported yesterday morning a one day high of 1,197 new coronavirus cases. Health Minister Maksym Stepanov said 248 people had been admitted to hospital over the past day — also a record high. "We can impose any restrictions, we can talk about the rules and establish them, but they are worthless if we don't follow them," Stepanov told a televised briefing.  The largest numbers of new cases were registered in: Kyiv –199; Lviv Oblast – 131; Rivne – 105; and Ivano-Frankivsk Oblast –104.
Starting tomorrow, Ukraine will be divided into four quarantine zones — green, yellow, orange and red. "Kyiv will be in between the orange and red zones," Oleh Ruben, head Food Safety and Consumer Protection in Kyiv, tells RBC Ukraine news agency. Today, the division of the nation will be decided by a public safety commission headed by the Prime Minister. In red zones, public transport, schools, universities, shopping malls, cafes, and restaurants should be shut down. Health Minister Stepanov says: "Regarding the crossing of the border between the 'red' and 'green' zones within the country, traffic will be limited in the 'red' zone, appropriate posts will be set up at the crossing." Zone designations will be reviewed weekly.
Concorde Capital's Zenon Zawada writes: "We don't expect the government to take any measures towards restrictions. The main issue is Ukrainians will remain forbidden to travel freely to the E.U. for the remainder of the summer, which is contributing to the Zelensky administration's falling support."
Starting today, the EU graduates 11 new countries into its admission club. Ukraine, with its rising corona infection rate, did not make the cut. In two weeks, the EU again will review its list of nationalities permitted to make non-essential travel to the EU. Without a decisive turnaround, the Ukraine is expected to be off the list for all of August. The EU wants to see a lower infection rate than its own and a declining rate of infections.
From the Editor: Scrolling through state properties up for sale is to look through a gallery of dashed dreams and failed projects. In Ukraine, we look without seeing this depressing landscape of abandoned factories and half-finished buildings. But in a positive turn, people in villages and towns are looking at long shuttered state properties and thinking: "I can put this to better use." Ideally, conversion of state property to private use promotes pro-market, democratic forces across the land.  With Best Regards Jim Brooke