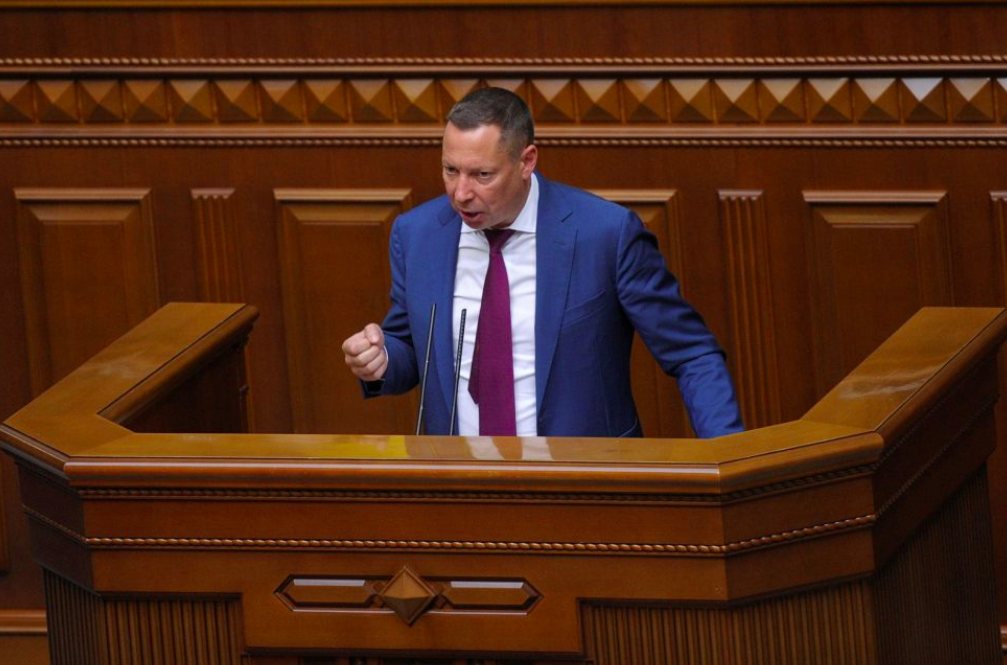 Markets and investors largely welcomed the Rada's approval yesterday morning of a new head of the central bank. In rapid fire sequence, Kyrylo Shevchenko, head of state-owned Ukrgasbank, first won approval of the Finance Committee, and then the full parliament – all before lunch. Shevchenko won the approval with 332 votes, far above the needed 226. Most Voice and European Solidarity deputies abstained.
At the Rada podium, Shevchenko projected the image of a centrist. He defended inflation targeting of his predecessors, but signaled that he supports lower interest rates to support "further economic growth," reports The Financial Times. "Ukraine's economy is beginning to recover from quarantine restrictions, but it continues to stagnate."
Ukraine's mountain of nonperforming loans should be cut, said Shevchenko, a veteran of work at state-owned banks, first at Oschadbank, then at Ukragasbank. Addressing the Rada, he broke down the shares of NPLs as follows: in state banks – 49% of all loans; in banks with foreign investment – 32.5%; and in privately owned banks – 20%.
Citibank's Ukraine Economics Flash writes: "Market participants should draw a deep sigh of relief given that some of the more controversial candidates have been avoided… A sudden stop with the newly minted IMF Program has thus been successfully avoided."
Concorde Capital's Alexander Paraschiy writes: "It's not clear whether Shevchenko will be able to withstand expected pressure from the cabinet and the president to radically ease monetary policy, or even weaken the national currency…we believe his candidacy will barely satisfy the IMF, which is encouraging for Ukraine's short-term financial stability. Based on this expectation, it looks likely that Ukraine will be able to return soon to the international debt markets. Time will tell whether Shevchenko's monetary policy will prove to be independent."
To calm investors and markets, the new central bank governor should quickly state his policy on inflation and foreign exchange, former Economy Minister Timofey Milovanov tells Interfax-Ukraine. "it is important to get a clear position from the newly appointed chairman right now," said Milovanov, who is also honorary president of Kiev School of Economics. "What will be the policy of the National Bank in the future: what will change and what will remain unchanged?"
The American Chamber of Commerce in Ukraine says: "The business community hopes that the new head of the National Bank will preserve the independence of the NBU and continue its current course, in particular monetary policy, support for macroeconomic stability and inflation targeting, as well as ensure cooperation with the IMF to accelerate economic growth… the National Bank must remain independent in order to be effective and ensure the confidence of investors in Ukraine."
The European Business Association posts a 5-point wish list. It includes: continuing currency liberalization, inflation targeting, "the ongoing course of macroeconomic stability and sustainable economic growth," and "support [of] the independence of the NBU, without interfering in its policy of the regulator and without rolling back the reforms initiated in the financial sector."
With the 'green tariff' for solar and wind farms unresolved, the Rada is extending its session through Tuesday in hopes of finding a solution. Wind and solar producers have largely gone unpaid by Ukrenergo since April. Payment arrears approach $625 million, investment is frozen, much of the industry faces default this fall, and several companies plan to resort to international arbitration.
In the Rada, deputies loyal to Ihor Kolomoisky, a major electricity consumer, propose tariff cuts deeper than the compromise memorandum accepted by most producers last month. In face of this looming crisis, the EBRD, a major funder of renewable projects, appealed yesterday afternoon: "We urge the administration and legislators to continue their dialogue with investors in order to reach a consensual solution which is supported by the sector as a whole."
Yesterday, the Rada also voted to promote Olga Pishchanska to chair of the Antimonopoly Committee. She had been the first deputy head of the Committee until two weeks ago, when Zelenskiy dismissed Yuri Terentyev, a veteran of five years in the job. Pishchanska told the Rada: "The main priorities of competition policy for the near future are to combat the abuse of existing monopolies and cartels, use tools to lower barriers to entry, end anti-competitive actions of the authorities, strengthen the institutional capacity of the committee and reform the public procurement body."
Two surveys conducted before the July 1 central bank crisis indicate worsening consumer and business outlooks.
The consumer sentiment index fell by 11 points in June, to 65 points on a 200-point scale. Info Sapiens, which carries out this monthly survey, reports these drops: economic expectations, down 19 points, to 72 points; personal finance expectations, down 18 points, to 74 points; and development of Ukraine's economy over the next year, down 18 points, to 56 points.
Business expectations fell to their lowest level in five years, according to the National Bank's latest quarterly survey of company executives. The second quarter level was 91%, a sharp drop from the Q1 level of 110.5%. Business leaders expected inflation to deteriorate to 7% by the end of this year and the hryvnia exchange rate to hit UAH 28.28 / $1. "For the first time since the first quarter of 2016, enterprises expect a reduction in the production of goods and services in Ukraine," the central bank reports. "Almost half of enterprises expect the worst dynamics, and only every seventh company – production growth."
Ukraine's cyber police blocked 947 cyber attacks on state entities last week. Of the attacks, 48% were 'Brute Force' attacks — hacking of a password by enumerating all possible key options; and 39% were 'Harvest' attacks – spamming to hack email accounts. There were also five denial of service attacks, largely aimed at President Zelenskiy's official website.
In one 'brute force' attack, a hacker was arrested last week and charged with breaking into 50 government data bases and trying to sell the information, reports Cointelegraph, citing Ukraine's cyber police. Photos publicizing the arrest show a screen shot of a Skype conversation where he was apparently trying to sell personal information to a Russian buyer for 6.5 Rubles, or 9 US cents, for one entry.
Travel Notes:
By the end of this year, Ukraine's air travel will reach half the level of 2019, Infrastructure Minister Vladyslav Krykliy writes in NV.
LOT Polish Airlines resumed flights Wednesday from Warsaw to Lviv and to Odesa. For now, Ukrainians can only fly to Poland if they have valid work or study contracts, residence in the EU, or are in transit.
Starting today, Ukrainians can enter Bulgaria without Covid tests and without self-isolation.
From the Editor: It's called the big squeeze. Don't pay wind and solar companies for four months. Then watch the companies 'voluntarily' negotiate cuts in the tariffs that brought them to Ukraine in the first place. At a renewable conference last month, Ukrainian company executives repeatedly used a verb that the interpreter translated as "screwed." It came in all tenses — past, present and future. As foreign companies study public private concessions to build toll roads, airports and seaports, they may factor into their pricing that, four years from now, the next administration may dismiss their 2020 contracts as 'Zelenskiy' contracts. With Best Regards Jim Brooke jbrooke@ubn.news