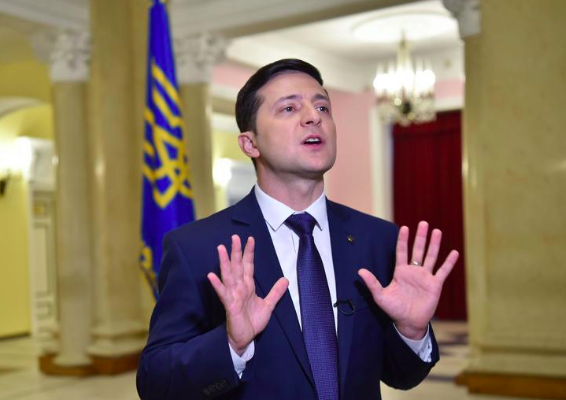 Volodymyr Zelenskiy's election as President contributed to a dramatic upswing economic optimism, the International Republican Institute says, citing their new June 13-23 nationwide poll. Of the 2,400 respondents, 48% predicted that Ukraine's economy will improve over the next year – more than triple the 14% who felt that way in September. Similarly, between the two polls, Ukrainians pessimistic about the future dropped almost in half — from 71% to 39%.
Ten days before parliamentary elections, President Zeleskiy watched in his office Thursday as Andriy Favorov, head of gas sales for Naftogaz, signed a decree lowering household gas prices by 10.4%. Cutting prices is possible because Europe's natural gas import price has dropped by 60% since its four years high last September. Andriy Gerus, the president's representative to the Cabinet of Ministers, estimates Ukraine's total price reduction from May to July is 21%. Lower gas prices help the government in its fight to bring inflation down to 8% at the end of this year.
Looking beyond the July 21 Rada election, Timothy Ash writes from London in a note to investors: "Much will depend on a new coalition quickly being formed in the Rada, then a reform-oriented cabinet, and an uptick in the reform agenda."  He concludes: "The Ukrainian macro backdrop, political landscape and opportunity on the economic policy front [has not been] this clement/hopeful for many years in my time covering Ukraine (32 years now!)."
Diane Francis, another veteran Ukraine watcher, writes in Toronto's Financial Post about the post-election political clash: "Then the battle begins, as the odious oligarchy inside Ukraine won't give up any easier than the Russians."
Aivaras Abromavičius, the reformist former minister of economic development, was elected Thursday supervisory board chairman of UkrObronProm, the massive state-owned military-industrial complex. An advocate of transparency, Abromavičius immediately said an international audit of the conglomerate would start in September. At a Board meeting attended by representatives of the US embassy and anti-corruption groups, he said: "We have many tasks that we must complete as soon as possible — one of the highest priorities is to conduct an audit of UkrOboronProm."
The two tanker loads of North Dakota oil docking in Odesa this month are part of a much larger push by the US to sell oil to Europe, Reuters reports in a story headlined: "U.S. oil makes it to Ukraine in another blow to Moscow."  Following the 80,000 tons of US oil unloaded in Odesa last weekend, another similarly sized shipment is expected in Odesa July 24. More US deliveries to Ukraine are 'likely' in August, Reuters reports from London and Moscow. Partly in reaction to the disruption caused by contaminated oil from Russia, Reuters says, "U.S. supplies to Europe have risen steadily since May and have remained above 2.5 million tons a month."
A tender is to be posted for dismantling unstable parts of the Soviet-era shelter over the damaged nuclear reactor at Chornobyl. A new €1.5 billion 'New Safe Confinement' structure covers the old shelter. Dismantling should take place in the early 2020s, Sergey Kondratenko, the deputy chief engineer of the new confinement facility, tells Ukrinform.
Building on the global success of HBO's "Chernobyl" series, President Zelenskiy signed a decree to turn the disaster site two hours north of Kyiv into a "tourism magnet." Ticketing will be electronic, new checkpoints will be opened, restrictions on filming will be dropped, new walking paths and river tours will be inaugurated, and cell phone service will be expanded into the largely uninhabited Exclusion Zone. "Until now, Chernobyl was a negative part of Ukraine's brand – it's time to change it," Zelenskiy said on a site visit Wednesday. "We have to show this place to the world: scientists, ecologists, historians, tourists."
Ukrainians and Moldovans should be able to visit each other's countries carrying only their internal ID cars, President Zelenskiy proposed Thursday at a meeting in Kyiv with Moldovan Prime Minister Maia Sandu. After Ukraine started similar no-visa, no-passport reciprocal deals with Turkey and Georgia, tourism and trade accelerated. Ukraine's trade with Moldova is expected to hit $1 billion this year.
Moldova and Ukraine now have six joint border control posts, compounds where officials of both countries work side by side.  The newest one, at Palanca, Moldova, a one hour drive west of Odesa, cost €5.6 million and is designed to process 570,000 cars and 1.2 million people a year — double previous levels. Built largely with EU money, this border crossing has its own website, touting it as 'fast, comfortable and efficient.'
"Over 4500 Russians banned from entering Ukraine in 2019", trumpets TASS, the Russian news agency. Buried in the story, Andriy Demchenko, spokesman for Ukraine's State Border Guard Service notes that 620,000 Russians were allowed entry in the first half of the year. From this perspective, seven-tenths of one percent of Russians were denied entry.
Investing $45 million in a new terminal and a recovered runway, Zaporizhia airport is on track to become southeast Ukraine's leading airport for the 2020s. On Oct. 20, city officials are to inaugurate the new cement runway and the new steel and glass terminal, capable of handling 400 passengers an hour. Already, traffic is up by one third for the first half of the year, to 230,000 passengers. This year, SkyUp started summer flights from Zaporizhia to Barcelona, Egypt, Montenegro, and Turkey. Depending on passenger numbers, SkyUp may base jets in Zaporizhia next year.
By contrast, traffic at rival Dnipro airport is up by only 9%, to 149,000 passengers for the first half of 2019. Located 85 km north of Zaporizhia, Dnipro has nearly 1 million inhabitants, 30% more than Zaporizhia. Five years ago, Dnipro was Ukraine's fifth busiest airport, with six times the passengers of Zaporizihia. But, under the control of Igor Kolomoisky, Dnipro has been starved of investment, missing out on Ukraine's discount airline revolution and recording the lowest growth of Ukraine's top 10 airports.
Located on the Donetsk Highway, Zaporizhia airport bills itself as the airport for Ukraine's Southeast. On July 1, the Cabinet of Ministers decided not to reopen for civilian flights the airport in Mariupol, the largest city on the Azov. Hours earlier, 30 km east of the city, separatists shelled a Ukrainian Army ambulance killing the driver and a doctor. BiznetTsenzor reports  the Cabinet decided "that in the conditions of the existing Russian aggression it is not possible to guarantee the safety of passengers on a permanent basis." Eighty km west of Mariupol, the Azov resort city of Berdyansk has a Soviet-era airport. But donors and Kyiv authorities resist investing in a second airport for Zaporizhia region.
Editorial Note:  Zaporizhia is building one of Ukraine's best regional airports – a Lviv for the southeast. But it is still a 4-hour drive, or a 7-hour train ride, to Mariupol. It is a 3-hour drive to Berdyansk. In the Soviet days, Tupolevs flew vacationers from Leningrad to Berdyansk. Only a one-hour west of Mariupol, Berdyansk airport should be revived. It would cut the isolation felt by the nearly one million residents of Ukraine's Azov. Jim Brooke jbrooke@ubn.news